Trying to decide on an Idaho gift for someone you care about? Fun Idaho gift baskets packed full with unique Idaho gifts that are made in Idaho might be just what you're looking for. That's why I put together this list of Idaho gifts for everyone in your life this season.
If you're shopping for Christmas gifts, birthday gifts, or for a gift for someone who has recently moved to Idaho, then keep reading. As a local Idahoan myself, I was excited to find all of these gift ideas to share with you.
Keep in mind, that the gift of travel is always a great idea for the travel lover in your life. If your friend or family member enjoys exploring Idaho, you could consider gifting him or her a glamping in Idaho trip!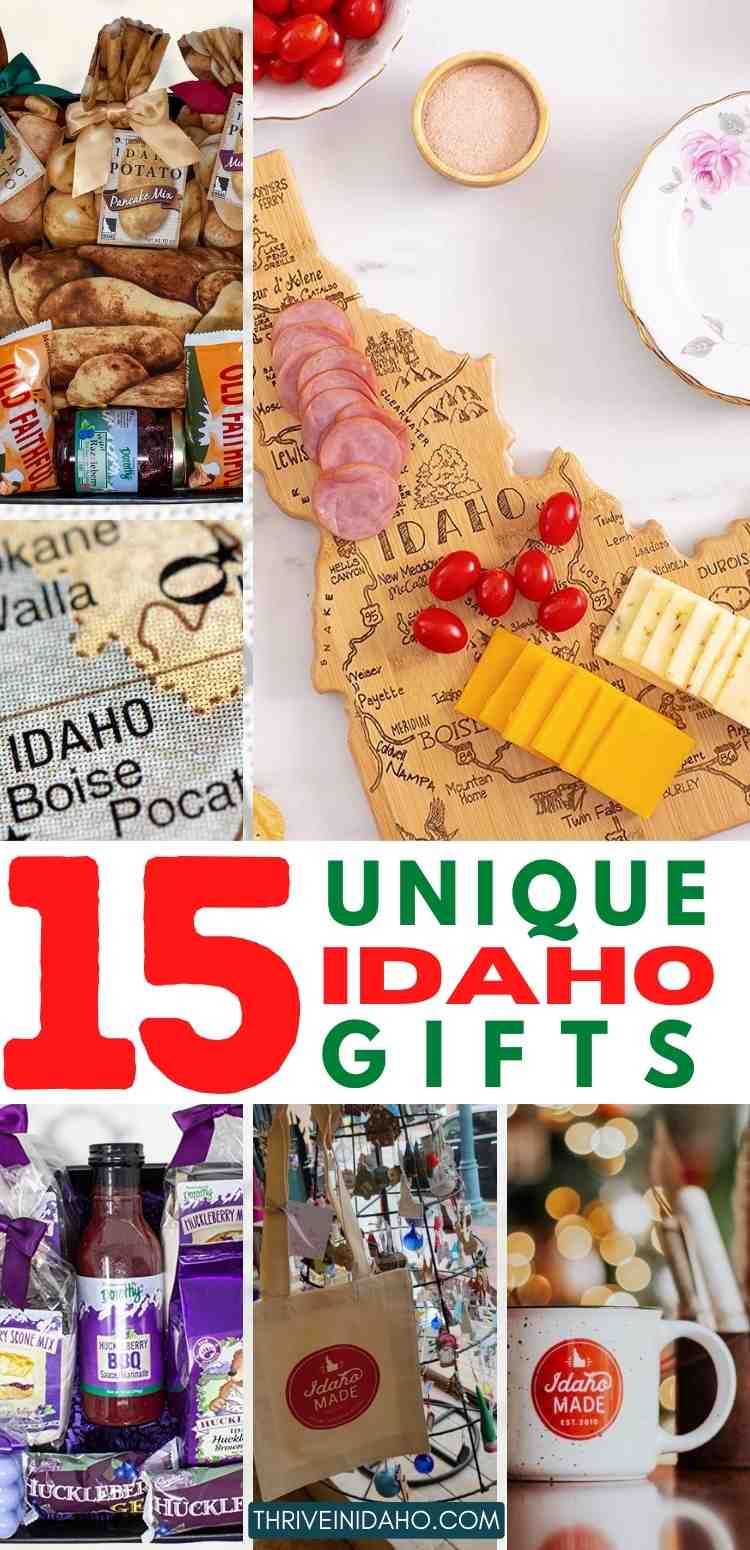 Now, if you're looking for the perfect gift to wrap up for the traveler in your life, then keep on reading.
THIS ARTICLE MAY CONTAIN COMPENSATED LINKS. PLEASE READ OUR DISCLAIMER FOR MORE INFO.
Idaho Gift Baskets
Idaho Gift Baskets are perfect for a house warming present for someone who has recently moved to Idaho. Specifically, you can find Boise Gift Baskets that include huckleberry jam and BBQ sauce, potatoes and more. Here's a great Idaho Gift Basket idea.
Another great gift basket idea is this one with huckleberry baking mixes.
Or, consider buying this Idaho Gift Box that supports local farmers and Idaho food economies. They sell out fast to order early.
Idaho Cutting Board
A fun gift idea for someone who just moved to Idaho is a beautiful Idaho cutting board that they can display in their new kitchen.
Books About Idaho Travel
Consider grabbing your friends a book or two that will help them during their time in Idaho. You could gift them a book about mountain biking in Idaho, rock gathering in Idaho, or a guide about hiking near Boise.
Related Post: How To Plan a Road Trip From Idaho Falls to Jackson Hole
Vintage Idaho T-Shirt or Clothes
A simple go-to gift idea for the Idaho lover is a vintage Idaho t-shirt like this one.
Idaho Hats
I love wearing my Idaho hat on a bad hair day. Trucker hats are super popular and gifting a women's Idaho hat or a men's Idaho hat might help you complete your shopping.
Boise State University Gift Ideas
Grab a BSU yard flag for the family with a child attending college in Boise. Or if you're buying a gift for someone who is leaving soon to attend Boise State University, then consider grabbing them a BSU t-shirt, a BSU lanyard, a BSU sweatshirt, or this high quality stainless steel tumbler cup with a straw and lid.
Idaho Christmas Ornament Ideas
Looking for Christmas gift ideas for someone living or traveling to Idaho? Here's a fun Idaho Christmas ornament that would look great on the tree. This ornament is a more unique option displaying what Idaho is known for. Or, why not be funny and gift your friend an ornament shaped like an Idaho potato!
Made In Idaho Store
If you'd like to shop online from a local store, then check out the Idaho Made store. This is where you will find so many Made In Idaho gifts that you'll wonder why anyone shops elsewhere. It's located in downtown Boise, Idaho so consider dropping in to see what they have on the shelves.
Shop Local In Idaho
Looking for local products, meats, breweries, wines, or hand crafted products in Idaho? Then check out the Idaho Preferred website to learn more about how you can shop and support local businesses in Idaho.
…..
These are just a few of the best Idaho gifts and gift ideas for travelers and locals. So whether you're looking for a unique gift for the traveler in your life, or you're just looking for some ideas to help you remember your own trip to Idaho, these gifts are sure to please.