Looking to do some glamping Idaho style? Want to explore the great outdoors and get back into nature, yet still get a good night's sleep in a cozy bed? If you're not into backpacking in Idaho or pitching your own tent at one of the many campgrounds in this amazing state, then you might really enjoy the best glamping in Idaho.
This is different than finding summer camps in Idaho for your kids. Glamping is something you do with your partner, or possibly as a family even.
In this article, you will learn about some of the most unique Idaho glamping options and what to expect during your stay. Many of these stays are great for couples looking for romantic getaways in Idaho, yet there are a few that welcome families and pets. So keep reading and start planning your next adventure in Idaho.
THIS ARTICLE MAY CONTAIN COMPENSATED LINKS. PLEASE READ OUR DISCLAIMER FOR MORE INFO.
Glamping Idaho FAQs
What is glamping exactly?
Glamping combines 'glamorous' and 'camping'. It's all about camping in luxury. You can enjoy the great outdoors with the comfort of a bed and linens.
Where can I go glamping in Idaho?
You can find tent canvas glamping near Boise Idaho, in North Idaho, and in East Idaho.
Glamping Near Boise Idaho
If you're visiting Boise with kids, consider spending a night or two glamping Boise Idaho style. Check out these options that are just minutes away from Boise and could be great for a couple or a small family.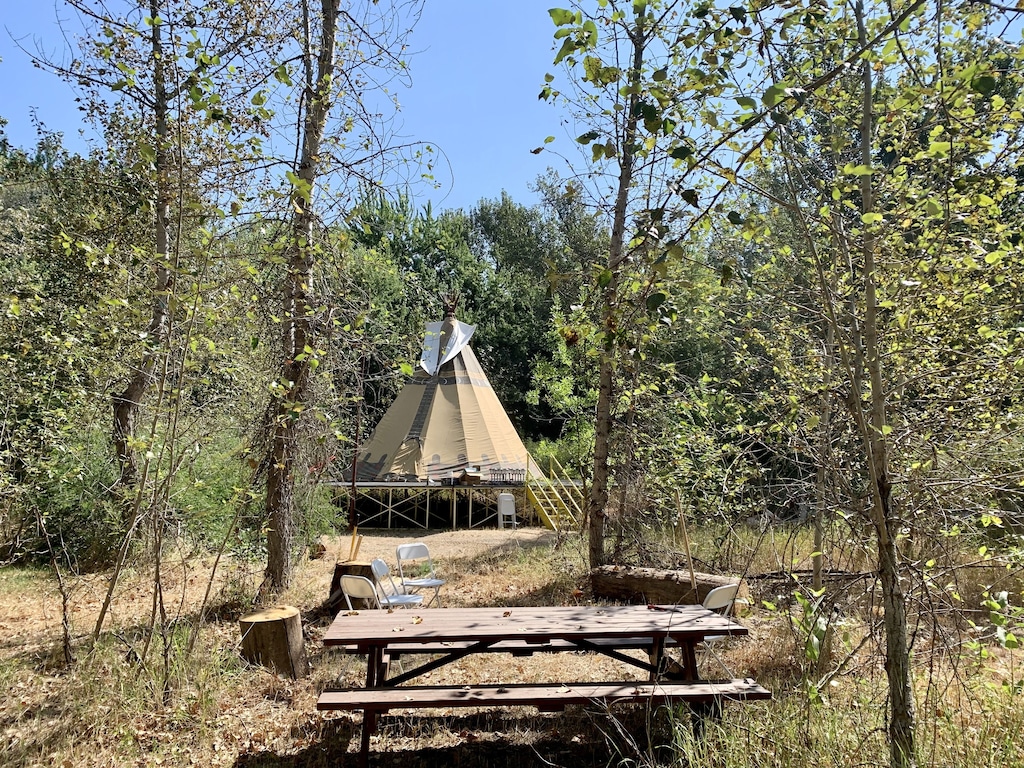 A great location for families who want to go glamping near Boise is this family-friendly Teepee. This Tipi sleeps 8 people with a queen sized bed, 2 double bunks, a futon, and a small couch set. It's located on an island on the Boise River right in Eagle, Idaho. What a fun place to take the family!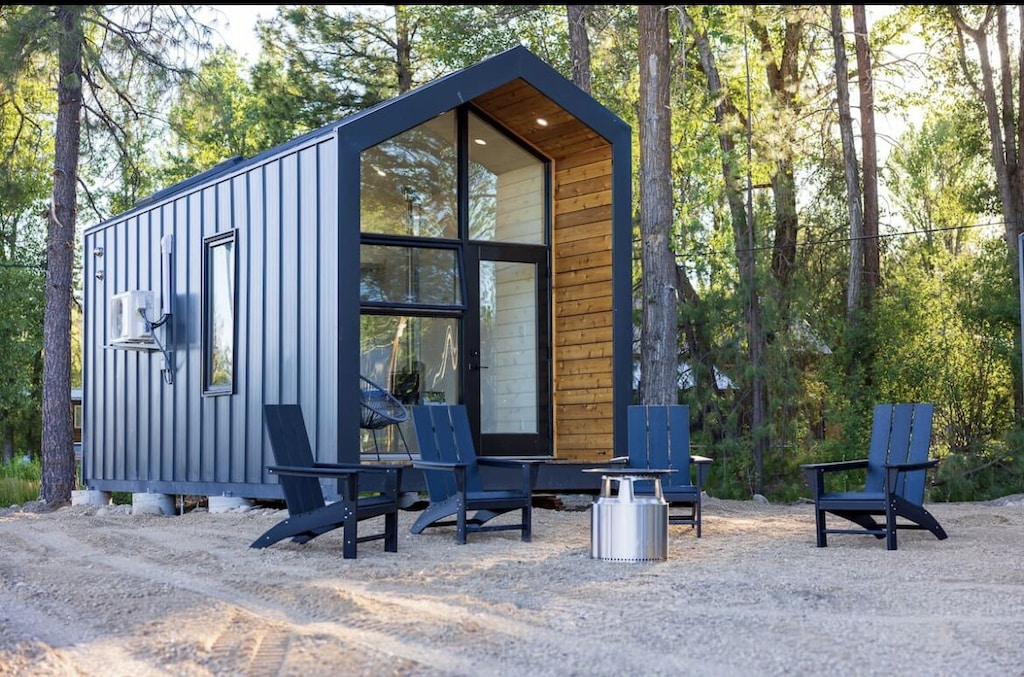 Glamping in Idaho City, located just 45 minutes from Boise, is so convenient. This modern tiny home in Idaho City makes for a great weekend getaway from Boise. If you're looking for glamping Idaho City style, then this is the place to check out. Enjoy the modern desk, couch, and kitchen, while still having a fire pit and nature at your front door. It's one of the best options when looking for glamping near Boise Idaho.
Related Post: 10 Best Places To Stay In Boise Idaho
Glamping Near McCall Idaho
Looking for unique camping near McCall Idaho for a couple? Then check out these Idaho glamping options that are both located just 15 minutes from McCall, near Donnelly Idaho.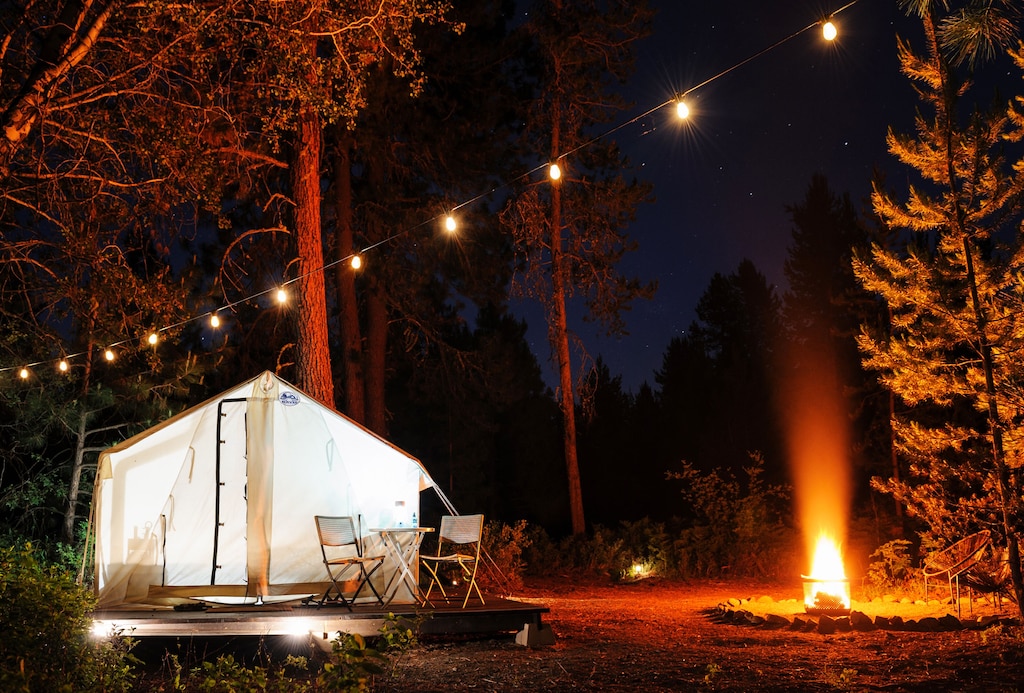 Created for couples looking to get away from the city, Eagle's Landing is located just outside of Donnelly, Idaho and only 15 minutes from McCall Idaho. This canvas tent sleeps two and has a wood burning stove inside the tent to help you stay warm at night. There is a port-o-potty available a short walk away.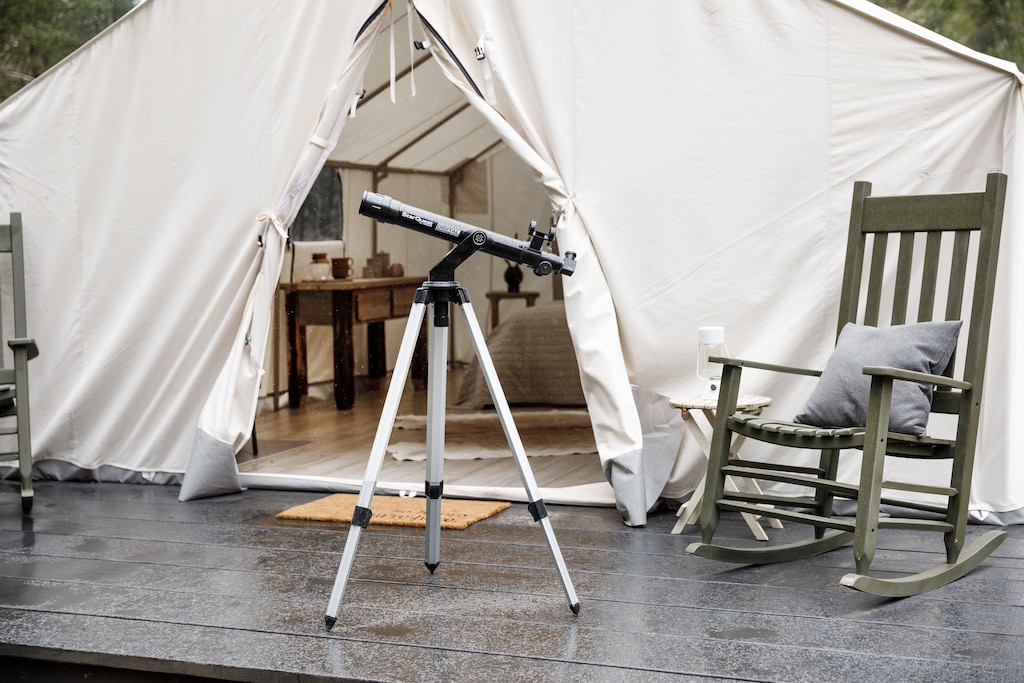 Owned by the same host as Eagle's Landing, Wapiti Way is a beautiful canvas tent that sleeps two people. Being so close to the fun things to do in Cascade, this Idaho glamping option is just a short drive from Boise, Idaho.
Glamping in East Idaho Near Yellowstone National Park
Want to spend your family vacation glamping near Yellowstone National Park? Or looking to add a stop on your road trip through Idaho Falls? Then check out these Idaho glamping options.
Want to stay in a canvas tent near Yellowstone National Park? Better yet, are you looking for a place to bring your kids and the dog? Then this might be your glamping dream come true because children and pets are welcome.
A bathroom with hot water, showers, and toilets are all available within walking distance to your family's canvas tent. This would be a great place to go glamping in Idaho as a family.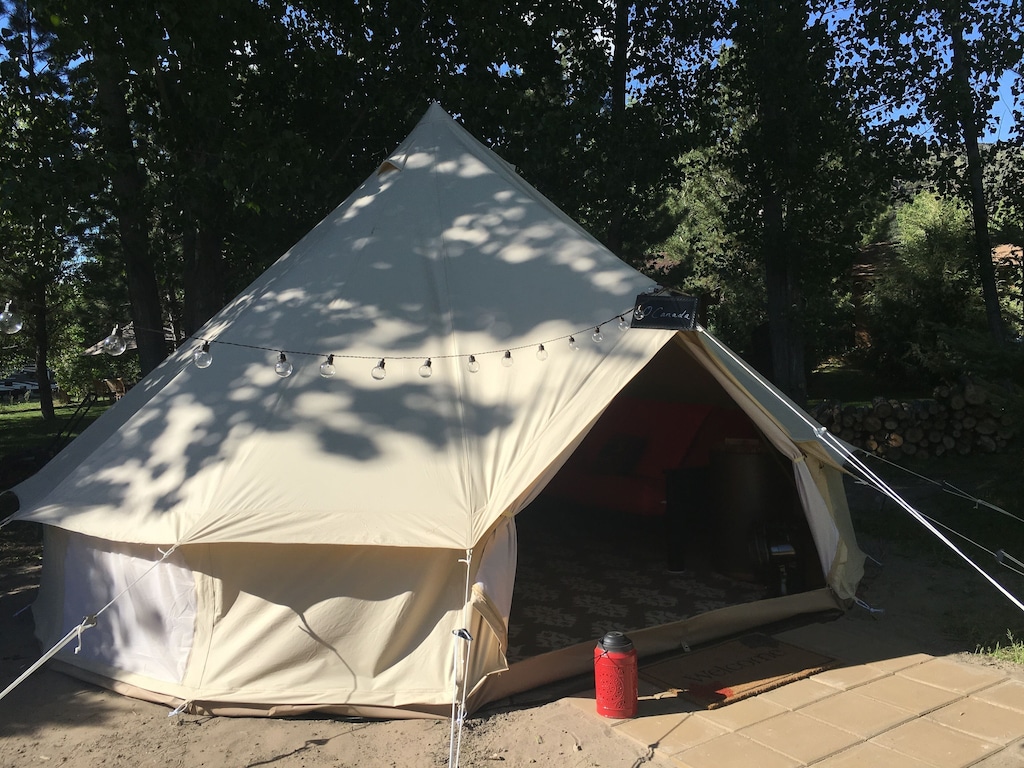 Looking to go glamping near Idaho Falls? This canvas tent sleeps up to 4 and is located in part of a campground near Idaho Falls. This means you'll have access to bathrooms and shower houses.
Glamping in North Idaho Near CDA
Looking to go glamping in Coeur d'alene Idaho? With so many things to do in North Idaho, you may want to add glamping to your next Idaho road trip. Then check out these options for glamping near Coeur d'alene Idaho.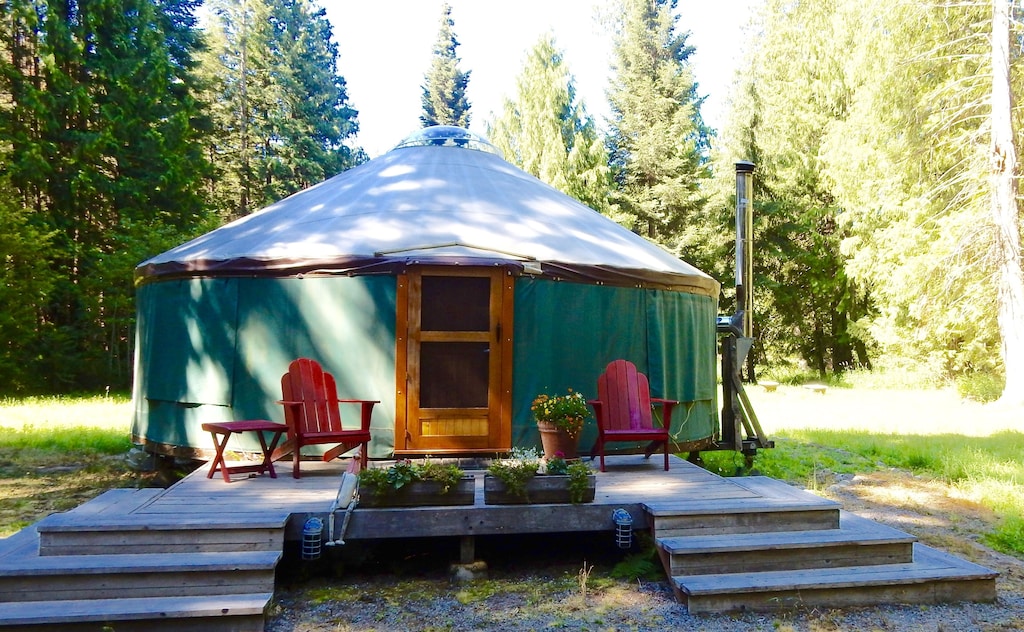 Enjoy a night sleeping on the king-sized bed in this well equipped yurt just outside Sandpoint, Idaho. This glamping option comes with a kitchenette and refrigerator in your space and a wood burning stove to keep you warm at night. They offer a shower house with hot and cold water, and a port-o-potty bathroom. If you want to rent a yurt in Idaho, then this might be a great option.
Spend a few nights in this Boho Bell tent, located on a private beach of Lake Pend Oreille in North Idaho. You can sleep up to 4 people and have access to so many amenities such as a small fridge, a clean and well-kept porta-potty, and an outdoor shower and sink with an on-demand propane water heater. Oh, and you'll have access to their outdoor hot tub overlooking the lake!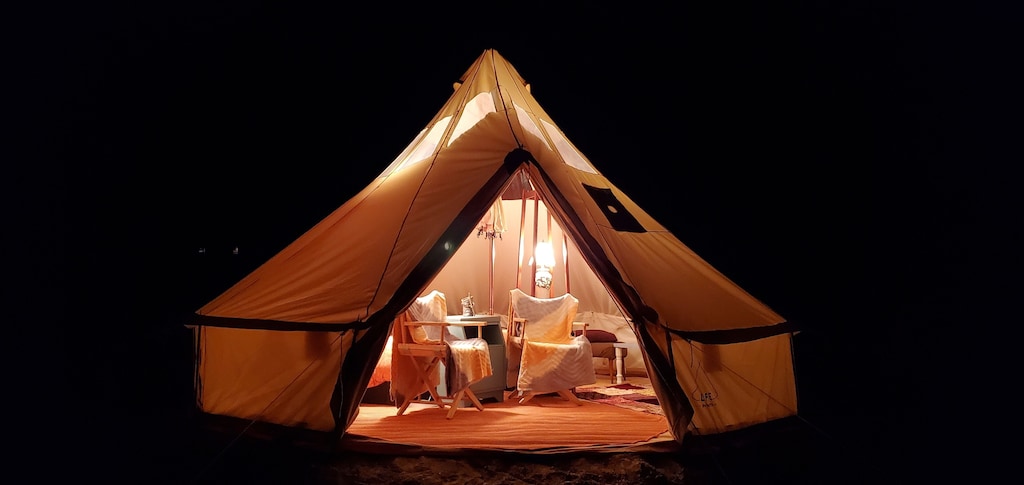 Enjoy a romantic weekend away at the Gypsy Bell Tent. This glamping experience will provide you with a bed for two and access to a fun and modern small kitchen and shower house, offering hot running water and a cooktop stove. There's a hot tub and it's on beautiful Lake Pend Oreille.
Glamping in Southeast Idaho
If you're planning to visit Lava Hot Springs in Southeast Idaho, check out this glamping option.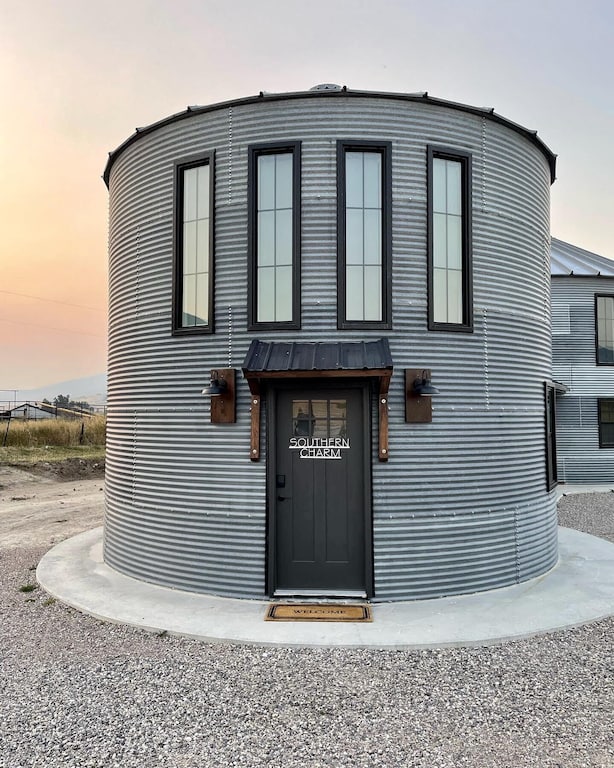 This unique Silo camping experience is located next to Lava Hot Springs in Southeast Idaho.It's in an old Silo grain mill that was converted into a modern and beautiful place for a couple to stay. It sleeps 4 if you use the pull out couch in the living room.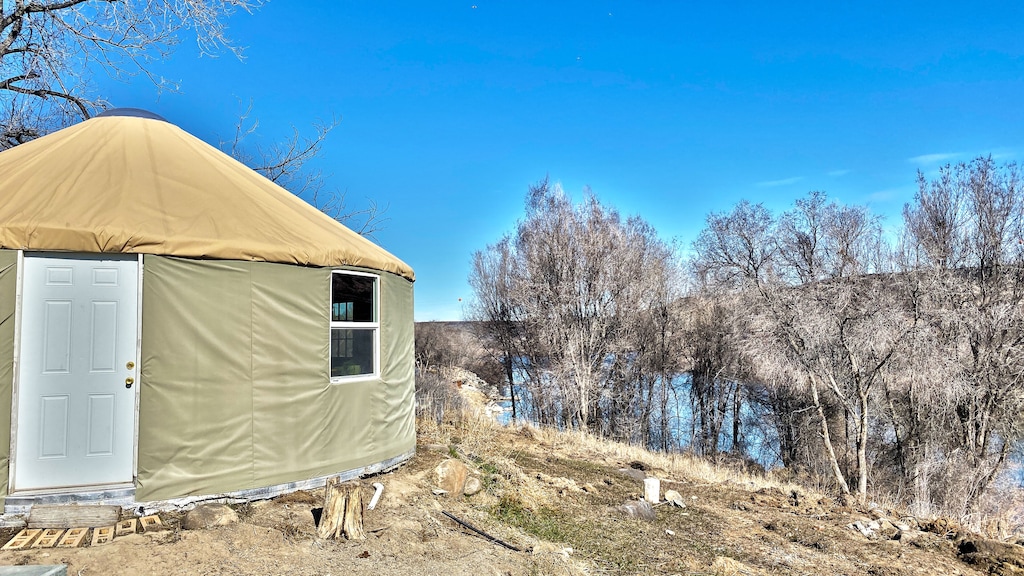 This riverfront yurt is just a few minutes away from Miracle Hot Springs and Banbury Hot Springs in South Idaho. This yurt is great for two people who will appreciate a detached shower and bathroom.