Planning on staying in Boise ID? Whether you're searching for a short-term or long-term stay in one of Boise hotels, then great accommodation awaits you.
The capital of Idaho, Boise is a great destination for outdoor families and those looking to explore the area's history. From nature and finding the best restaurants in Boise, to shopping and nightlife, Idaho's capital has plenty of attractions and activities to keep you entertained.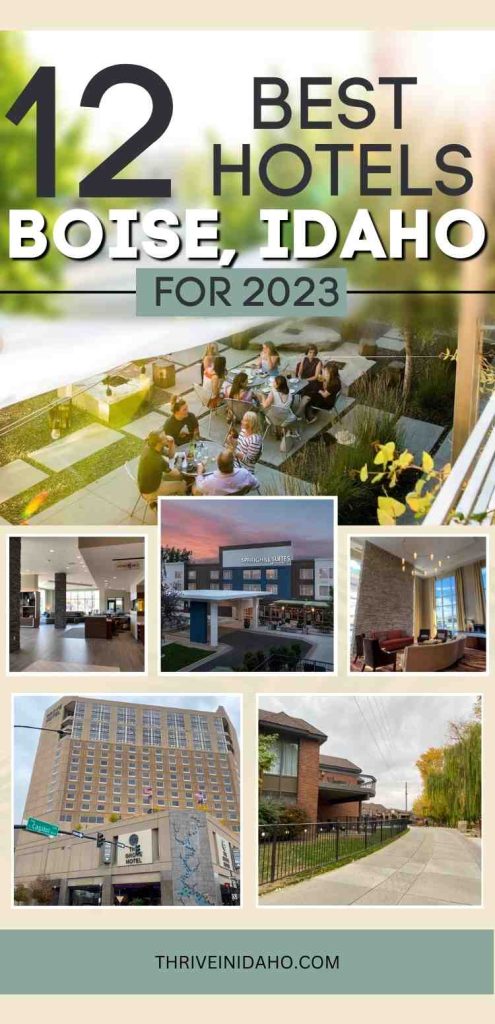 When it comes to finding the best accommodations in Boise, there's no shortage of hotels and motels to choose from. To help you make the right decision, we've rounded up the 12 best hotels in Boise for 2023.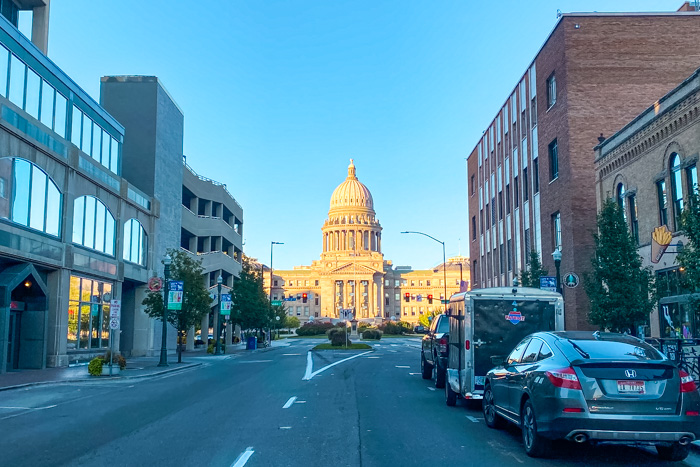 THIS ARTICLE MAY CONTAIN COMPENSATED LINKS. PLEASE READ OUR DISCLAIMER FOR MORE INFO. THIS POST WAS WRITTEN BY JILL GREISING-MURSCHEL, A LOCAL IDAHO MOM AND TRAVEL BLOGGER.
12 Best Hotels in Boise To Stay in 2023
This 2023, we're rounding up all the best places to stay in Boise. Whether you're looking for a budget friendly option, a luxury suite, or the best Boise hotels with pools, there's something for everyone.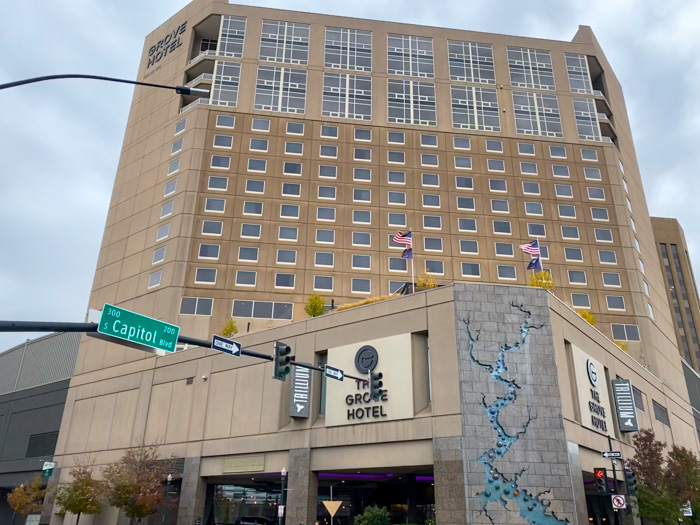 Located in the heart of downtown Boise, this hotel offers luxury accommodations with a variety of amenities. With an outdoor swimming pool and hot tub, fitness center, business center, and complimentary continental breakfast, the Grove Hotel is an ideal choice for business and leisure travelers alike.
Not only that it's known for its fantastic service and excellent food, but it received a AAA Four-Diamond rating in 2021 for luxury hotels in Boise ID. This by far is the first choice for travelers with high standards.
Some of the amenities this hotel offers are:
Free Wi-Fi
Use of state-of-the-art gym equipment
Take yoga, boot camp, and cycling
Indoor lap pool or jacuzzi
and the crowd favorite, get soothing massages from their spa
Next time you visit The Grove Hotel in Boise, make sure to pamper yourself with the luxury amenities it offers.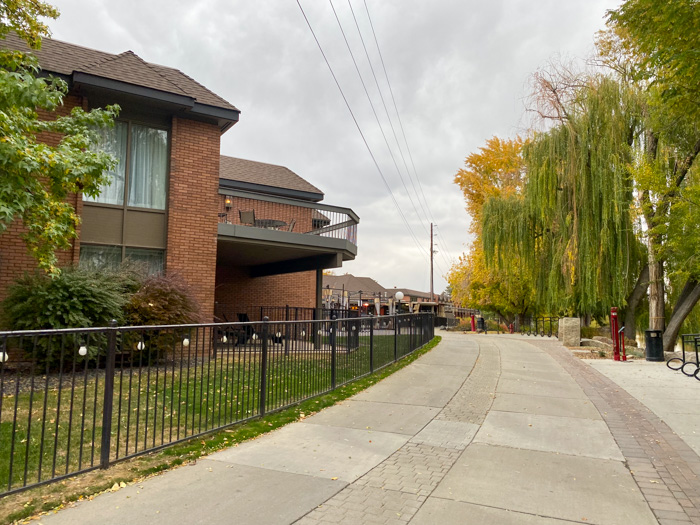 The Riverside Hotel is one of the best hotels in Boise, and for good reason. Located on the beautiful Boise River, this hotel offers easy access to downtown attractions like the Idaho State Capitol Building, and stunning views of the river.
They offer a wide range of amenities and services to make your stay more enjoyable, such as an onsite restaurant, complimentary breakfast, fitness center, indoor pool, and a heated outdoor pool that will surely make your stay more memorable.
The Riverside Hotel also offers a variety of packages to make your stay extra special. From complimentary Wi-Fi and pet-friendly rooms to discounted rates for extended stays, the Riverside Hotel provides plenty of value for your money.
For their in-house restaurant, they have the Riverside Grill, Wild Sea Las Olas, and more. Their restaurants are only one of the top food choices in Boise. This is one of the top hotels in Garden City Idaho to book, as it's only 2 miles from downtown Boise and on the river.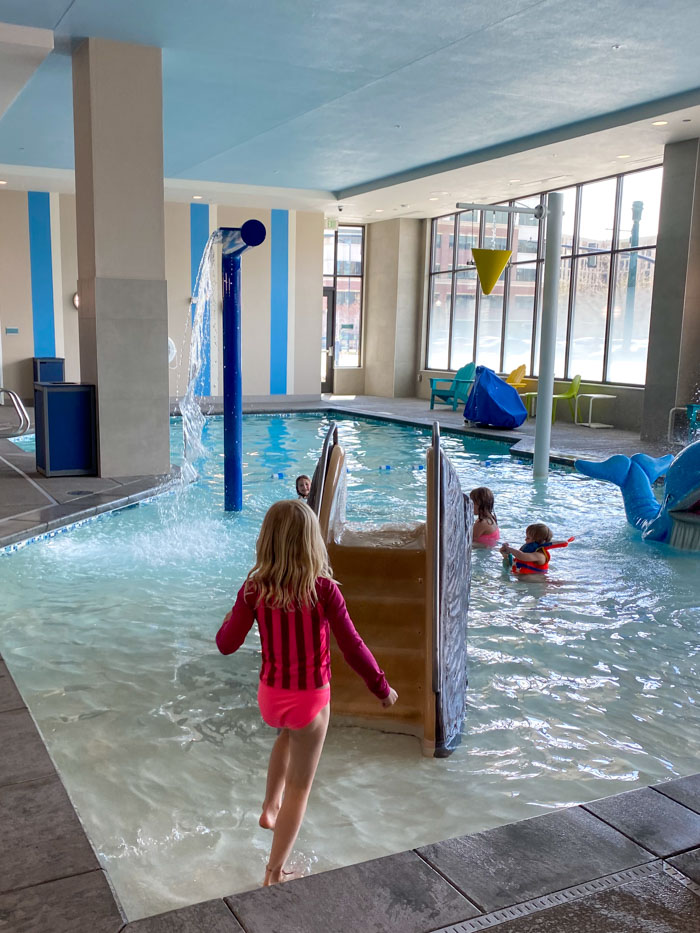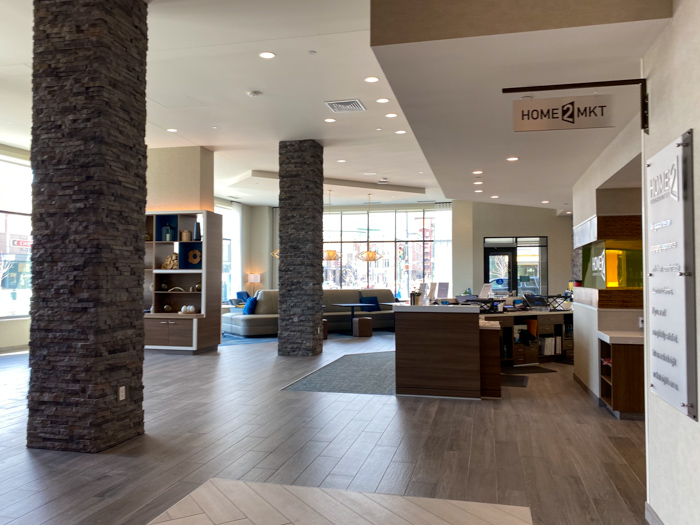 Home2 Suites by Hilton Boise Downtown is one of the unique hotels in Boise. This all-suite hotel that gives a colorful and modern vibe is close to many of the city's attractions, including Zoo Boise and Julia Davis Park.
This bright and airy hotel allows you to enjoy a comfortable and spacious suite with full kitchen, modern amenities, and all the comforts of home. It has a total of 138 suites equipped with flat-screen TVs, complimentary breakfast, a fitness center, and even a pool. On top of that, they are a pet friendly hotel, which means visitors are welcome to bring their furry friends along!
Located in downtown Boise, this hotel offers outstanding access to the Boise Centre – a paradise of shops, eateries, galleries, and pubs that will make your stay extra convenient for those who want to explore the city.
Moving To Boise, Idaho or the Treasure Valley?
Download this FREE 50-page relocation guide to Boise and make Boise your new home sweet home. Your ultimate relocation guide awaits!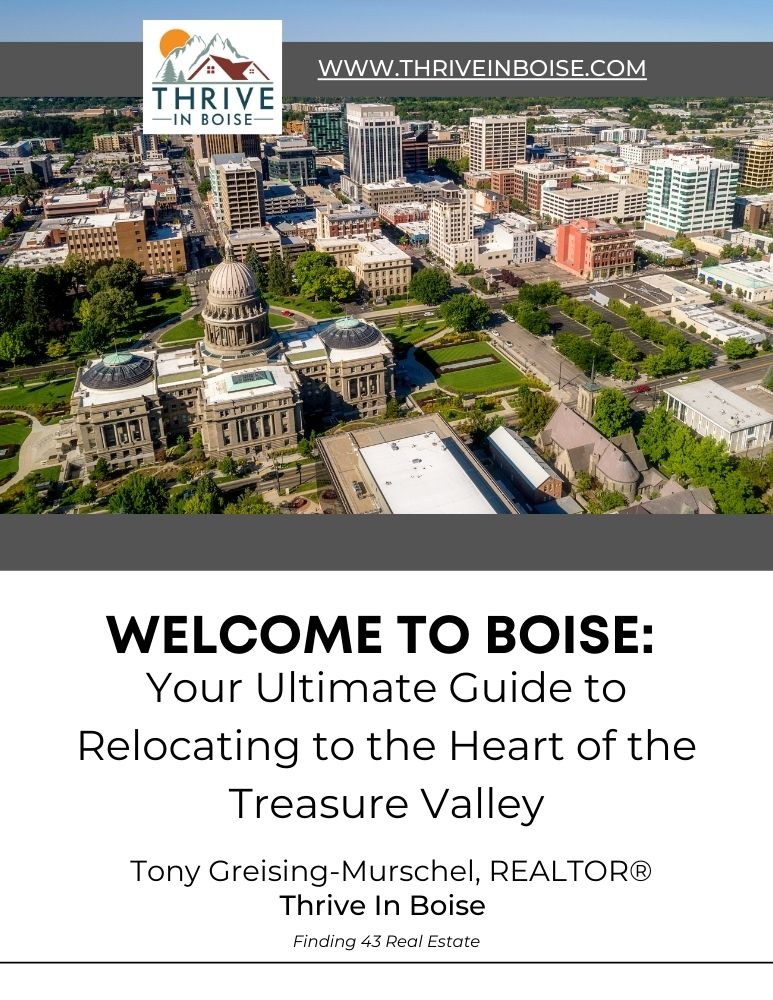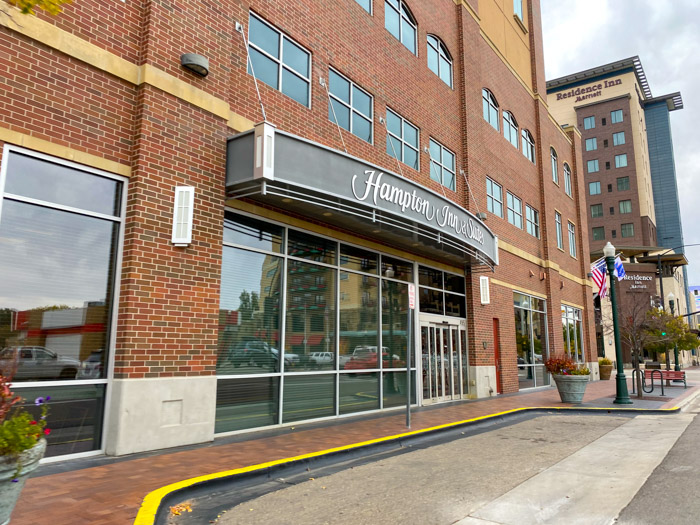 If you're searching for a more budget-friendly option, the Hampton Inn and Suites Boise Spectrum is a four-star hotel that offers cozy and modern rooms at great value. They are also great for those traveling for a business trip, as they provide all the amenities you need with their Business Center and complimentary internet access.
Located near Interstate 84, it's near the premier entertainment ave in Boise. Although they are quite far from the Boise Centre and other downtown attractions, it's close enough for you to take a leisurely stroll and explore some of the city's sights.
Some of the known amenities Hampton Inn and Suites Boise Spectrum offers are an outdoor pool, business center, fitness center, and a complimentary hot breakfast. It's definitely an ideal hotel for those who want to stay longer in Boise without breaking the bank. They are also pet-friendly that will accommodate your furry friends.
Real relaxation awaits you at the Oxford Suites Boise. This four-story hotel exudes a feeling of warmth and comfort with its garnet color hues throughout the property. You will love the luxurious furnishing this hotel offers and the amenities that you can enjoy while you're here.
It has a total of 132 guest rooms that comes with complimentary breakfasts. Aside from that, it boasts of an indoor pool, fitness center, and a spa area that includes massage therapy, sauna, and a steam room.
If you're searching for a more pampering experience, then Oxford Suites Boise is the perfect place for you. You can either drink wine or beer at the onsite bar or just soak in the hot tub.
When it comes to convenience, the Springhill Suites by Marriott Boise ParkCenter has it all. Located within the city's business district, it's a great choice if you're looking for a business stay or just a leisurely vacation.
This hotel offers plenty of space and amenities that will make your stay comfortable. It has a total of 3,600 square feet that gives some of the largest suites in the area offering four meeting rooms, an outdoor pool, and a lobby or patio area for guests.
Whether you're out for business or pleasure, Springhill Suites by Marriott Boise ParkCenter will provide you with all the comfort and convenience you need. You can oversee the Boise River Greenbelt and enjoy quality amenities for an affordable price.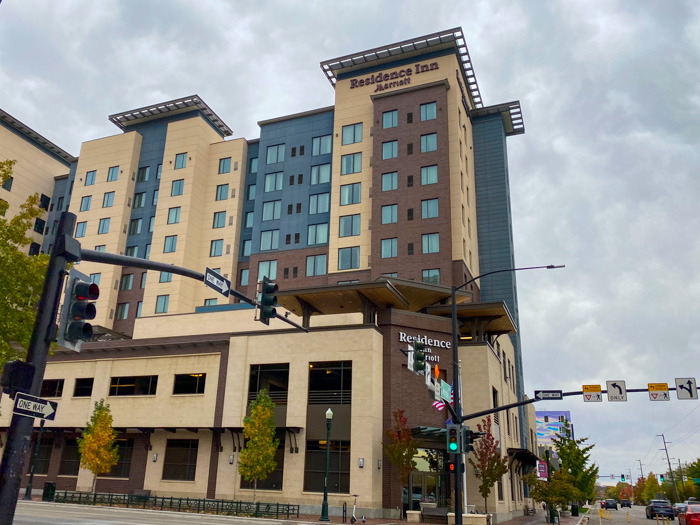 Residence Inn Boise Downtown is one of the best hotels in Boise and one of the most popular hotels in the US. It's located in Downtown Boise, which makes it perfect if you want to explore the city's attractions. In fact, going to Boise State University is within walking distance away.
This hotel offers luxurious amenities such as a fully-equipped kitchen, complimentary high-speed internet access, evening socials, an outdoor pool, even grocery delivery service, and a free airport shuttle.
What makes this hotel extra special is the fact that you can actually have a barbecue picnic outside, which is definitely a great way to spend quality time with family and friends. Their restaurants also offer Vegan/Vegetarian options, which are perfect for those who are health-conscious.
Holiday Inn Boise Airport is conveniently located a mere half mile away from the Boise Airport and provides easy access for travelers. This means you can quickly and easily get to the hotel after your flight.
The hotel itself is quite modern with its contemporary design, comfortable beds, complimentary self-parking services that are available in their secure parking lot and complimentary hot breakfast.
Aside from that, you can also access the 24-hour fitness center as well as an indoor pool, and the best part is, kids eat for free! They are also pet-friendly and they are one of the finest hotel suites in Boise with 119 rooms and complete hotel amenities.
Located in the Linen district, the Modern Hotel and Bar offers the perfect balance between modern and historic culture. This hotel was built in the 1920s and it offers some of the best features for its guests. Their interior features a minimalist and mid-century modern look that will surely catch your eye.
Aside from their one-of-a-kind room styles, they have incredibly cheap rates that make it possible for people to stay and enjoy their amenities. They also have The Modern Bar, which is a great spot to grab a drink and relax.
All rooms are also connected with Wi-Fi internet and comfortable beds. They are also pet-friendly and have a courtyard for your pets to roam around. At night, their bar makes a great place to sip cocktails and unwind after a long day.
Are you searching for an upscale experience? Then the Inn at 500 Capitol is the perfect choice for you. It boasts a luxurious and artistic style that is sure to make your stay memorable.
Located in the center of downtown Boise, on S Capitol Blvd, you'll be able to access all the attractions such as the Boise Art Museum, Egyptian Theater, and the Farmers' Market which is only a few walking minutes away. This luxury boutique hotel provides guests with personalized service of local wine or beer upon arrival. Now, how cool is that?
The Richard Restaurant is also available for a fine dining experience, serving classic dishes and unique cocktails. Guests also get to enjoy complimentary Wi-Fi internet and unlimited snacks in the pantry. If you're bored in the afternoon, you can take complimentary cruiser bikes offered for an afternoon tour in the area. If this doesn't makes it the best luxury hotel in Boise, then nothing does.
Hilton Garden Inn Boise Downtown is another great place to stay in downtown Boise ID. Aside from its convenient location, this hotel is also the perfect place to relax after a long day of exploring the city.
Located steps away from the Idaho State Capitol, this hotel is the perfect home-away-from-home and central to all your needs in Boise. Providing you with an indoor pool, a business center, a fitness center, plus an onsite restaurant – what more could you ask for?
If you are visiting Boise, Idaho on a business trip, this hotel is the perfect choice for you. It features all of the amenities that will make your journey successful and stress-free: from a spacious work desk in each room to complimentary wifi access, as well as comfortable beds – it has everything necessary for an enjoyable stay. Plus, it's an affordable option which is great for those on a budget.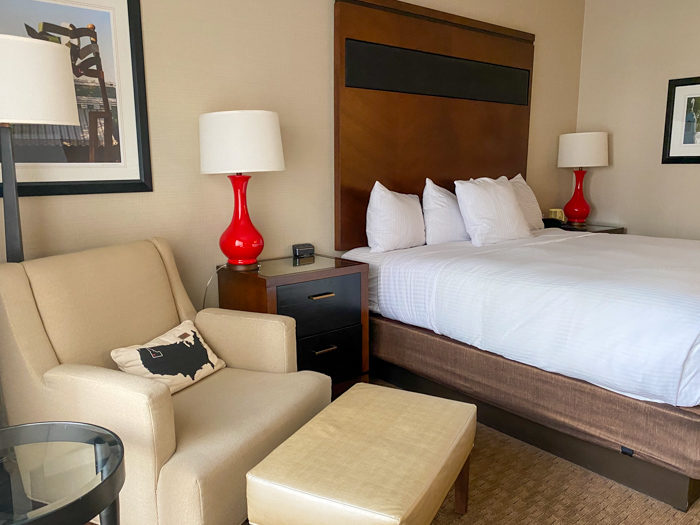 If you love art or if you're looking for something elegant and luxurious, then Hotel 43 is the perfect place for you. It was built during the 1980s, this cosmopolitan property is made with stylish rooms that have an eye-catching interior.
Aside from its great location, this hotel also has an upscale lounge and restaurant called Chandlers Steakhouse, a Forbes-rated restaurant that serves the finest quality food. A complimentary breakfast, free airport shuttle, and free Wi-Fi access are available in the hotel, making it a great choice for everyone.
Hotel 43 also offers plenty of amenities for its guest such as a spa, fitness center, business center, and a rooftop terrace with an amazing view of the city. Reconnect with yourself and experience the perfect balance of work, relaxation, exploration, and recreation all within one spectacular hotel.
Finding The Right Hotel For You in Boise
These twelve amazing hotels in Boise will surely meet all your needs and expectations. Boise is not only known for its outdoor activities, wild nightlife, and delicious food but also for its beautiful and luxurious hotels. So if you're looking for the perfect place to stay in Boise, these hotels are sure to give you the best experience possible.
To check further for the best hotels in Boise that will fit your need, we have compiled a list of the best hotels in Boise for you to choose from.
Luxury Hotels in Boise
Family Hotels in Boise
Pet-Friendly Hotels in Boise
Budget-Friendly Hotels in Boise
Alternative Places To Stay In Boise (not hotels)
What are you waiting for? Book now and make your stay in Boise a memorable one. Enjoy your Idaho vacation!