Boise, Idaho can be a great place for a romantic getaway! There are quite a few romantic hotels in Boise including the 5 star hotels in Boise Idaho. Whether you're looking for a cozy boutique hotel or one of the many Boise honeymoon suites in a luxurious hotel in Boise with a pool, Boise has the perfect place for you to escape with your significant other.
Spend a long weekend and enjoy the romantic things to do in Boise for couples. If you also want to get creative with your time and add on a short road trip away from Boise, then check out some more great ideas for planing an Idaho getaway to Idaho City, a romantic glamping trip in Idaho, or maybe an Idaho Ski vacation.
Let's dive into some of the best romantic hotels in Boise, Idaho! Every hotel listed here is sure to spark some romance and be the perfect getaway during your anniversary, honeymoon, or Valentine's Day celebration.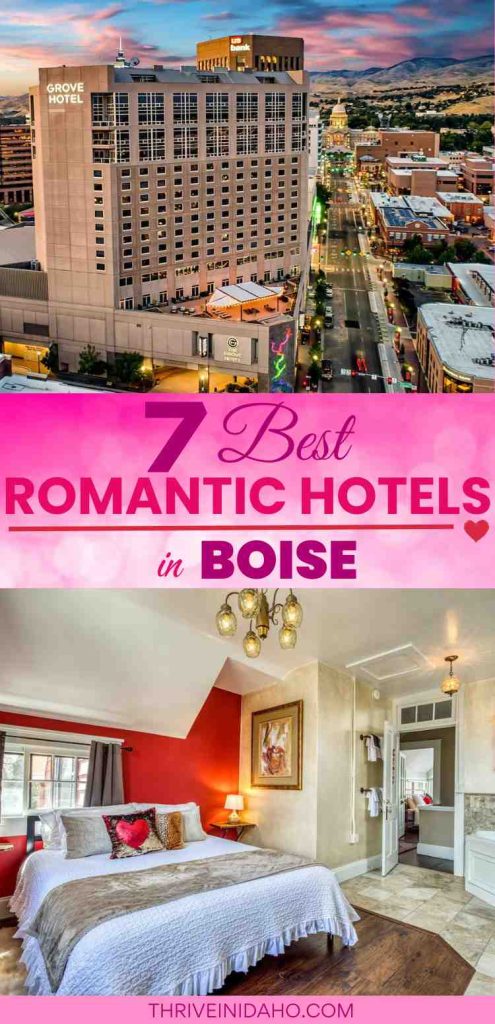 THIS ARTICLE MAY CONTAIN COMPENSATED LINKS. PLEASE READ OUR DISCLAIMER FOR MORE INFO.
The Inn at 500 Capitol is one of the top romantic boutique hotels in Boise. Located in Downtown Boise, the inn offers stunning rooms with fireplaces and comfy robes, plus many more luxurious features.
For those looking for a romantic dinner, the on-site restaurant serves up delicious dishes created with local ingredients. You can also choose to have a private breakfast in bed too! From walk-in rain showers to a soaking tub and even a special celebration package, you will find everything you could hope for at this romantic hotel.
At The Grove Hotel, you will find an incredibly romantic setting perfect for your honeymoon or weekend getaway. It is one of the charming Boise boutique hotels in Downtown Boise that will make for the perfect romantic getaway in Idaho.
Book a suite that acts as one of the honeymoon suites Boise Idaho has to offer, with a jetted tub in the room perfect for two.
Couples staying at the Grove Hotel can also get a special romantic package, where you get a $50 credit to Trillium Restaurant or for room service if you want to stay in your room. It also comes with fresh strawberries, champagne, and chocolate truffles as well.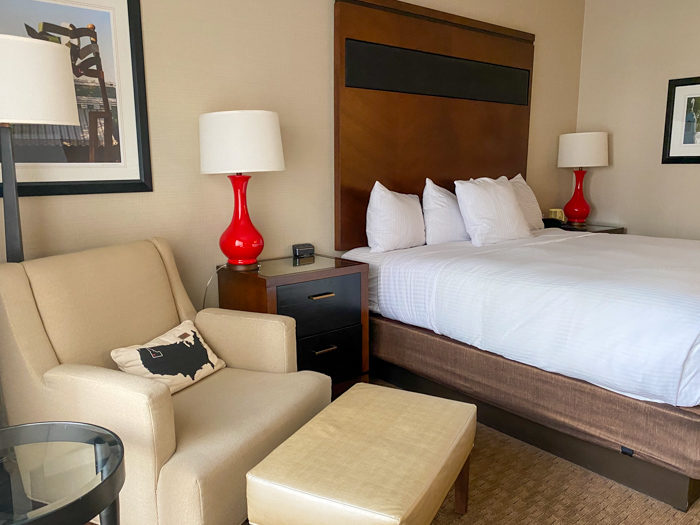 Hotel 43 is a great option for couples looking for a truly romantic experience in Boise. Located in Downtown Boise, it is just steps away from a variety of restaurants, shops, and attractions.
Inside this boutique hotel in Boise Idaho, you'll find a luxurious yet cozy atmosphere filled with suits offering great amenities, including spa robes, king-sized beds, an oversized jetted tub, and a wet bar, making them the perfect spot to relax and unwind. To take your stay to the next level, book the cozy couple's escape package, which includes a bottle of wine, wine glasses, or flutes for you to keep, valet parking, and more.
Moving To Boise, Idaho or the Treasure Valley?
Download this FREE 50-page relocation guide to Boise that will help answer many of your questions!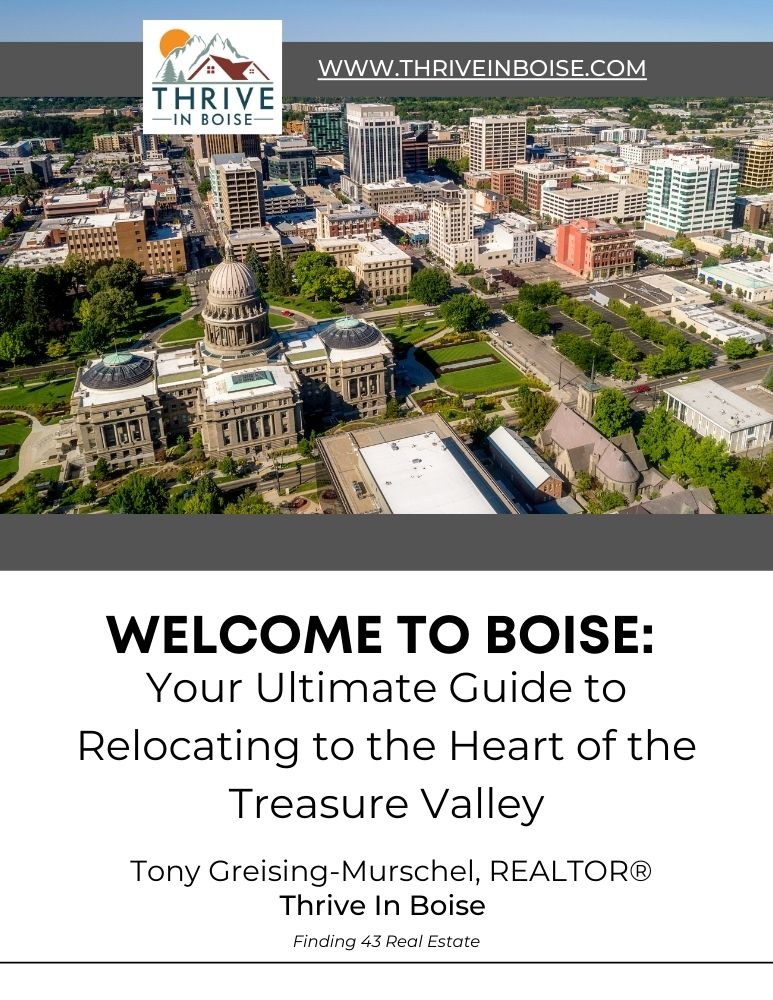 Another perfect escape for a romantic getaway in Boise is at The Modern Hotel. This hotel has modern, stylish decor, comfortable guestrooms, and a tasty bar and restaurant worth visiting.
Most rooms here will have a soaking tub and walk-in rain shower with two showerheads. There is also an outdoor courtyard with fire pits, creating the perfect cozy setting with your loved one. Whether you're looking to relax and unwind or to explore Boise's many attractions, The Modern Hotel provides the ideal setting for a romantic retreat.
There are some great Boise breweries close by The Modern Hotel that would make for a great date night during your stay.
The Riverside Hotel is one of the best boutique hotel Boise has to offer! It is a romantic destination for couples looking for a luxurious retreat that will provide the perfect mix of relaxation and romantic activities.
Located on the banks of the Boise River, the Riverside Hotel offers stunning views of the river for couples to enjoy. The hotel also offers a variety of bars and dining options too!
Relax in a signature Boise honeymoon suite, which features added privacy, garden tubs, luxurious bedding, and more. You will also find a sauna, spa, wine-tasting rooms, indoor and outdoor pools, and so much more here. It truly is the best romantic hotel in Boise, Idaho!
There are many romantic things to do in Boise that are close to the Franklin House, making it another perfect place to stay during your romantic getaway in Boise. While it is not a hotel, it definitely is worth mentioning on this list for its romantic setting.
The Franklin House has five bedrooms, a beer garden, hammock swings, and fire pits. Two bedrooms even have their own private hot tub! It is the perfect place to relax and unwind for a special weekend getaway.
This themed hotel Boise, Idaho, is incredibly romantic! Here you will find 40 rooms, each with its own special theme. Each room comes with a complimentary breakfast and cider to make the stay more enjoyable.
Most of the rooms have jetted tubs inside, along with many other relaxing features, including fireplaces, waterfall showers, and so much more. The Romeo and Juliet Suite has a king-sized bed, balcony, long winding staircase, and a huge jetted tub, and it would be the perfect romantic room for couples.
---
If you're looking for a better recap of the best hotels in Boise ID then check out our ultimate post. Or, if you would rather stay in a vacation rental or romantic log cabin, check out these other great places to stay in Boise!
Boise is the perfect destination for couples in search of a little romance. From luxurious resorts to boutique hotels, there are plenty of romantic hotels in Boise Idaho, to choose from. With breathtaking views, cozy rooms, and romantic amenities, these hotels are sure to provide you and your partner with a memorable romantic experience.
Whether you're looking for a romantic weekend escape or a memorable honeymoon, these hotels in Boise can make your dream vacation getaway come true.