Winter can be a time of year that might bring you down, but not in Boise! There are so many great activities and fun things to do during our Boise Idaho winter. You can enjoy Christmas in Boise events, or go skiing near Boise at Bogus Basin to just name a few examples.
Whether you're a lifelong resident or just passing through, Boise in the winter offers a great blend of activities for everyone. So, let's dive into the best that winter in Boise has to offer!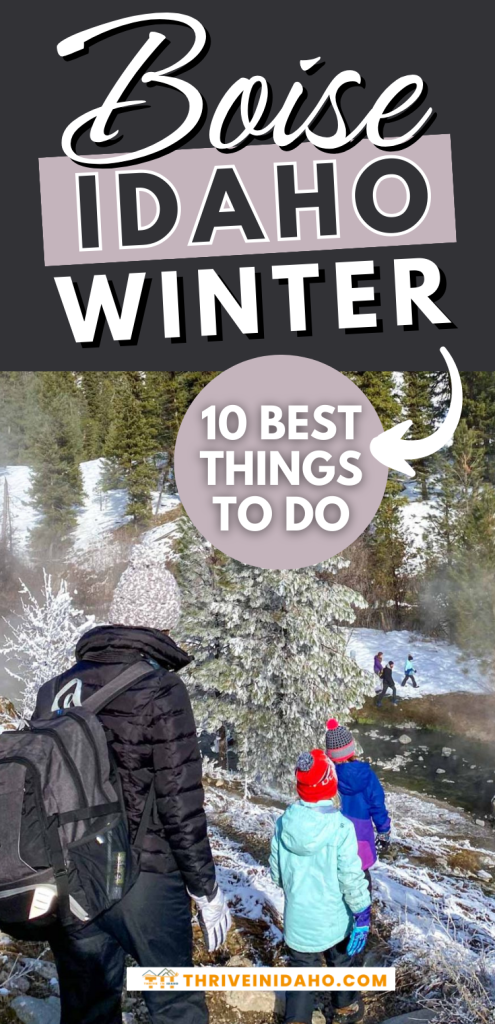 THIS ARTICLE MAY CONTAIN COMPENSATED LINKS. PLEASE READ OUR DISCLAIMER FOR MORE INFO. THIS POST WAS WRITTEN BY JILL GREISING-MURSCHEL, A LOCAL IDAHO MOM AND TRAVEL BLOGGER.
Snow-Filled Boise Winter Adventures
If you're looking for outdoorsy things to do in Boise in the winter, then you might be excited to learn how easy it is to get into the snowy mountains from Boise. Located just a 30 minute drive from the peaks of Bogus Basin, you can find snowy mountain areas to go sledding, snowshoeing, and more, just 20 minutes from downtown Boise.
Here are a few great snow-filled adventures in or near Boise.
Go skiing, snowboarding, or tubing at Bogus Basin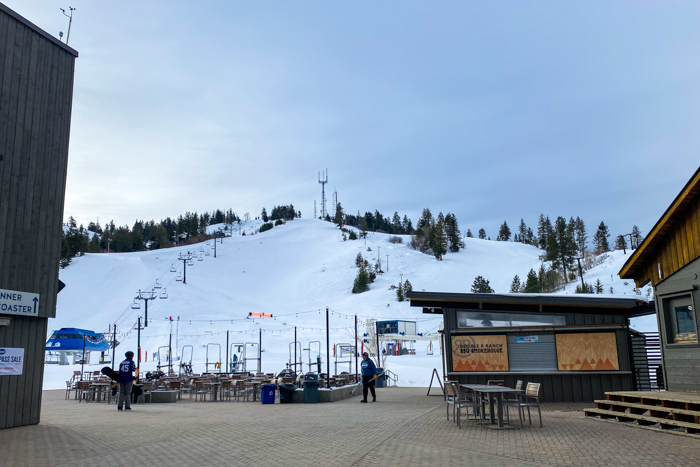 Bogus Basin is the local ski area offering 2,600 acres of terrain at 5,600 feet of elevation, bringing snow to the area often as early as October. Located just 18 miles north of downtown Boise, Bogus Basin is a great ski area for anyone looking to drive up and down the mountain from Boise in one trip.
You can enjoy skiing at all levels, snowboarding, cross country skiing, snow showing, and even snow tubing at Bogus. They are usually open from late November through early April, snow and weather permitting.
Snowshoeing in the Boise Foothills
If you are not an adventure sport kind of person, but would still like to enjoy the beauty of the snow covered Bosie foothills, then snowshoeing might be a great option for you.
Consider renting snowshoes from Bogus Basin and following their Nordic Trails for a great winter Boise adventure.
Winter Hikes near Boise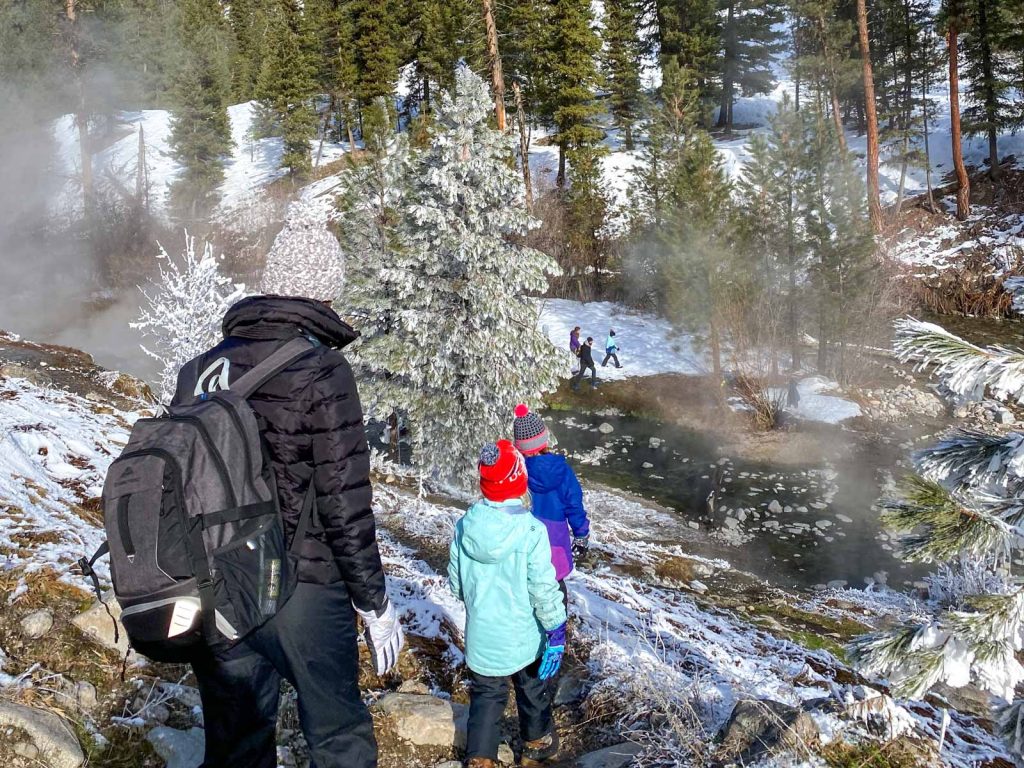 What's so great about Boise, compared to some other areas of the country, is that you can hike year-round here. Now, you'll want to dress for the colder temperatures, wear the best hiking shoes or boots such as these, and stay off muddy paths. Some hiking paths are considered all weather in Boise are located at Camel's Back Park, in North Boise. Owl's Roost and Red Fox Trail are great options for winter hiking.
Downtown Boise in the Winter
Enjoying what downtown Boise has to offer is one of the great things to do in Idaho. Especially for 'city people' who may not want to get out into the country.
Visit the Basque Museum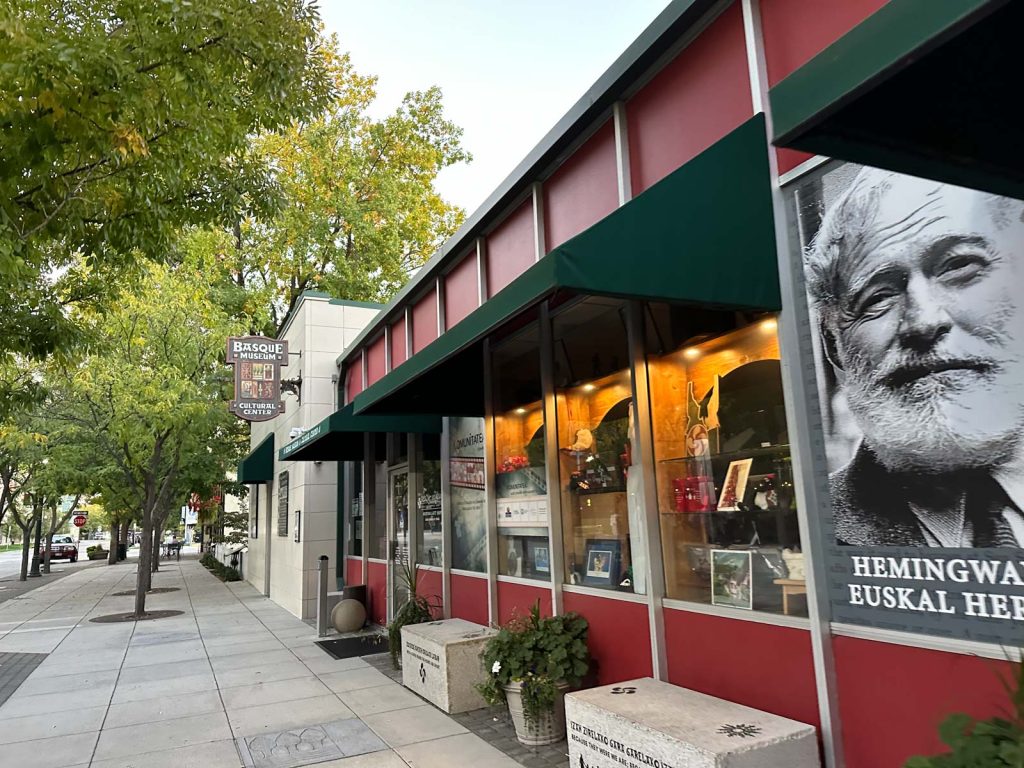 The Boise Basque Museum offers a cultural experience for anyone interested. The Basque region is located between France and Spain, near the Pyrenees Mountains and the Bay of Biscay. Boise is proud to share about this unique Basque history and population.
Boise Winter Market Shopping
Tis the season for wintery market shopping. Boise has a few great options at the Boise City Centre and the Expo Idaho.
Go Ice Skating in Downtown Boise
Go ice skating at the new Glide on Grove in downtown Boise from Thanksgiving through the last Sunday in January.
Culinary Wonders of Boise in Winter
If you're looking to grab a great meal or drink in Boise this winter, then keep reading. Here are a few great options.
Cozy Cafes and Boise Coffee Shops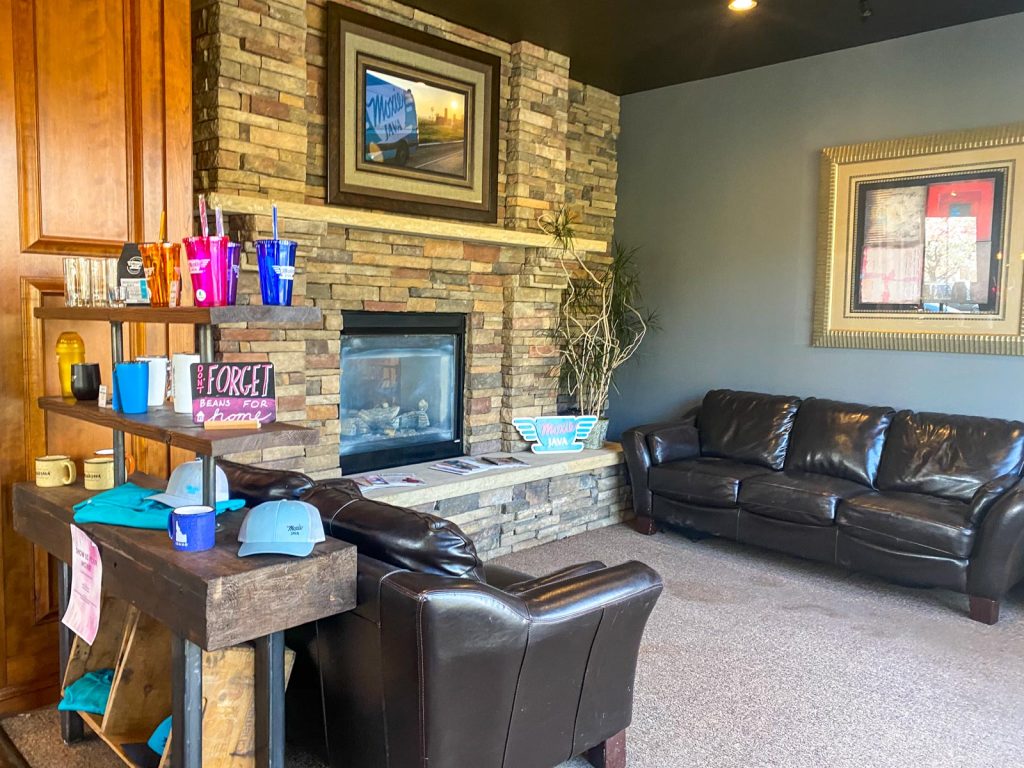 Warm up with a nice cup of hot cocoa or a latte at one of the many cozy Boise cafes and coffee shops. A favorite of mine, with a fireplace and couches, is Moxy Java on Chinden. Another favorite is Alchemist on Overland offering up pumpkin spiced lattes in late fall and early winter and cozy couches to snuggle up on.
Winter Boise Comfort Food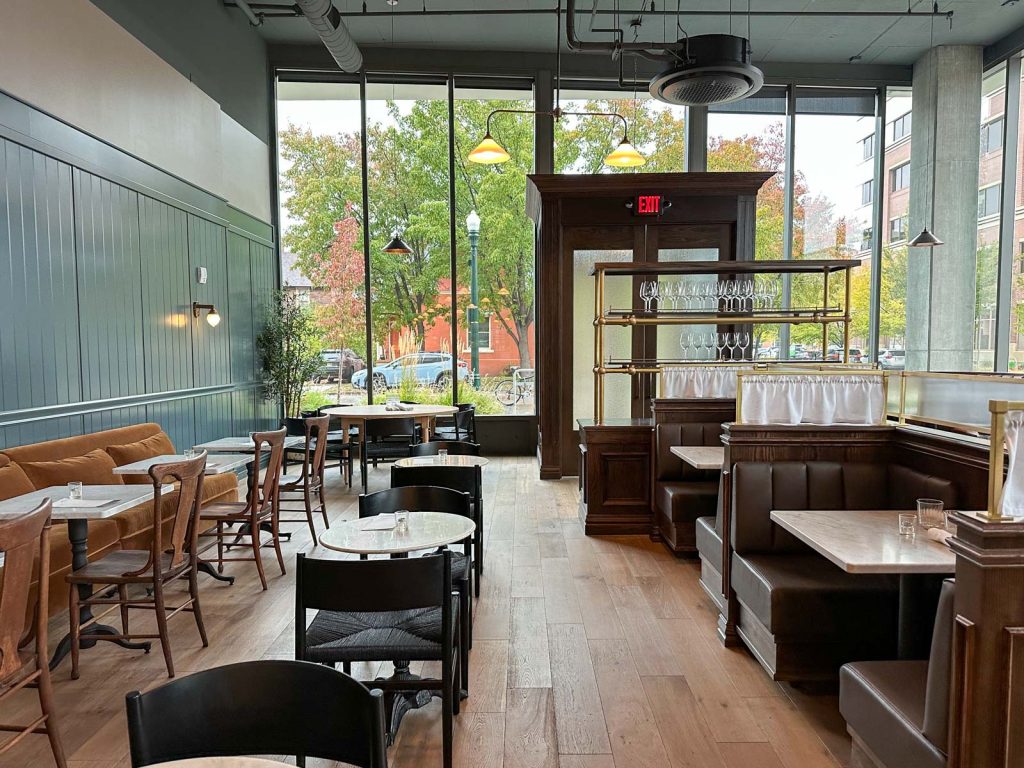 Looking for meals perfect for winter? Try the Braised Short Rib sandwich and a french press coffee at our new favorite Boise restaurant Percy, in downtown Boise. Or, enjoy a delicious Sunday Brunch at Cottonwood Grille with the ever-changing seasonal menu. It's listed as one of the best Boise restaurants to enjoy.
Local Breweries in Boise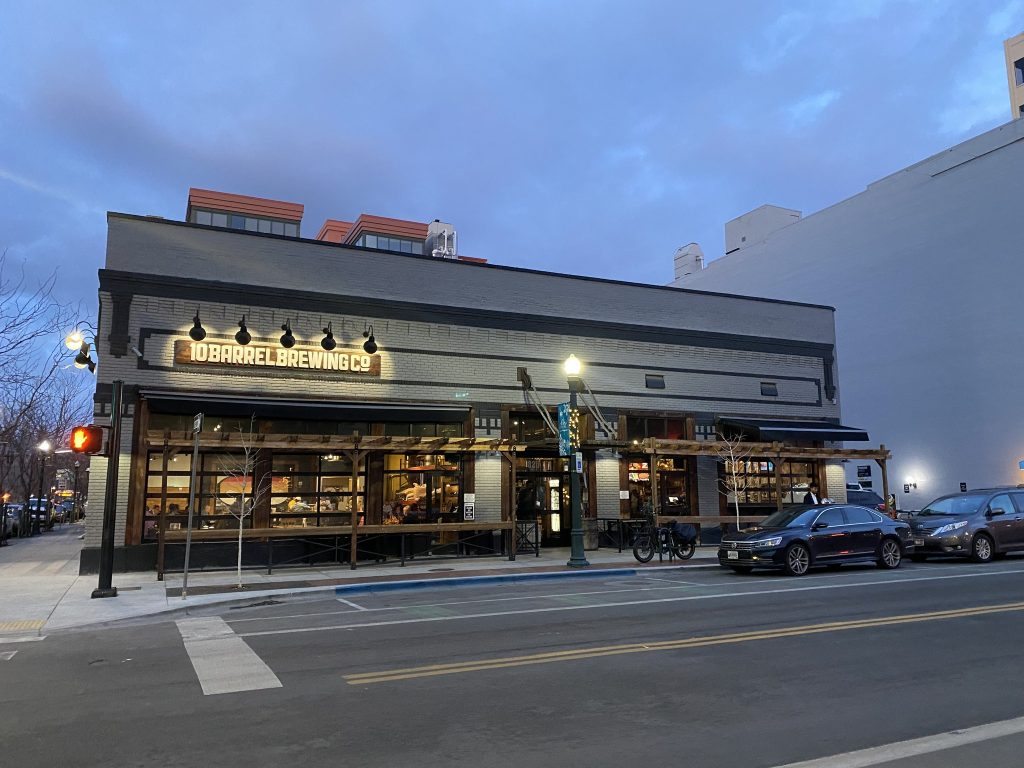 If you're looking for a local brewery after a day of skiing or snowshoes, then check my updated list of the best Boise Breweries. You may also enjoy visiting one of the many Boise wineries for a wine tasting to top off your day.
Boise Christmas and Holiday Events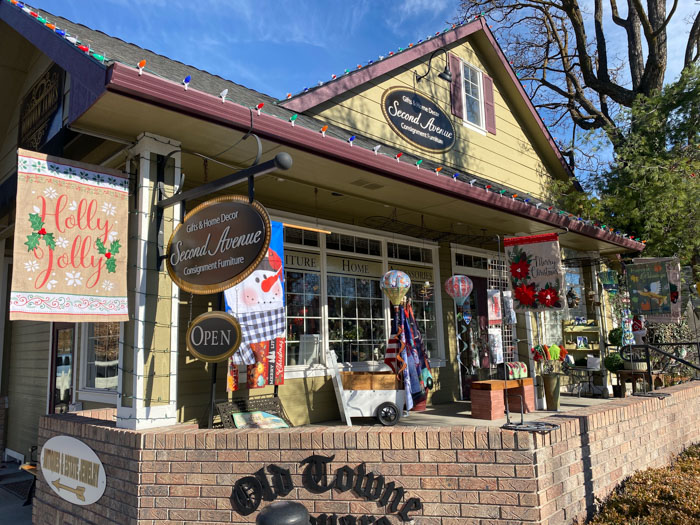 Boise ID winter is not complete without enjoying the fun Boise Christmas experiences the capital city has to offer. From ice skating in downtown Boise to enjoying the popular Winter Garden aGlow at the Idaho Botanical Garden, there are so many events in Boise for families to get together and celebrate the holiday season.
I hope you got inspired about some of the great things to do in Boise Idaho in winter!