Trying to decide between Brundage vs Tamarack ski resorts near McCall Idaho? You really don't have to go far to find ski areas near McCall Idaho. However, there's much more to consider when looking for the best Idaho ski resort for your winter ski getaway.
When reaching out to friends and asking where you should book a ski trip north of Boise, they may give you their take on Tamarack vs. Brundage. Unless of course you'd like to take a day trip from Boise to Bogus Basin, just a 40 minute drive from Boise.
If you're planning a winter Idaho road trip and want to experience one of the best things to do in McCall Idaho, then skiing or snowboarding should be at the top of your list. In this article, you'll learn unbiased information to help you choose which ski resort near McCall Idaho you'd like to visit.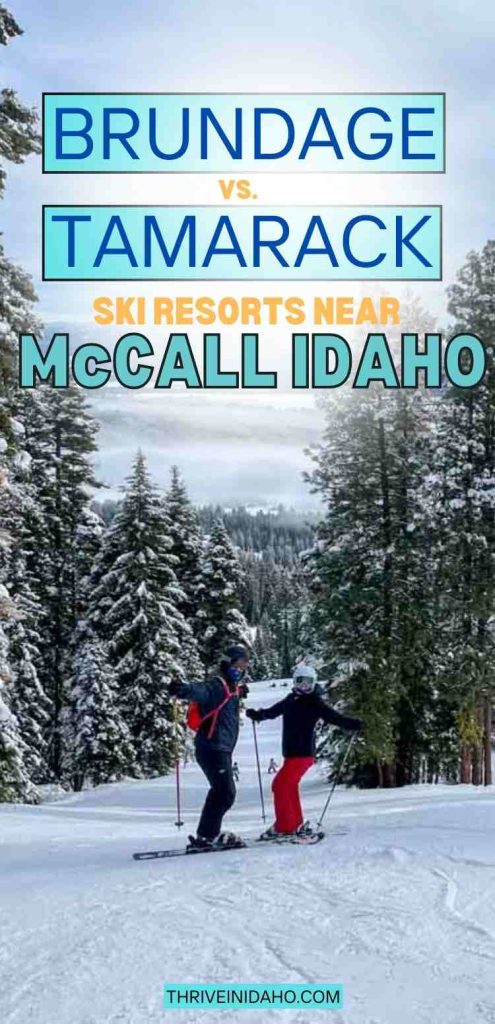 THIS ARTICLE MAY CONTAIN COMPENSATED LINKS. PLEASE READ OUR DISCLAIMER FOR MORE INFO. THIS POST WAS WRITTEN BY JILL GREISING-MURSCHEL, A LOCAL IDAHO MOM AND TRAVEL BLOGGER.
FAQs on Brundage vs. Tamarack Ski Resorts in Idaho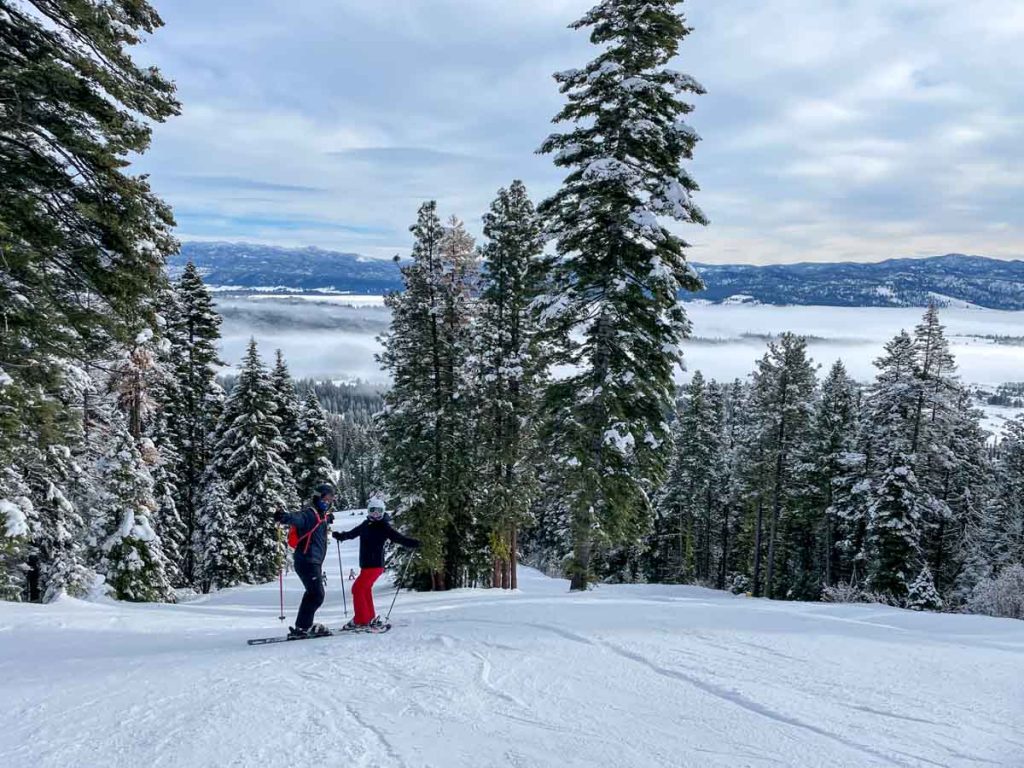 Is Brundage bigger than Tamarack?
Brundage offers 1920 acres of accessible skiing terrain by lifts while Tamarack offers 1,100 acres of lift accessible terrain, making Brundage bigger than Tamarack. However, Brundage's vertical drop is smaller offering only 1,921 vertical feet while Tamarack offers 2,800 feet in vertical drop.
How far is Tamarack Ski Resort from McCall?
Tamarack Resort is located 22.5 miles from downtown McCall, Idaho. It's situated Southwest of McCall overlooking Lake Cascade and only 20 minutes from downtown Cascade Idaho.
How far is Brundage Ski Resort from McCall?
Brundage Ski Resort is located 9.1 miles from downtown McCall, Idaho. It's situated Northwest of McCall overlooking Payette Lake.
Skiing At Brundage – The Original McCall Idaho Ski Resort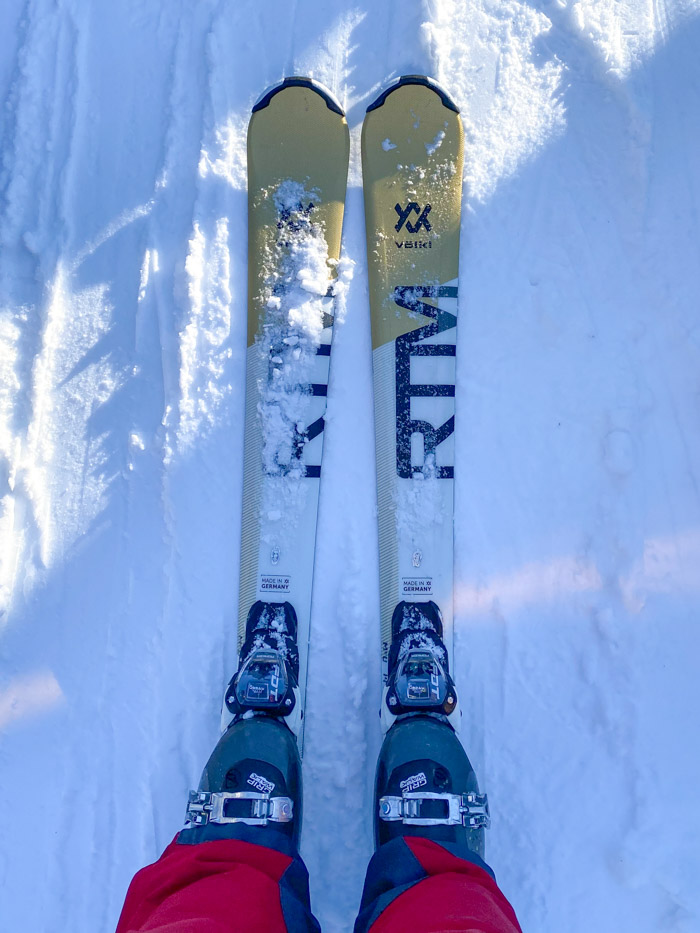 Brundage McCall ski resort has been providing Idahoans ski options for over 60 years. It was the 'original' McCall Idaho ski resort, however the ownership changed in 2020.
The summit level at Brundage is 7,803 feet with a base elevation of 5,882 feet. They provide 6 lifts throughout the ski area including one high-speed quad, four triple chairlifts, and one conveyor for beginners. They offer 21% of beginner runs, 33% intermediate runs, 46% advanced runs, and two terrain parks.
Lessons and Ski School Options at Brundage
Brundage doesn't offer a specific 'ski school' option for visitors, however they do offer private lessons, group lessons, and weekly packaged lessons for locals who come each weekend. Beartopia is the beginner area that offers two triple chair lifts and is great for beginners and lessons.
Where To Stay When Skiing at Brundage
As of 2023, Brundage does not offer any onsite lodging. The best places to stay when skiing or snowboarding at Brundage is in the city of McCall. A popular hotel in McCall for families is the Holiday Inn Express. Or, if you're looking for an affordable, yet highly rated vacation rental then check out this house.
Where to Eat When Visiting Brundage Ski Area
There are a few dining options at Brundage while you are skiing. The main Lodge hosts three food options including Main Street Market, Smokey's, and Upper Lot. They offer things such as coffee and food to go, a sit-down restaurant, and a 21+ full service bar.
Brundage also provides The Bandit, a food truck at the base featuring meals, snacks, and drinks. Yet, if you are on the mountain and want to grab some food, Bears Den is a mid-mountain option with food, snacks and a full bar.
What is Brundage Known For?
Brundage is known for getting some of the 'best snow in Idaho'. They get 320 base area inches of snow per year. It's also known for being the home to the most backcountry terrain in the state of Idaho. Brundage features 420 acres of lift-accessible backcountry and an additional 18,000 acres of snowcat-served wintertime bliss.
Skiing at Tamarack Resort – Another McCall Idaho Skiing Option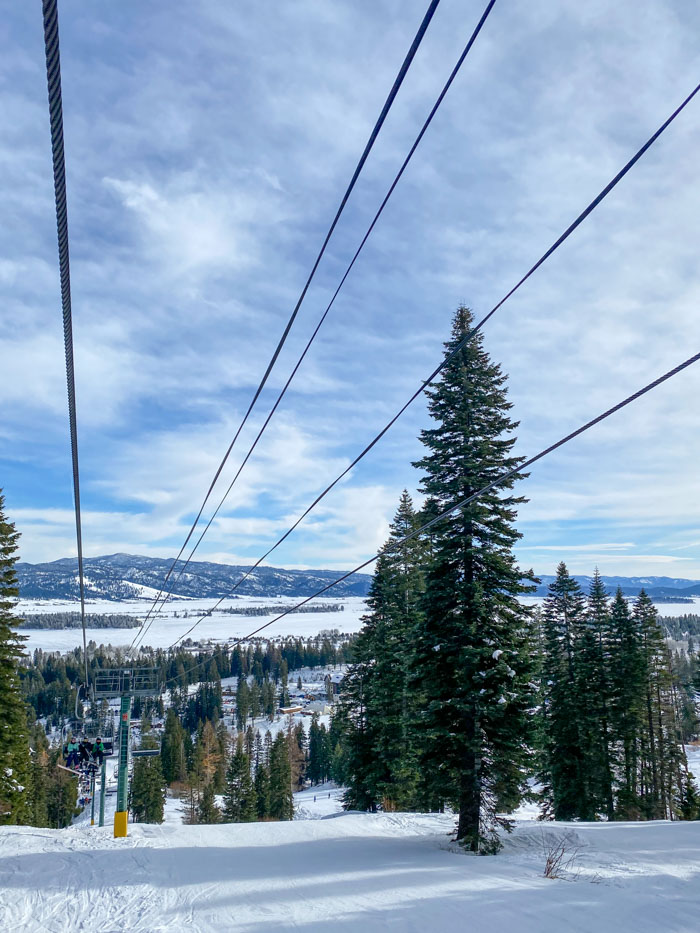 Located only 90 miles North of Boise Idaho, and just 22 miles South of McCall, Tamarack Resort provides a great location for many snowboarding and skiing enthusiasts. There's even ski in ski out Tamarack Resort lodging options, an abundance of dinner options, and large event space which makes it very appealing to many visitors.
Tamarack's winter lift operations began in 2004 and the ownership has changed hands a few times since then. This McCall Idaho ski resort has been an up-and-coming favorite by many. The Village Plaza offers an abundance of dining and lodging options, all accessible in your ski boots from the base of the mountain.
The summit elevation is 7,700 feet high while the base level is at 4,900 feet high, giving skiers a huge 2,800 vertical feet to descend when starting at the top! This provides a much larger drop than Bogus Basin's 1,800 feet and Brundage's 1,921 vertical feet.
Tamarack Resort receives about 300 base area inches of snow each year, coming up close behind Brundage. They offer seven lifts and provide 17% of beginner runs, 45% intermediate runs, 38% advanced runs, and 4 terrain parks.
Lessons and Ski School Options at Tamarack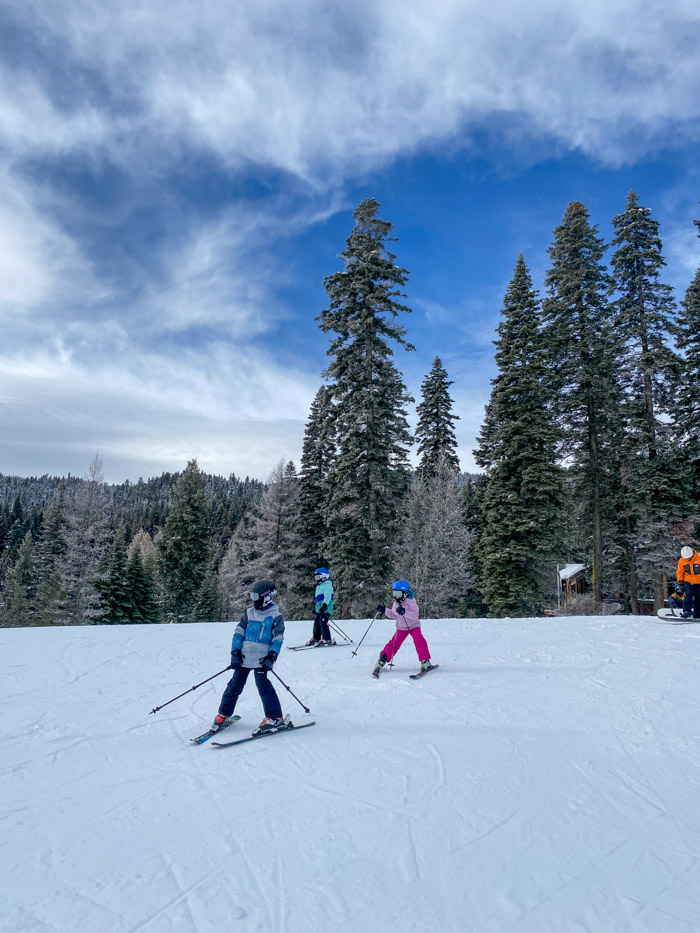 Tamarack Resort offers Ski School for families who are taking weekend vacations. For example, in 2022/2023 season, children between the ages of 7-12 years old are able to be signed up for 5.5 hour days of Ski School on Saturdays, Sundays, and holidays. They provide lunch and your child is able to ski with peers his or her own age.
Where to Stay when Skiing at Tamarack
The Village Plaza offers many on site ski-in-ski out lodging options at Tamarack Resort. You have several options such as staying at The Village at Tamarack, The Lodge at Osprey Meadows, or Tamarack Homes and Cottages. You can also find some great vacation rentals such as this one offering ski in and ski out options!
Where to Eat When Visiting Tamarack Resort in Idaho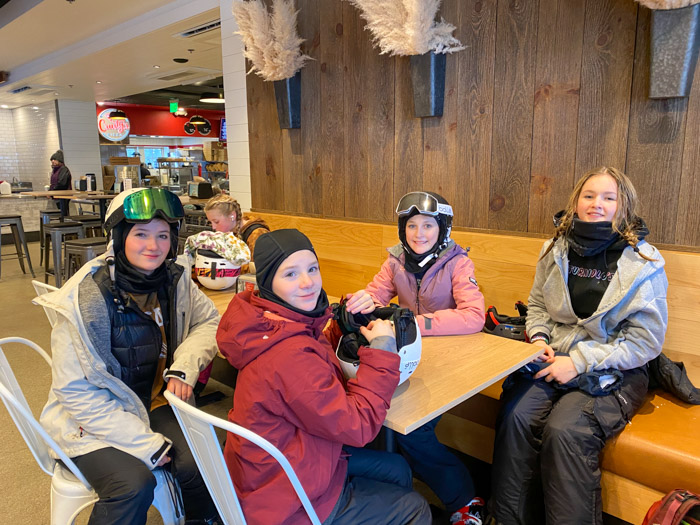 There are several options when looking for dining at Tamarack Resort at The Village. We ate at Triple B Diner and the kids loved the chicken fingers while the adults appreciated good burgers. We also enjoyed espresso at Clearwater Coffee Company and a burrito bowl for lunch one day at El Pueblo Taqueria.
The Reserve is a great option if you're looking for a sit-down dining experience at the base of the mountain resort.
What is Tamarack Resort Known For?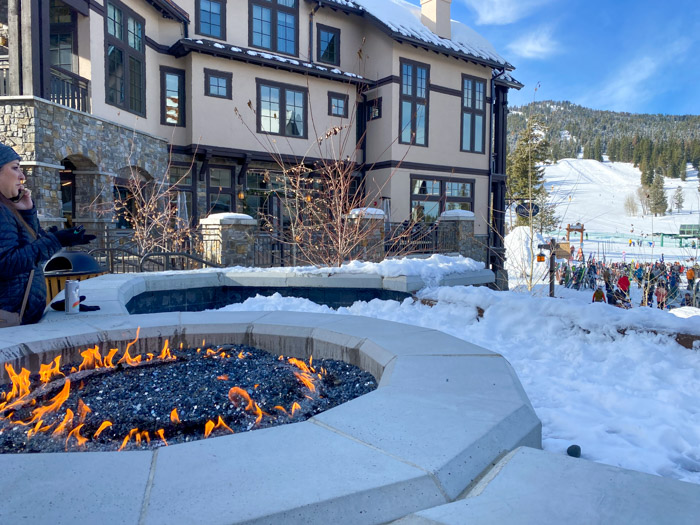 Tamarack Resort offers luxury accommodations and great dining options at the base of the mountain that provides some of the best skiing in Idaho. Some might say it's the best ski resort in Idaho.
Brundage vs. Tamarack – Your Take?
Plan to take a winter Idaho road trip and get up to enjoy some of the best things to do in McCall Idaho and Donnelly to check out the two ski resorts in Southwest Idaho. Make it an Idaho romantic getaway and grab lift tickets at both places to make up your mind. Then come back and leave a comment below on your take.
What do you think? Does Brundage or Tamarack offer better skiing in McCall Idaho? Which is the best pick for a families weekend Idaho Getaway or a romantic Idaho getaway? Have you visited both? Which do you prefer?