Idaho is a land of natural beauty, and there are plenty of romantic things to do in Idaho. From the serene lakes and mountains to the charming towns, Idaho has something for everyone who wants to find a romantic escape. Here are some of the most romantic getaways in Idaho!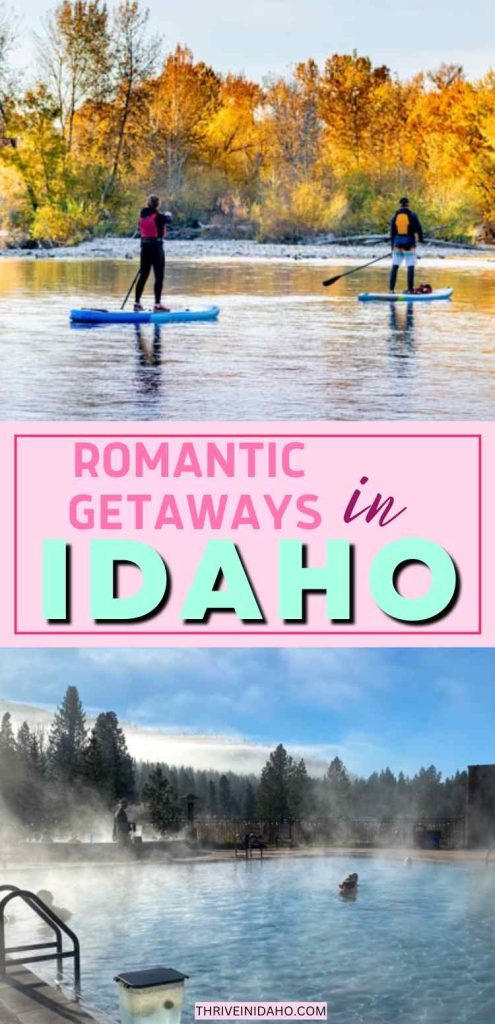 Romantic Getaways in Idaho FAQs
What should I do for my anniversary in Idaho?
There are so many great romantic getaways in Idaho! Book one of the honeymoon suites in Boise Idaho, go to the mountains and spend a weekend at one of the romantic cabins, go glamping, skiing, or visit some hot springs-your options are endless!
What is the most romantic place for couples in Idaho?
There are plenty of romantic things to do in Coeur d'Alene, making it one of the most romantic places for couples to visit in Idaho. Lava Hot Springs, Boise, and Sun Valley are also great places for couples.
THIS ARTICLE MAY CONTAIN COMPENSATED LINKS. PLEASE READ OUR DISCLAIMER FOR MORE INFO.
Most Romantic Getaways in Idaho
Here are some of the most romantic getaways all over the state of Idaho. Consider taking an Idaho road trip and spending a few days away together. You can enjoy and Idaho summer getaway or a winter weekend in Boise together.
Below, you will find some cheap weekend getaways in Idaho, along with some incredibly romantic hotels in Idaho you will want to stay at.
Stay at the Shore Lodge in McCall, Idaho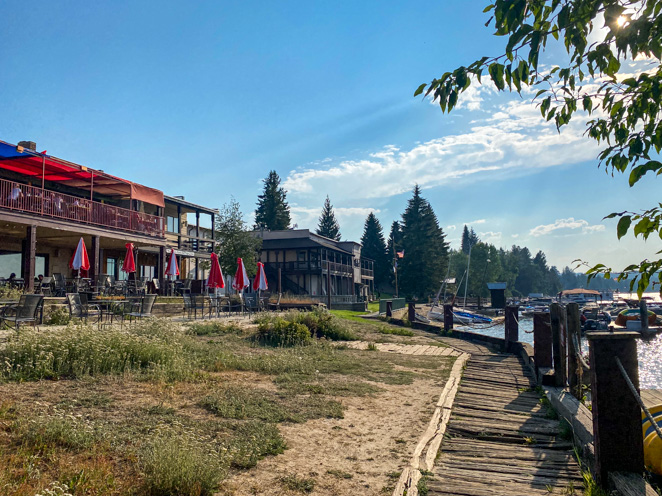 One of the romantic winter getaways in Idaho is to head to Shore Lodge, located in McCall, Idaho. This is the perfect place to unwind and enjoy some quality time with one another. This charming place has lakeside rooms or cozy fireside suites that are all very intimate and inviting.
During this romantic getaway in Idaho, you can do just about anything! If you visit during the winter season, enjoy skiing at Brundage, one of the best Idaho ski resorts. Or try snowshoeing along the mountain, soak in a heated outdoor pool, or head to the spa for a romantic, relaxing day.
If you visit McCall Idaho during the rest of the year, you can go on some stunning hikes, ride some ATVs, fish, and so much more at Shore Lodge.
Sun Valley Lodge in Sun Valley, Idaho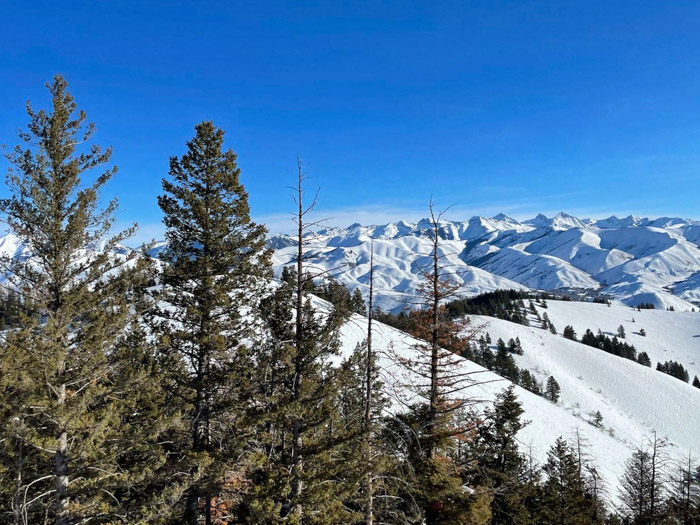 For a charming Idaho getaway, you will love to go to the Sun Valley Lodge just outside of Ketchum Idaho. There are so many fun things to do in Sun Valley, especially at the resort. Get a couple's massage at its incredible spa, or enjoy looking at the sunset on the mountain while relaxing in the outdoor heated pool.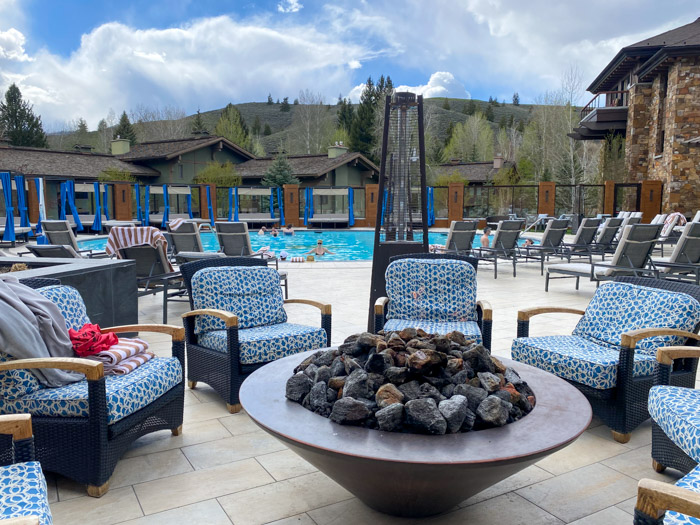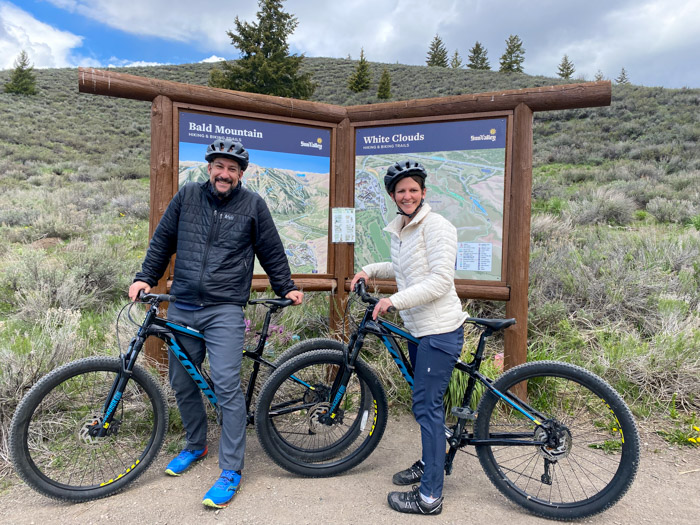 You can go skiing and other snow activities during winter, and you can even take a romantic sleigh ride or go ice skating too! During the warmer months, you can do just about anything, from horseback riding to spending time out on the lake. The Sun Valley Resort truly is a romantic place to spend a weekend with your spouse.
The Springs in Idaho City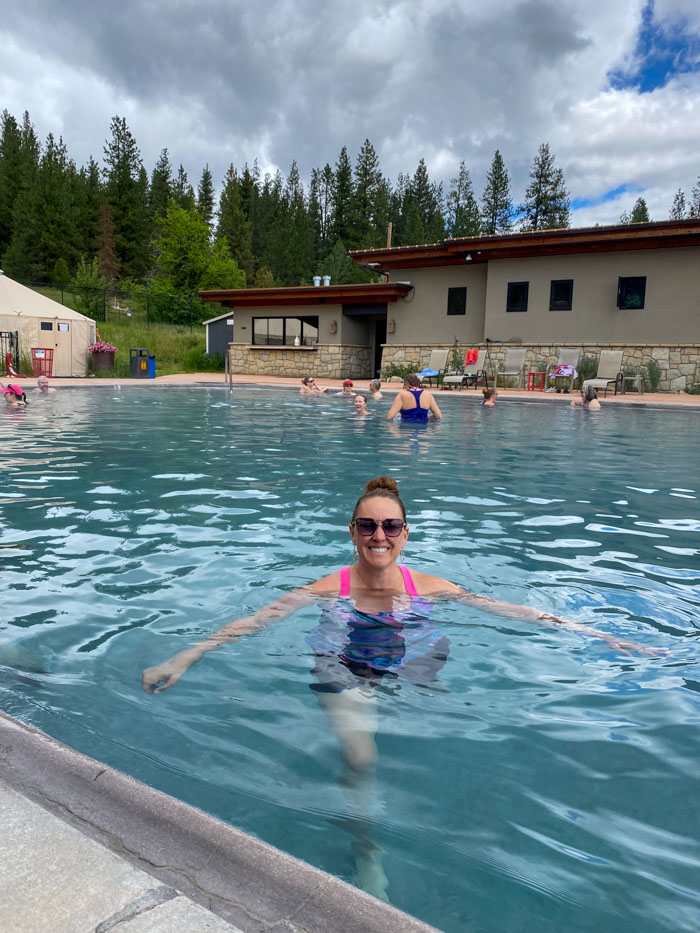 One of the best Idaho weekend trips is to head to The Springs in Idaho City. These hot springs are romantic and a great 3-day vacation idea in Idaho, especially since they are open from Thursday to Monday.
Reserve a private one-hour tub to spend some quality time with your loved one. This would be perfect for an Idaho honeymoon!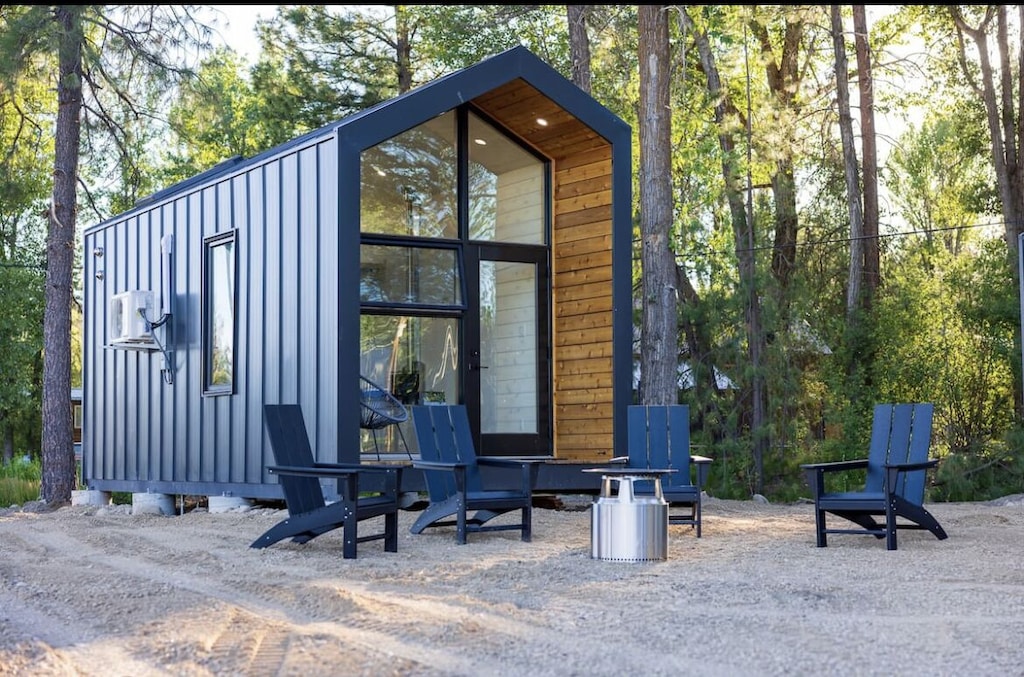 If you live close to Idaho City, you can take a day trip and enjoy the short drive. Go over on Friday for an adults-only day trip! But if you want to make it a romantic weekend trip, you will need a place to stay in Idaho City. Choose from a tiny home rental or a night at a hotel.
Skiing at Tamarack Resort near Donnelly, Idaho
If you love skiing and being outdoors during the wintertime next to your significant other, head to Tamarack Resort in Donnelly, Idaho, for a wonderful romantic getaway. Stay in a new condo in The Village or a cozy townhome.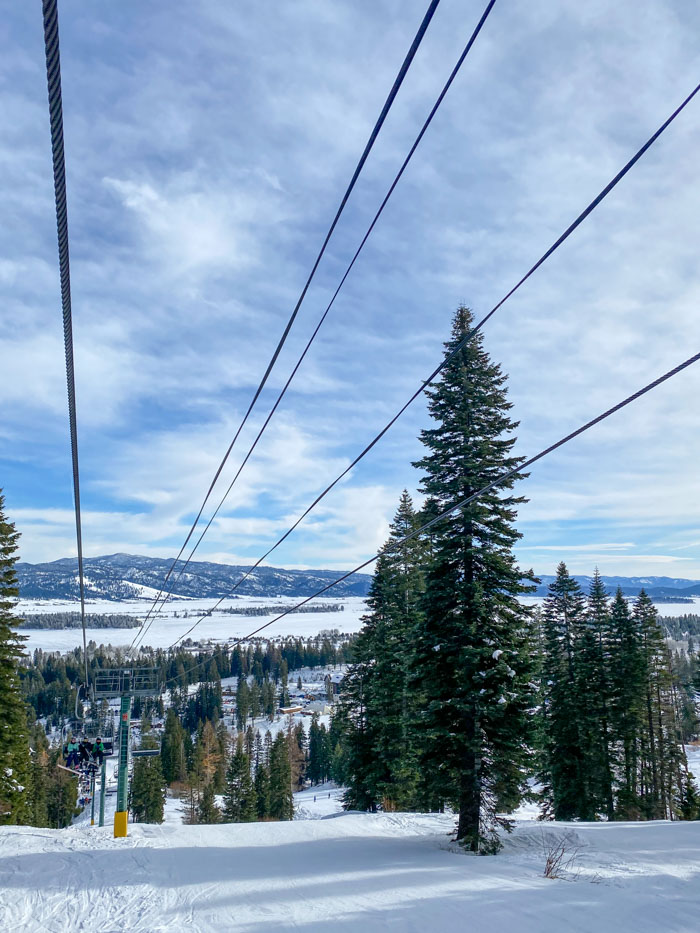 Enjoy a romantic weekend away skiing in one of Idaho's top ski resorts.
After a nice adventure out in the snow, head to the spa for a couple's massage to relax. Then, enjoy some delicious food at The Reserve. Finish off the evening cuddling by the fire pit outside.
Enjoy a Honeymoon Suite in Boise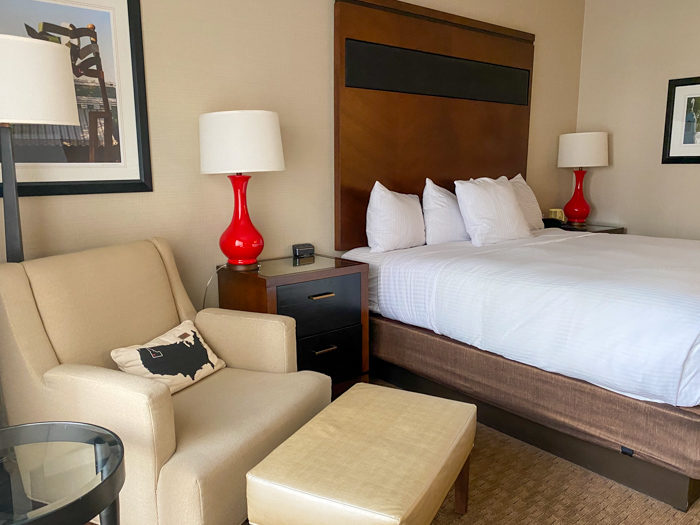 There are plenty of romantic getaways in Boise Idaho, and so many places to stay in this large city. Most of the romantic hotels in Boise have incredible honeymoon suites. Even if you are not on your honeymoon, the Boise honeymoon suites are a dreamy place your spouse will love to stay at!
The Riverside Hotel offers a romantic honeymoon suite with more privacy, an oval tub, and king beds. Hotel 43 is a favorite for locals in downtown Boise offering a modern and upscale feel for a romantic evening. For a unique getaway, book one of the incredible rooms at The Anniversary Inn! Each room has a special theme that is quite incredible.
There are so many romantic things to do in Boise for couples that you could spend an entire weekend just in this city alone. If you're visiting during the colder months, don't worry. There are plenty of winter things to do in Boise, so grab one of the incredible honeymoon suites in Boise and have a fun, relaxing, and intimate getaway.
Go Glamping in Idaho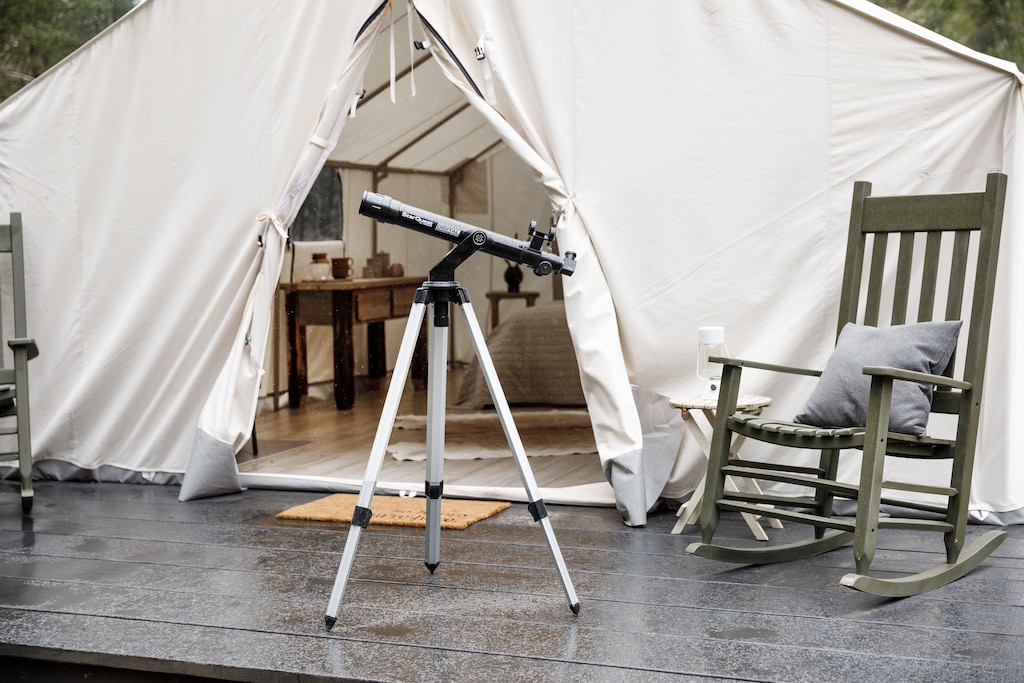 Another one of the fun weekend getaways in Idaho is to go glamping! Enjoy spending time in nature without having to sleep in a tent when you are done. Glamping in Idaho offers you stunning nature to explore, all the while staying in a cozy, luxurious place.
Looking for a great glamping spot just an hour outside of Boise? Check out this canvas tent glamping for a night away while you find some of the best things to do in Cascade Idaho. You will find so many awesome places to go glamping in Idaho that will make your getaway special and fun.
Visit Coeur d'Alene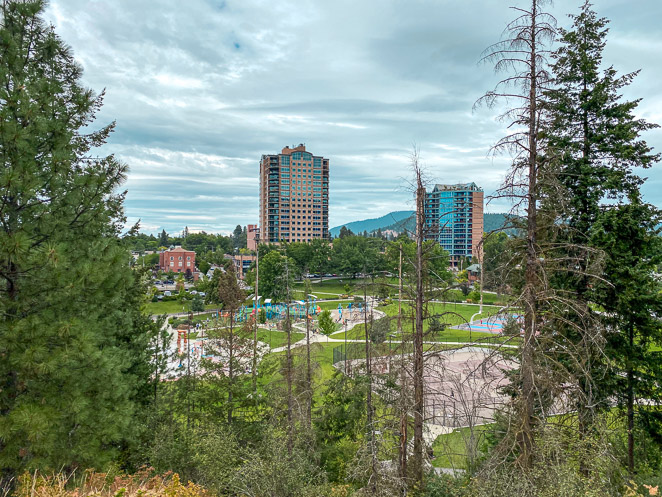 Coeur d'Alene is known all over the world for being one of the most romantic getaways in Idaho! Here you will find incredible resorts, including the Coeur D'Alene Casino Resort, gorgeous nature, romantic spas, and delicious dining options. With all the romantic things to do in Coeur d Alene, this is one of the best places to visit for a romantic weekend trip in Idaho!
You will find plenty of other romantic getaways near Coeur d'Alene Idaho, too, if you want to explore while you are there!
Downtown Idaho Falls
Another city filled with things to do is Idaho Falls. This city is perfect for a couple's weekend trip. Stay at one of the honeymoon suites in Idaho Falls and enjoy a romantic stroll at the Idaho Falls Riverwalk. The Heise Hot Springs are only 30 minutes away from Idaho Falls, too, so you can definitely spend some time there as well.
This is a great Idaho getaway if you enjoy a nice town filled with history and nature.
There are so many fun weekend getaways in Idaho! From renting a beautiful mountain cabin to enjoying the hot springs in Stanley Idaho, these Idaho getaways will be perfect for any couple. If you are planning your honeymoon or simply want to enjoy a night out with your spouse, there are plenty of great romantic things to do all over Idaho.