If you're looking for a small town that captures the beauty of Idaho mountain life, look no further than Stanley, Idaho. There are tons of amazing and unique things to do in Stanley Idaho. I'm thrilled to share some ideas with you!
Unparalleled natural beauty abounds in Stanley, nestled within the Sawtooth Valley. From the jagged peaks of the majestic Sawtooth Mountains to rivers and lakes perfect for swimming and fishing, along with lush greenery teeming with wildlife, your escape will be truly unforgettable!
Do not be fooled by the size of Stanley, a small town with only over 100 permanent citizens. When summer arrives, this retreat is brimming as seasonal workers and visitors flock to experience its natural wonders from hiking to fishing and swimming and even relaxing at the nearby hot springs!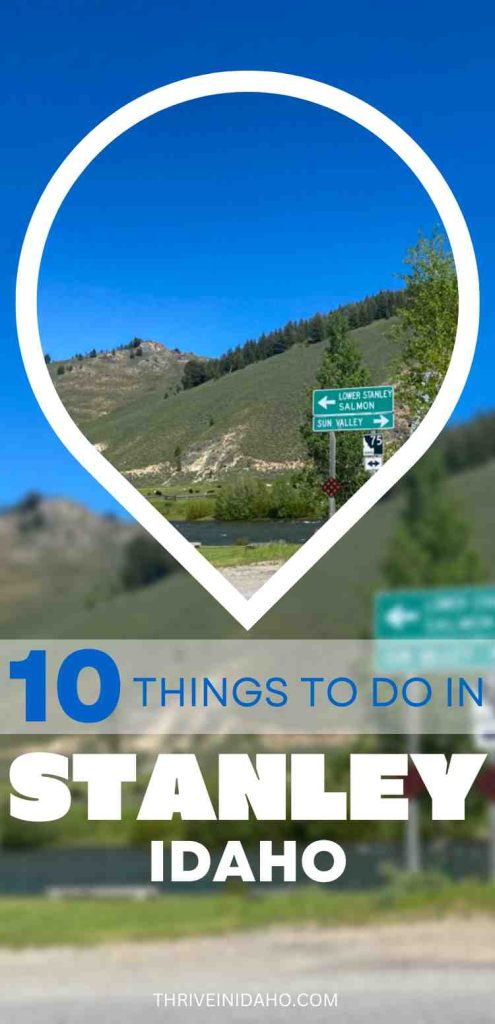 THIS ARTICLE MAY CONTAIN COMPENSATED LINKS. PLEASE READ OUR DISCLAIMER FOR MORE INFO.
Getting To Stanley Idaho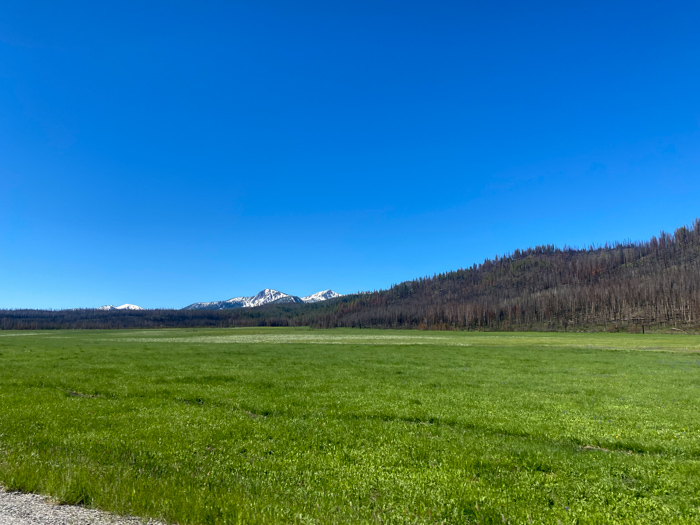 You have two route options to make the 130-mile journey from Boise to Stanley, Idaho. First take ID-55 North towards McCall, ID for 34 miles and then turn right onto HWY 17/Banks Lowman Rd at Banks for 33 miles before taking a left on ID-21 for just over 50 miles until you reach your destination in Stanley.
If you're looking for another way to get from Boise to Stanley, take Interstate 84 East and exit at 57. After that, all you need to do is follow Idaho Highway 21 North toward Idaho City — a 126-mile journey until your final destination in Stanley!
If you're coming from Sun Valley Idaho or planning to do a combined Idaho road trip where you spend a few days exploring fun things to do in Ketchum Idaho before heading to Stanley, then you'll want to drive North on HWY 75 for about 60 miles to reach Stanley.
If you're still having trouble going to the area, using Google Maps would be of great help. Downloading any maps or directions beforehand is also recommended. As getting into the area may have a dead spot at some point.
10 Fun Things to do in Stanley Idaho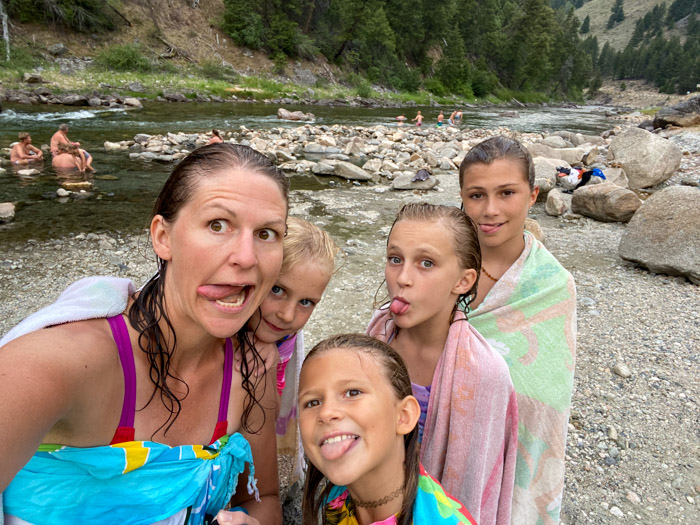 1. Unwind While You Dip into Natural Hot Springs
Near Stanley, you'll find many natural hot springs along the area. One of the known hot springs is the Sunbeam Hot Springs which you can find along the Salmon River. To visit this hot spring, drive East of Stanley on the Salmon River Scenic Byway and park at the Sunbeam Dam. Take a 10-minute walk across the dam to reach your destination!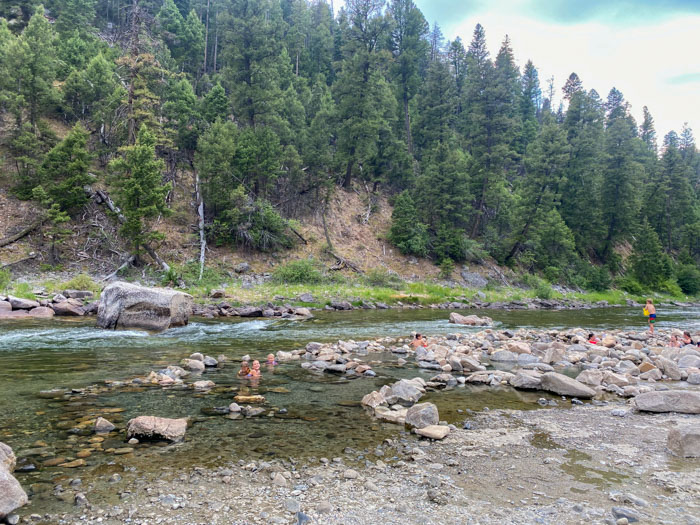 Boat Box Hot Spring is another must-see unique hot spring destination around Stanley. For this tub, hot water is drawn right from the riverbank through a sizable plastic pipe that stretches across its wooden rim. To get to Boat Box Hot Springs, follow Highway 75 North for 3.8 miles, and you will notice it on your right-hand side of the road.
Another go-to hotsprings in Stanley is the Cove Creek Hot Springs. A 9 miles up HWY 75 from Stanley, you will find this relaxing spot where natural hot springs are heated in a pool in Mountain Village Resort. It's a smaller hot spring than Sunbeam but it's perfect for a small group of friends or family as it offers a private hot springs pool experience and is located in a small log building that makes it exclusive and comfortable.
2. Go Camping in Stanley Idaho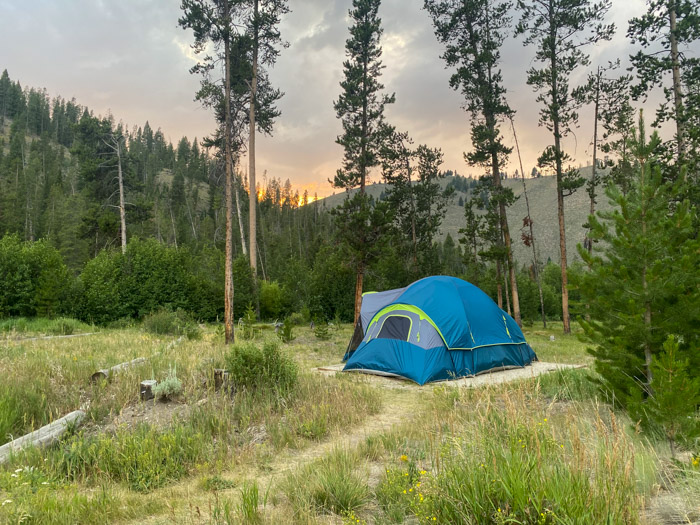 If ever you're planning on going camping during your stay, one of the best places to go is Sawtooth National Recreation Area. It has several campsites and a few interactive activities that you can participate in, such as hiking and rock climbing.
If you're in search of a place to rest your head, Stanley Lake Campground, Sockeye Campground, and Salmon River Campground are the ideal spots! Here you can park your trailer or pitch a tent right by these stunning waters from either Stanley Lake or Salmon River. The best part? All three have both reservation campsites as well as 'first come first serve' for those looking to test their luck with an open spot.
If you wish to arrive at a campsite with the intention of 'first come first serve', then be certain to bring enough cash and reach your destination during midweek. As summer approaches, on Fridays, all spots will undoubtedly be taken!
Is your RV all set to journey up to Stanley and you need a place to stay? Mountain Village RV Park or Stanley RV and Camp are both excellent options, conveniently located in town or just west of the city. Book your reservation early so you can rest easy knowing that your spot is reserved.
3. Take An Adventure and Enjoy Hiking in Stanley Idaho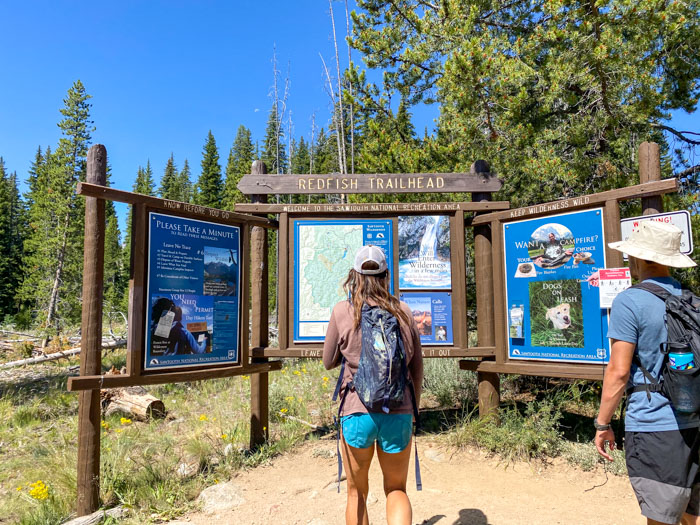 Stanley is home to many hiking trails, and it's no surprise as the Sawtooth National Forest is packed with stunning nature trails. Redfish Lake and Stanley Lake are among the most popular destinations for anyone looking to do some hiking in Idaho. Both are lakes that have trails surrounding them, allowing hikers to enjoy a leisurely stroll or a more strenuous hike.
If you're looking for an easier journey, then the Fishhook Creek Trail is an ideal option with its 3.5-mile roundtrip that travels along Fishhook Creek. This trail is perfect for families with kids and it still rewards the captivating views of the Sawtooth Mountain range.
If you want a more strenuous trail, then head over to the gorgeous Alpine Lake Trail. The hiking trail is combined with a mix of rocky switchbacks and gradual inclines. Sawtooth Lake is the end destination, and this lake is a stunning sight with its clear blue waters.
It's definitely worth the challenge and reminds me of some of the hikes we took near Ruby beach in Washington. If you're an avid hiker and like to explore unique nature trails, then learn some Olympic National Park tips before you visit, then come back to Idaho for some more outdoor fun!
4. Go Mountain Biking Near Stanley Idaho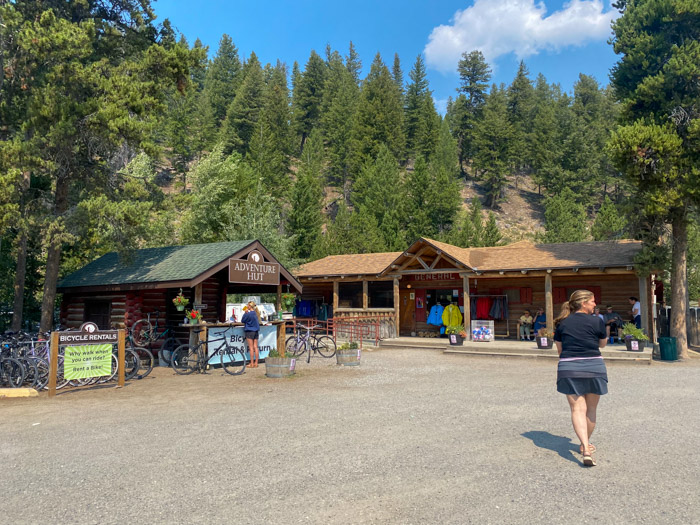 The area surrounding Stanley is an outdoor enthusiast's dream for mountain biking. All around you'll find several challenging trails that will pull you deep into the mountains.
If you're searching for a challenge, the Redfish Lake Loop is a must-try. This 13-mile loop is an intermediate to expert-level trail. It's one of the top mountain biking trails and offers a popular path to the Grand Mogul Trail, which is a mix of rocks, smooth sections, and narrow ridge lines.
5. Embrace the Beauty of Nature – Take a Scenic Drive!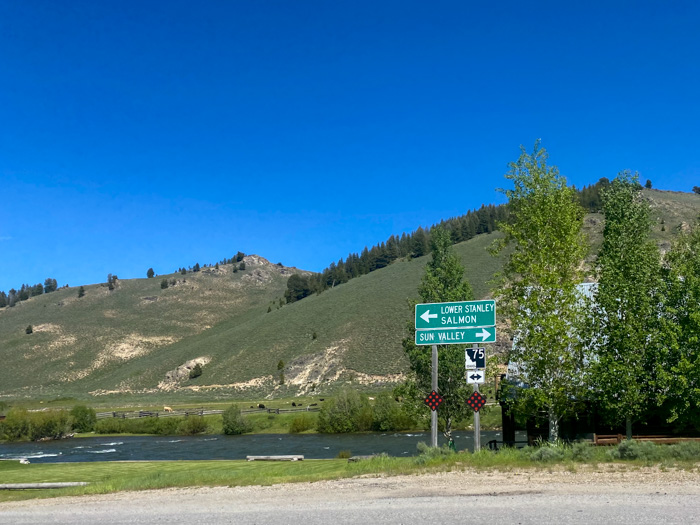 Situated at the crossroads of three Scenic Byways, Stanley is a traveler's dream destination. Whether you follow Ponderosa Pine Scenic Byway, Salmon River Scenic Byway or Sawtooth Scenic Byway, every direction beckons with breathtaking views.
Take a leisurely drive up to the Sawtooth Mountains and enjoy the sight of rocky peaks, wildflower meadows, and lush forests. Travel along the Salmon River Scenic Byway and discover Idaho's breathtaking riparian landscape that consists of deep canyons, rolling hills, and the Salmon River. The Ponderosa Pine Scenic Byway is a slightly longer route and takes you through the heart of Idaho, featuring expansive meadows, forests of pine trees, and endless views.
6. Go Horseback Riding Near Stanley Area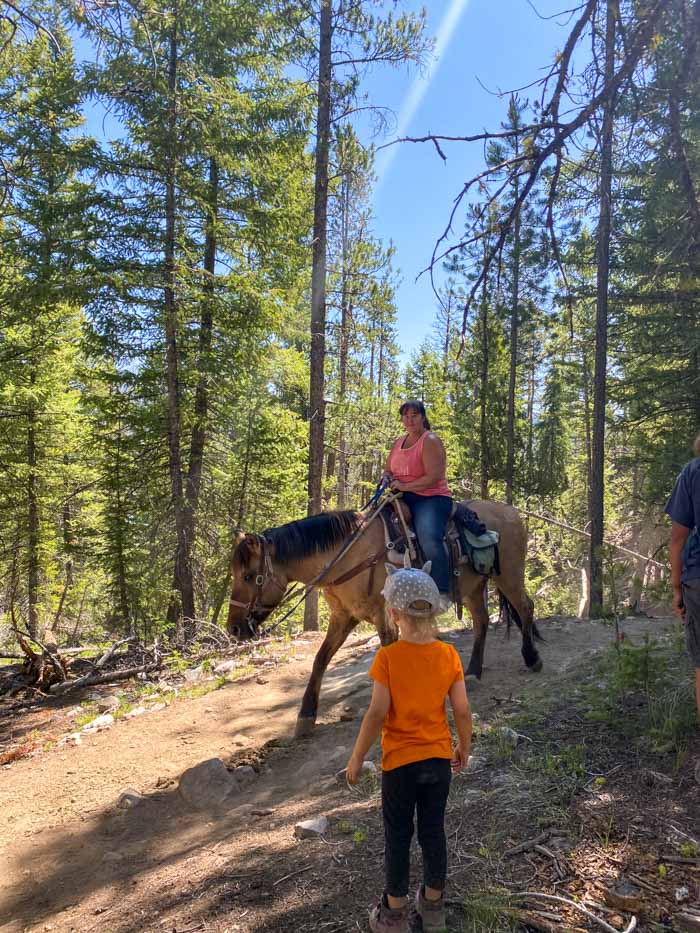 Horseback riding is an exciting and unique way to explore the beauty of Stanley area. Whether you're an experienced rider or a first-timer, you can find a suitable trail for your experience.
The Mystic Saddle Ranch is a great place to start. They offer guided horseback tours, allowing you to explore the Sawtooth Mountains from the back of a horse. They have 1-hour, 2-hour, half-day, and full-day rides in and around RedFish Lake and the Sawtooth Mountains.
7. Go Fly Fishing Near Stanley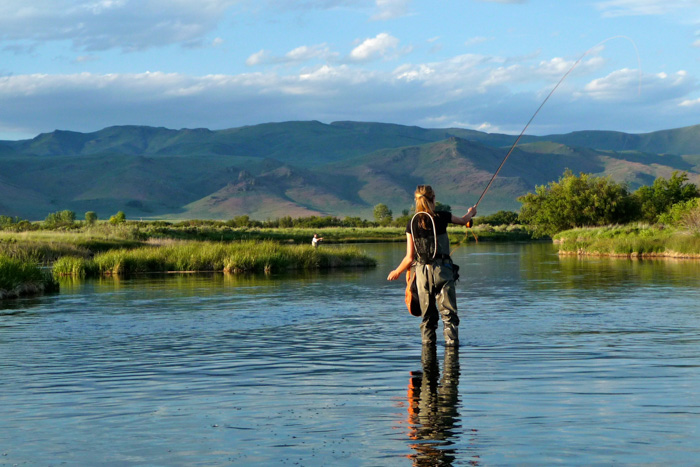 If you're searching for a fly fishing experience, look no further than beautiful Stanley Idaho! From the Salmon River to Mystic Saddle Ranch and Stanley Fly Shop's guided tours and rentals, your perfect getaway awaits. This alluring location has something to offer everyone – it provides just enough challenges for seasoned fishermen while still offering plenty of instruction and help to newcomers.
8. Visit Stanley Historical Museum
The Stanley Museum gives visitors a unique look into the area's rich history. Located in downtown Stanley, the museum is full of artifacts and information about the area's founding, earliest settlers, and more.
Learn about how the region's Native American culture has shaped the unique character of this special place. You'll also find a plethora of photographs, documents, artifacts, and other items that tell the story of the area's rich past.
9. Rent A Boat and Go For A Swim At The Beach At Redfish Lake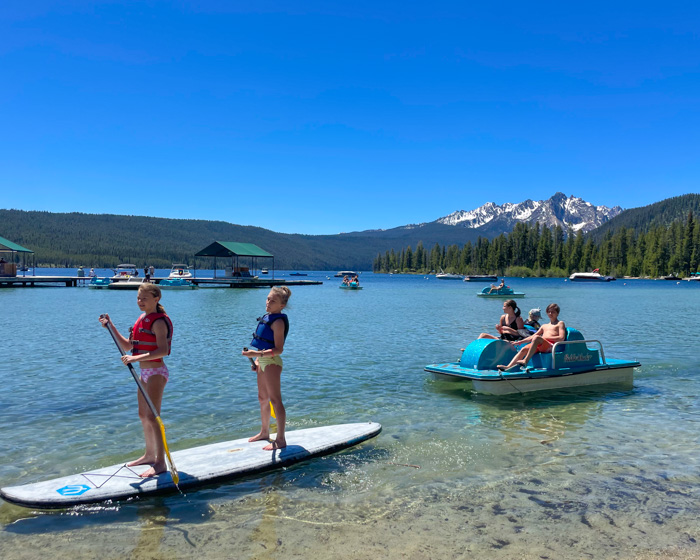 Rent a boat or kick back and relax on the beach at Redfish Lake Lodge. Their place offers variety of activities that everyone on the family will enjoy.
Make your day memorable and rent a boat at Red Fish Lake Lodge Marina! There are plenty of boat options – pontoon boats, outboard motorboats, paddle boats, or SUPs- to make sure everyone has the perfect experience while they soak up the sun on this high-altitude lake. Don't worry if you feel chilly in the water; under that summer sky, you'd be warm in no time!
If ever you decide to go kayaking or riding paddle boats or SUP, then Redfish Lake Lodge Beach is the perfect spot. They also have an in-house restaurant called the Lakeside Grill where they offer freshly made meals, and drinks, and even get ice cream from the lodge! So, don't forget to eat and relax after a day of enjoying the outdoors.
10. Shop For Souvenirs
Every great trip always end with shopping for souvenirs and Stanley is no different. From handmade crafts and jewelry to antiques, Stanley has something for everyone.
Check out The Stanley Museum and other shop centers to find unique gifts and souvenirs that you won't get anywhere else. The Harbour View Gift Shop is one of the best places to get unique Idaho gift ideas and souvenirs. Take home a piece of Stanley with you after your visit!
Places to Stay in Stanley
Are you a nature enthusiast looking for accommodations in Stanley, Idaho? Look no further! With more than a dozen campgrounds within the area, camping is always an excellent choice. Whether you're seeking out-of-the-box lodging or prefer to hit back trails and set up shop near your favorite outdoor activity, Stanley has everything needed to make your stay memorable.
Go Camping!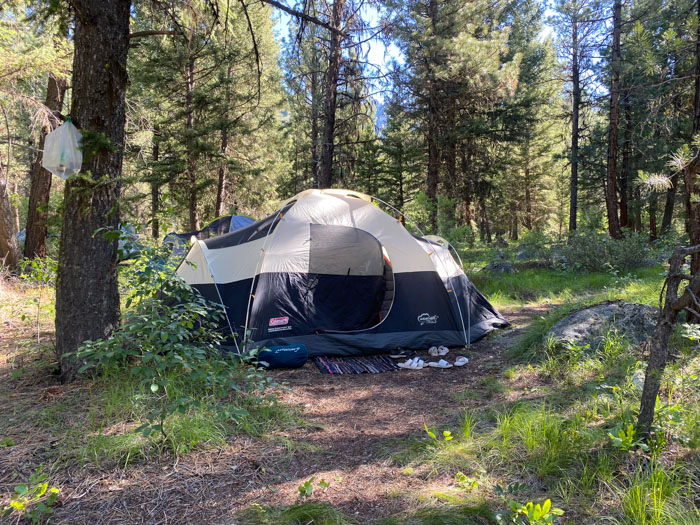 What better way to connect with nature than to go camping? We're sure your kids will love the idea of camping under the stars and hearing the sounds of nature.
For those seeking more luxurious experiences, Redfish Lake Lodge is a great option for travelers who want to enjoy the outdoors without having to rough it. Choose from cabins, RV sites, or hotels that are all well-maintained and conveniently located.
Lodge At Some Stanley Hotels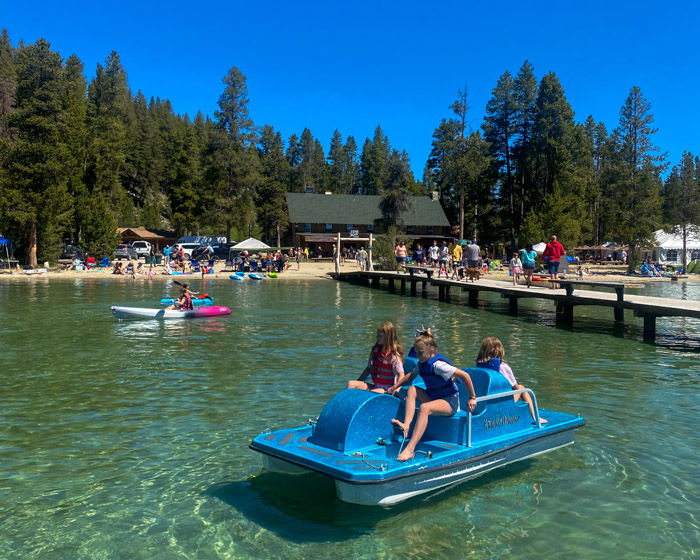 If camping isn't your thing, no worries! Stanley has some great options for hotels too. If you are looking to stay in Stanley, consider renting a cabin for your entire family at this large vacation rental. Or stay at Redfish Lake Lodge for its nearness to the lake and a variety of hiking trails.
For cozier options, there is the Stanley High Country Inn or Triangle C Cabins situated right within town limits. If none of these appeal to you, Mountain Village is another great option for visitors looking to stay the night.
Whatever your needs may be, Stanley has a variety of different lodging options for those seeking out an amazing experience in the area. No matter the type of traveler you are, Stanley is the perfect place for you to enjoy your outdoor adventure!
Where To Eat In Stanley Idaho?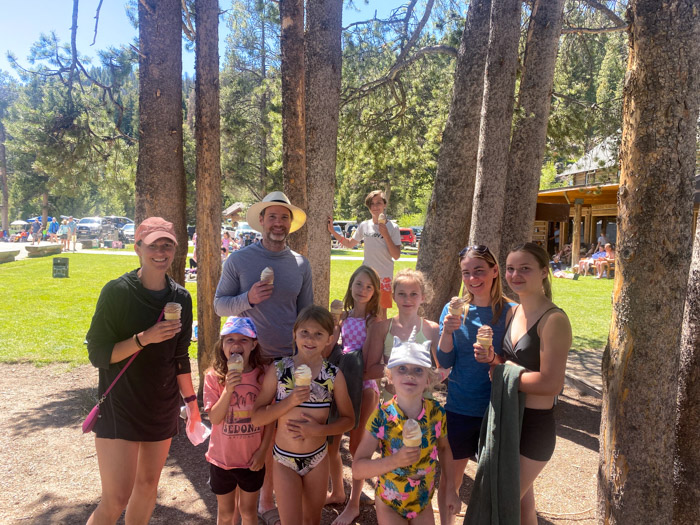 You can find a variety of places to enjoy a delicious meal in Stanley. Some of the most popular restaurants include Kasino Club, Rod-N-Gun Whitewater Saloon, and Mountain Village Saloon which are known restaurants and bar in town.
For local delicacies in Stanley, here are great restaurants options to go for!
Papa Brunee's – Get a taste of world-class pizza options and even alcoholic drinks for adults.
Mountain Village Restaurant – Connected to the Mountain Village Lodge, their restaurants offer the best comfort food with a cozy atmosphere.
Stanley Baking Co – If you're looking for fresh local bread and pastries, Stanley Baking Co is the place to go.
Stanley Supper Club – Not only do they offer great food and drinks but there's also weekly live music here to enjoy.
Sawtooth Luces – If you're searching for all-American goodness, this is the place to go. They serve freshly cooked American cuisine such as burgers, sandwiches, and hot dogs.
Whether you're here to hike, camp, fish, or soak up the sun at the lake, Stanley, Idaho is an excellent destination for those who want to reconnect with the great outdoors. Explore all that the area has to offer and make memories that will last a lifetime!