There are so many fun things to do in Sun Valley Idaho. It's a hidden gem in the Sawtooth Mountains and only a 3-hour drive from Boise, Idaho. You could easily spend a long weekend, or even a week, exploring what to do in Sun Valley Idaho.
The term 'Sun Valley' is used to represent the resort and the nearby area, while Ketchum is the popular city that is only one mile away from the Sun Valley Resort and the famous Sun Valley Lodge. The term 'Sun Valley' is often used when talking about visiting the entire area in Idaho, located 160 miles East of Boise, Idaho.
Since there are many fun things to do in Ketchum Idaho in addition to the resort of Sun Valley, be sure to read about all the top things to do in Sun Valley below.
Skiing Sun Valley Idaho is the most popular attraction. Yet, it isn't the only thing to do in one of the most popular ski resorts in the USA. It's also one of the most popular romantic getaways in Idaho.
Sun Valley offers so many things to do throughout all of the seasons including mountain biking, camping, hiking, outdoor ice skating in the summer and winter months, bowling, shopping, golfing, fly fishing, enjoying the Sun Valley Spa, and so much more.
Keep reading to learn about the incredible things to do in Sun Valley ID.
THIS ARTICLE MAY CONTAIN COMPENSATED LINKS. PLEASE READ OUR DISCLAIMER FOR MORE INFO. THIS POST WAS WRITTEN BY JILL GREISING-MURSCHEL, A LOCAL IDAHO MOM AND TRAVEL BLOGGER.
Lodging In Sun Valley Idaho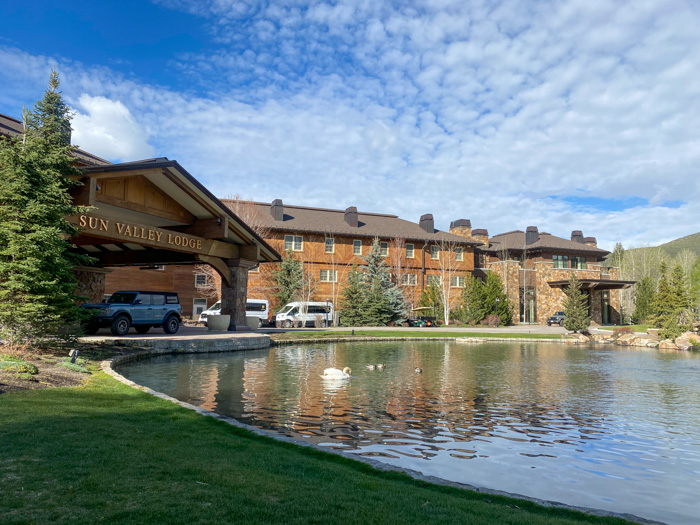 First, be sure to book your accommodations before you arrive. Trying to decide where to stay in Sun Valley Idaho? There are many places to stay in Sun Valley including the Lodge at Sun Valley Idaho and the Sun Valley Inn.
The Sun Valley Lodge is famous for its outdoor heated pool that is open year round for guests. It could be categorized as a large hot tub with incredible views of the mountains. Order a drink or meal from the Pool Side restaurant and server, and relax in the incredible mountain oasis. Then indulge in a spa treatment at the Sun Valley Lodge Spa.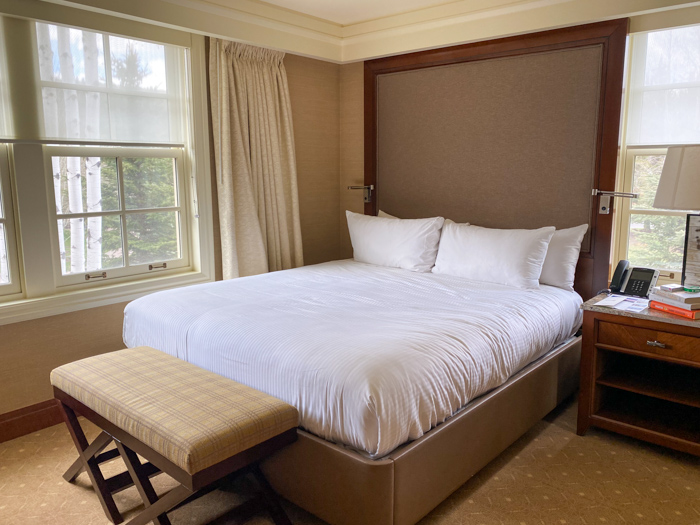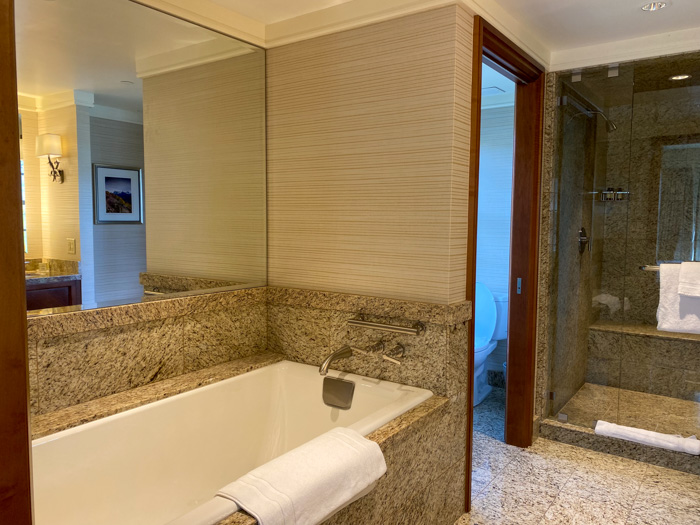 There's also some great lodging in Ketchum Idaho. The Limelight Hotel is a popular choice and one of the newest hotels in Ketchum. Or consider renting a VRBO in Sun Valley Idaho if you plan to stay a while if you're looking for your own kitchen and space to stretch out.
Sun Valley Ski In And Ski Out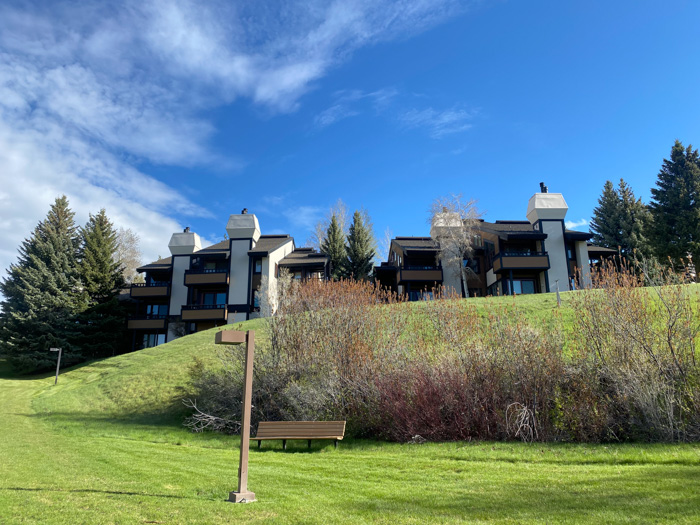 Another form of lodging in Sun Valley Idaho is in vacation homes. Looking for Sun Valley ski in and ski out options? This 2 bedroom with a loft vacation rental offers sleeping for 6 people, ski in and ski out location, and a year-long hot tub. There are many options to stay at a ski in and ski out short-term rental in Sun Valley.
Camping Near Sun Valley
If you're visiting Sun Valley in the summer months you may be interested to know where there's camping near Sun Valley Idaho. From tent camping to RV parks near Sun Valley Idaho, there are a few options.
Consider tent camping at the North Fork Campground in the Sawtooth National Recreation Area, just north of Ketchum. You'll have access to drinking water, toilets, and be able to enjoy the beautiful mountain view next to the river. Directions can be found on Google Maps.
If you decide to camp North of Ketchum then you could plan a day trip to explore natural hot springs and other fun things to do in Stanley, only 60 miles north of Sun Valley.
Nestled in the Wood River Valley, you'll find one of the most modern RV parks near Sun Valley. The Meadows RV Park offers full RV hook-ups, 30 and 50 amp services, paved campsites, full bathrooms, and both sunny and shaded campsites. They are also open year-round. So if you're a full time RV living family who's looking to ski all winter long, this could be an option for you.
How To Get To Sun Valley Idaho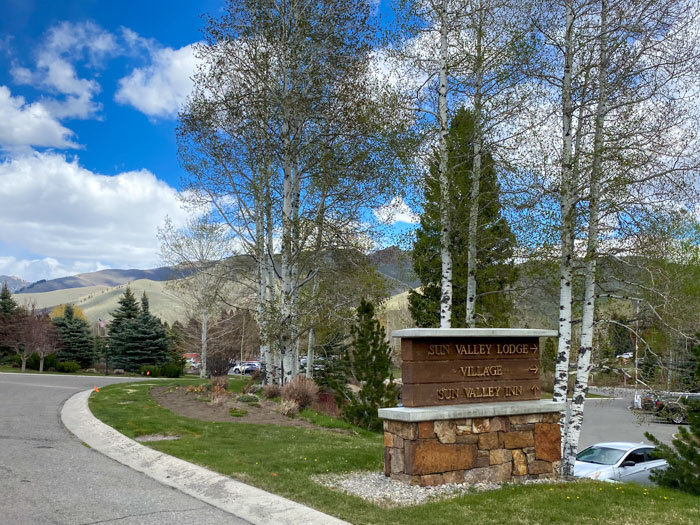 Trying to figure out how to get to Sun Valley during your visit? Flying to Sun Valley Idaho is one option with several airports offering direct flights to Hailey's Friedman Memorial Airport located just 20 minutes south of Sun Valley.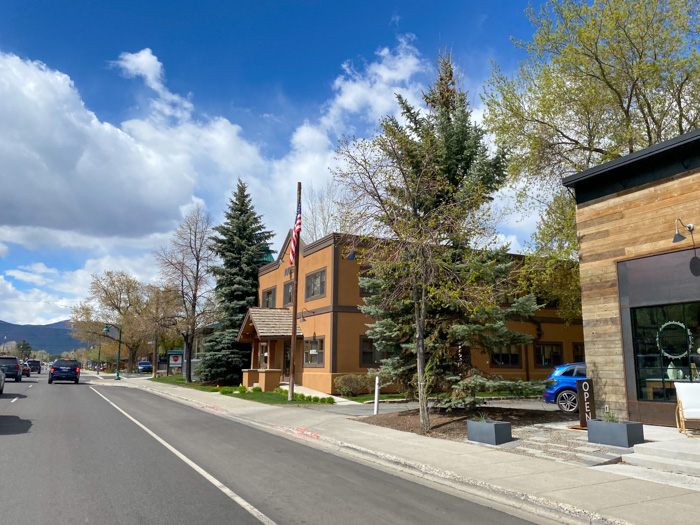 Looking for a direct flight? Seattle, San Francisco, Salt Lake City, and Denver airports offer direct flights, just to name a few!
You may also consider flying into Boise, Idaho and renting a car to drive the 3 hours East to Sun Valley. For the shortest drive time – and the best scenery overall – take I84 East to Route 20 from Mountain Home to the junction of Highway 75. Just be sure to check the weather first so you're not driving on icy mountain roads.
Sun Valley FAQs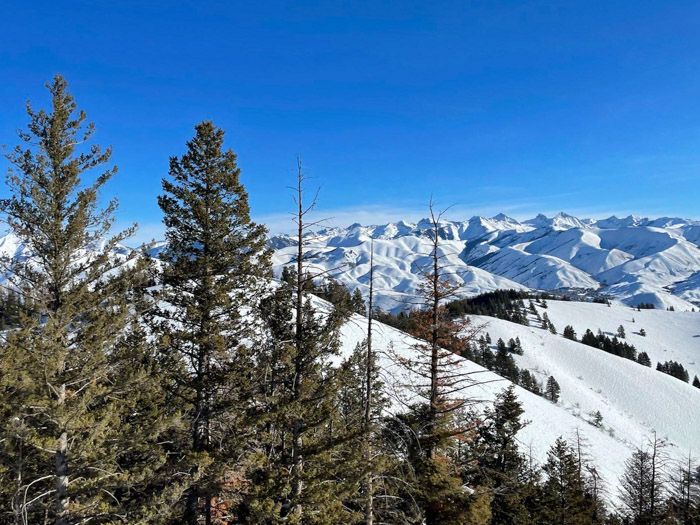 When is the Sun Valley Ski Season?
Sun Valley ski season usually runs from Thanksgiving week until mid-April.
When is the best time to Ski Sun Valley Idaho?
You'll find the best skiing at Sun Valley to be during January and February each year.
What is Sun Valley Elevation?
Sun Valley elevation at the base level is 5750 feet. The summit elevation is 9150 feet. Some people can feel Sun Valley altitude effects if they are not accustomed to elevation.
Where is Sun Valley Idaho?
Sun Valley Idaho is a resort located in Central Idaho, just one mile from Ketchum, Idaho.
Things To Do In Sun Valley Idaho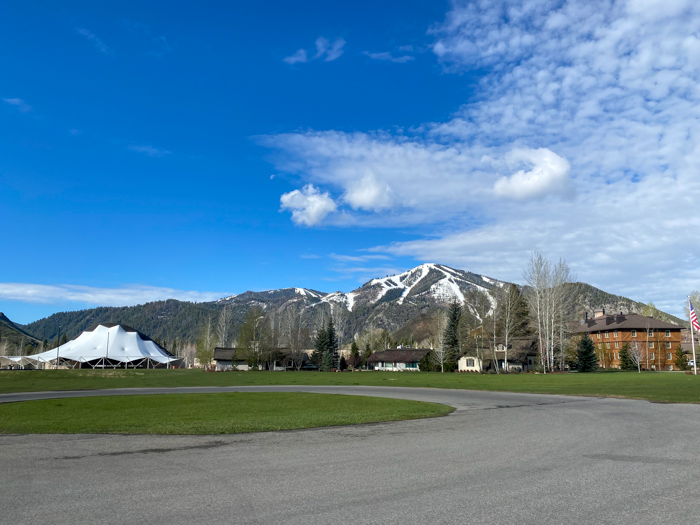 From summer time camping in Sun Valley Idaho to skiing in the winter months, Sun Valley has so many fun things to do. Let's jump into the fun things to do in Sun Valley Idaho during your trip to Idaho.
Visit Sun Valley Resort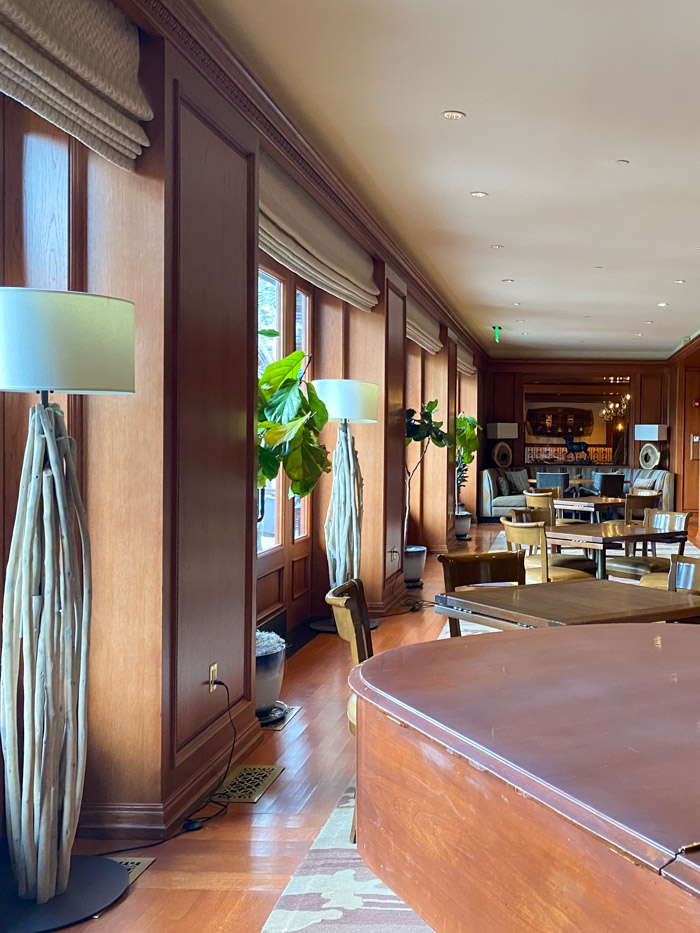 If you're not planning to stay at the Sun Valley Resort, you should still plan to spend some time visiting. There is so much history at Sun Valley. The world's first ski lift was created for the Sun Valley Ski Resort in 1936 which was then owned by the Union Pacific Railroad.
If you walk around inside the Sun Valley Lodge, grab dinner at Gretchen's. Then walk over to the Duchin Lounge to enjoy an after dinner drink and look out over the large outdoor skating rink.
Enjoy A Spa Day In Sun Valley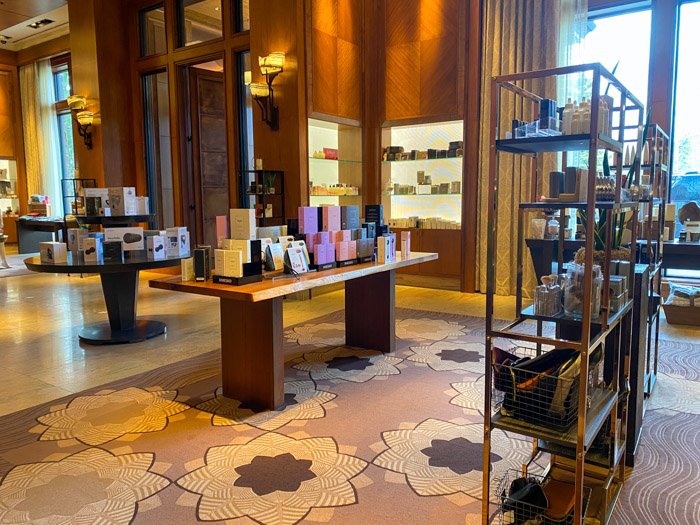 With the fresh mountain air and the abundance of sunshine, Sun Valley is a great place to focus on wellness and health. There are gyms, yoga studios, and the incredible Sun Valley Spa that offers hot stone massages, facials, and so much more. A second option when looking for a spa is the Zenergy Health Club and Spa in Ketchum Idaho.
Relax In The Sun Valley Lodge Heated Pool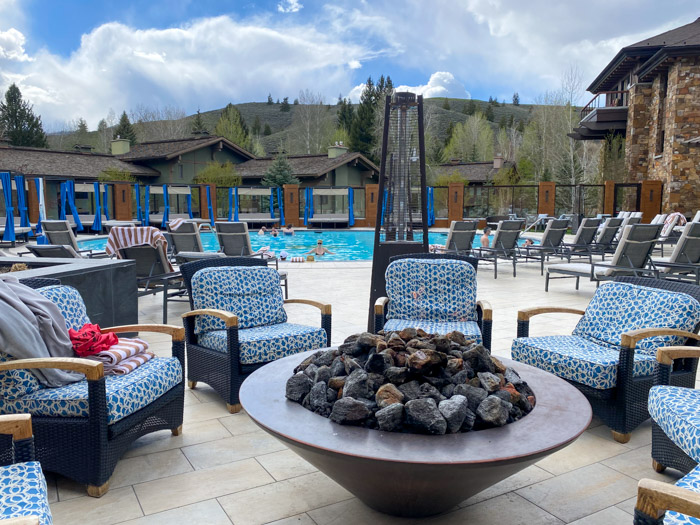 If you're staying at the Sun Valley Lodge, enjoy a dip in the year-round outdoor heated pool after your spa treatment. Plan to spend a few hours in the fresh air relaxing and taking in the view.
Skiing Sun Valley Idaho
Did you know that Sun Valley is America's first destination ski resort? It is often thought to be the best ski resort in Idaho. People come from all over to experience the most incredible time with the smaller crowds at Sun Valley Resort. If you're planning a winter trip to Boise Idaho, consider adding a few days onto your trip and driving to Sun Valley for a few days of great skiing.
There are two large mountains to choose from. Bald Mountain is best for intermediate and advanced skiers, offering a steep terrain and some well groomed slopes. It offers 18 lifts with its base at 5,750 feet and the summit at 9,150 feet.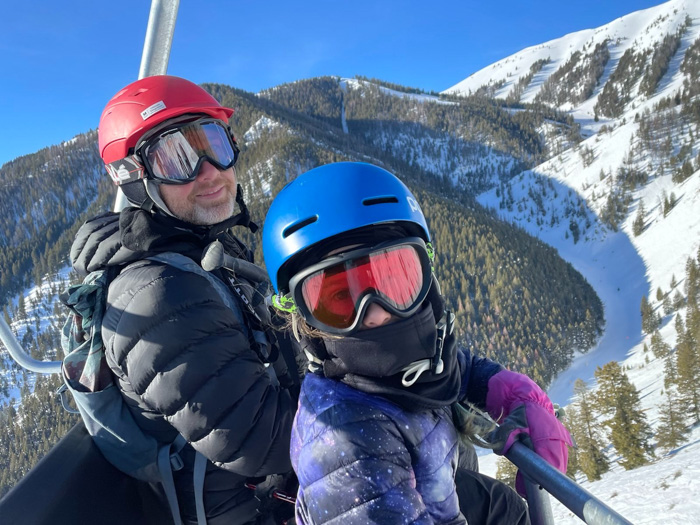 Couples and families come from all over to ski at Sun Valley. With shorter lift lines, abundance of sunshine, and incredible snow, you may want to consider a winter ski vacation in Sun Valley Idaho.
Dollar Mountain has a gentle treeless terrain that makes it perfect for the novice skier, beginners, and families. It offers 4 lifts with its base at 6,010 feet and the summit at 6,638 feet.
Enjoy Central Idaho Dark Sky Reserve
What is there to do in Sun Valley Idaho at night? Enjoy seeing the stars in the dark sky of Central Idaho while visiting Sun Valley. Sun Valley and Ketchum, Idaho are located in America's first Dark Sky Reserve. After the sunset, you'll be able to see so many stars and oftentimes the Milky Way!
Ice Skating In The Summer or Winter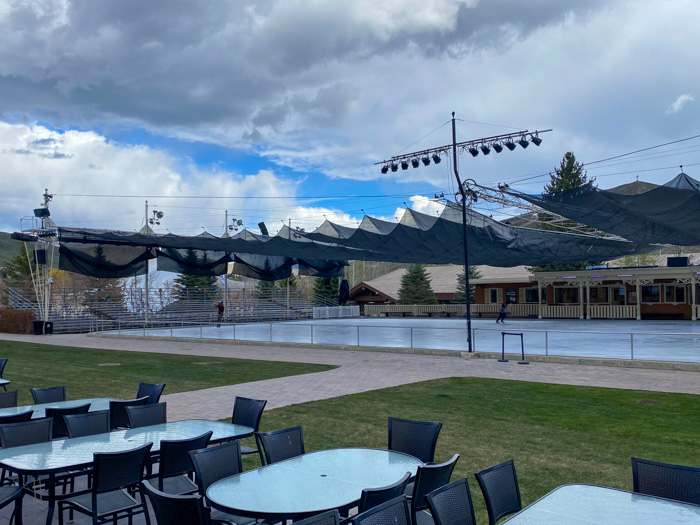 With one of the few year-round outdoor ice skating rinks in the country, you can experience an afternoon of open skating in Sun Valley no matter what season it is. If you're visiting Sun Valley Idaho in the summer months, then be sure to enjoy one of the famous ice skating shows outdoors on Saturday evenings at dusk at the Sun Valley Resort from the 4th of July through Labor Day. The Sun Valley Figure Skating Club offers so many unique opportunities for adults and children.
Shopping In Sun Valley Idaho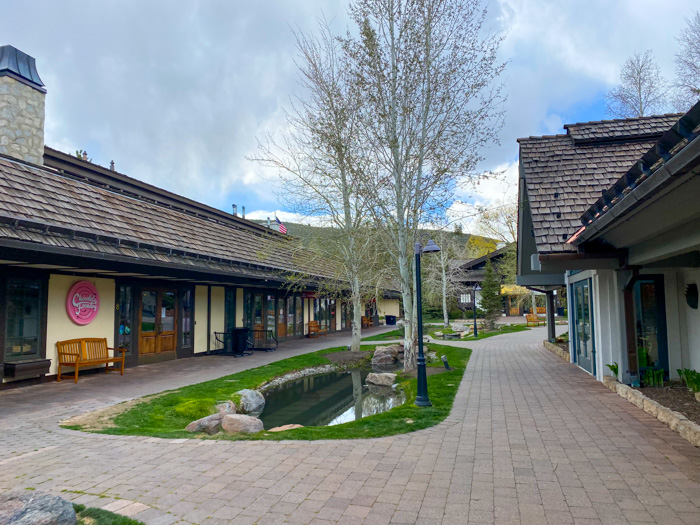 Shopping is one of the indoor Sun Valley things to do. Enjoy an afternoon shopping at Sun Valley and Ketchum's boutiques and fun stores. Bring home one of the unique Idaho gifts that you find at one of the eclectic offerings at many of the high end shops.
Hiking in Sun Valley Idaho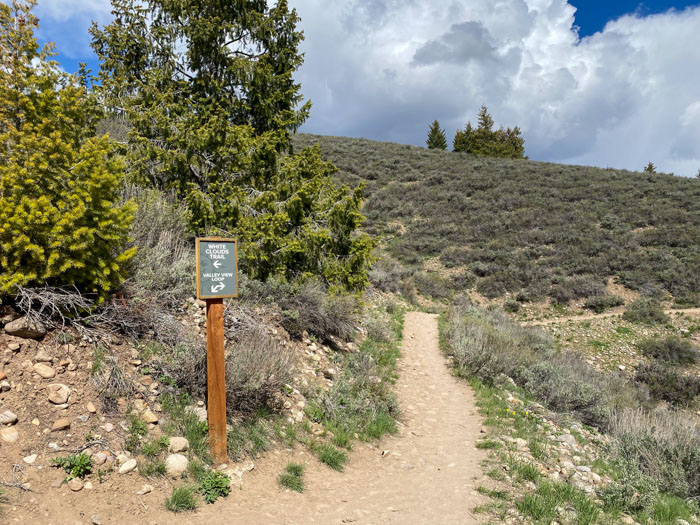 Known for the jagged Sawtooth Mountains, Sun Valley boasts some incredible views and wildlife on just about any hike you take. Hiking in Sun Valley Idaho is a simple way to get out and enjoy a Sun Valley Summer.
The White Clouds trail is a great 4-mile loop trail used for both hiking and mountain biking just across the parking lot from the Sun Valley Resort.
Hike about 2 miles out to Baker Lake from the trailhead and enjoy the pristine water and views on this family-friendly hike not far from Sun Valley. Or share the trail with mountain bikers and enjoy Sunny Side trail just west of Ketchum.
Mountain Biking Sun Valley Idaho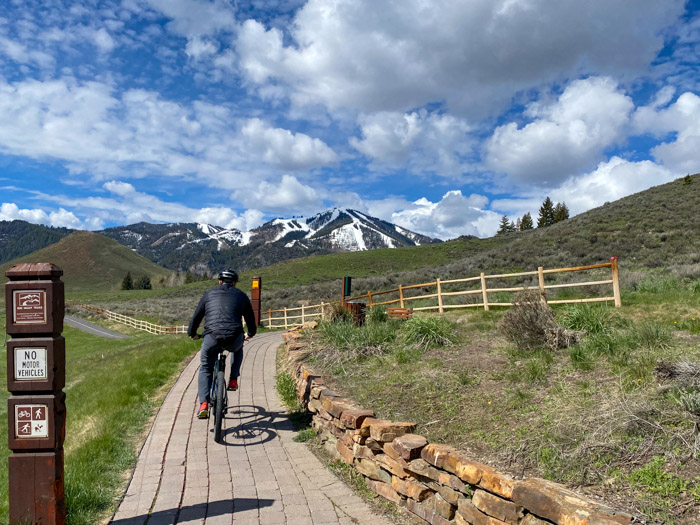 A popular Sun Valley Idaho Summer activity is mountain biking. You see, mountain biking in Sun Valley provides you with a different view of the Sawtooth Mountains. With over 400 miles of singletrack spread throughout the area, the Idaho mountain biking is some of the best in the US. You'll find Sun valley bike rentals at Pete Lane's Mountain Shop, or bring your own.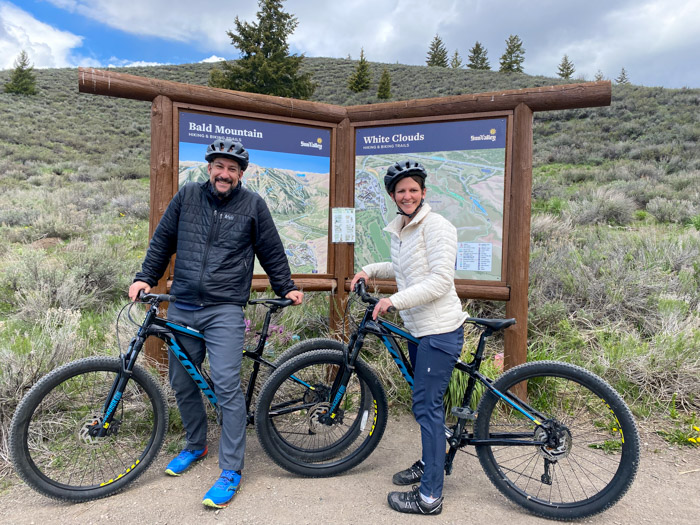 Bald Mountain now has America's longest purpose-built downhill trail and over 3,100 vertical feet of lift-accessed trails for the thrill seeking mountain bikers wanting to experience the best Sun valley mountain biking.
For a family-friendly experience, or one for mountain bike beginners, head to the White Clouds trail network for all green trails. Or rent an ebike and take an easy ride through town along the Wood River Trail, with over 30 paved miles to explore.
Horseback Riding Sun Valley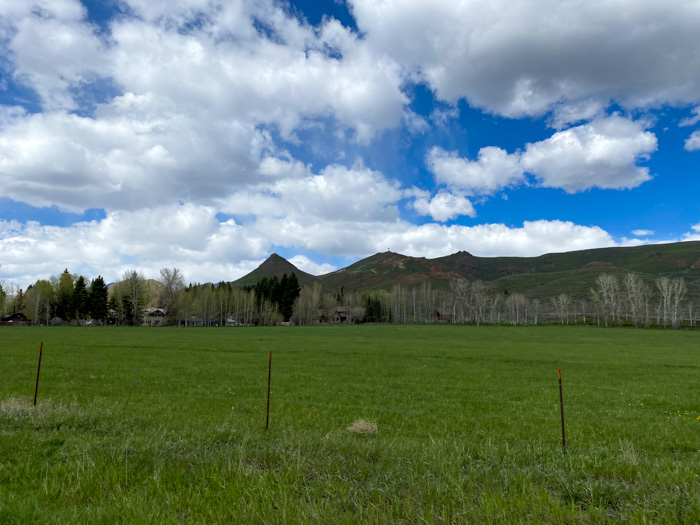 One of the things to do in Sun Valley in Summer is to go horseback riding. The Sun Valley stables offers trail rides and wagon experiences throughout the warm months of summer. The minimum age is 8 years old for a trail ride, and the upper weight limit is 250 pounds.
Golf at The Sun Valley Golf Resort
Spend a warm summer afternoon golfing in Sun Valley Idaho. The Sun Valley Resort is home to three golf courses including two driving ranges. Trail Creek golf course is Sun Valley's signature golf course located at the Sun Valley Club House offering an 18-hole course.
White Cloud Golf course is the newest course offering 9-holes with some of the best views around. The Elk Horn 18-hole golf course is the oldest of the three courses, yet received a huge renovation in 2004.
Bowling At Sun Valley Lodge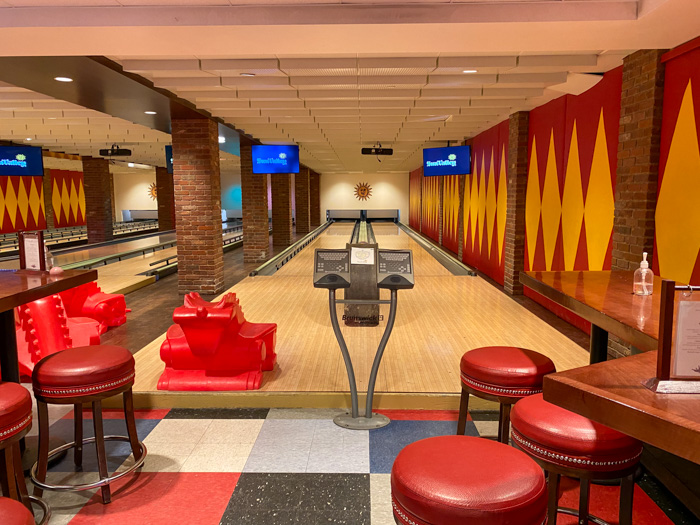 Sun Valley Lodge offers a small bowling ally and arcade area for in the lower level of their resort for families and couples alike. To find the bowling alley, you'll enter the Sun Valley Lodge and walk towards the Spa. There you will find an elevator to take down to the basement.
Go Fly Fishing In Sun Valley
Idaho still boasts the type of fishing you might have seen when Lewis and Clark trekked through Idaho. Fly fishing is a popular sport in Sun Valley in the summer, and is something to consider trying. With four different waterways within a 1-hour drive of Sun Valley, you have so much to choose from.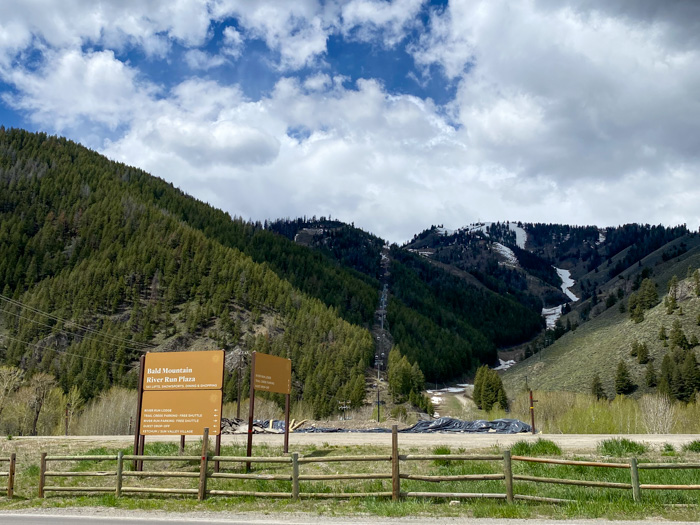 You can find Brown Trout in Silver Creek, Bull Trout in the Salmon River, cutthroats in the Lost River, and rainbow trout in the Big Wood River.
Sun Valley Idaho Restaurants
There are so many incredible places to choose from when looking for great places to eat in Sun Valley and great places to eat in Ketchum Idaho. From fine dining to a quick bite to eat before hitting the slopes or trails, you will not go hungry in Sun Valley.
IL Naso Restaurant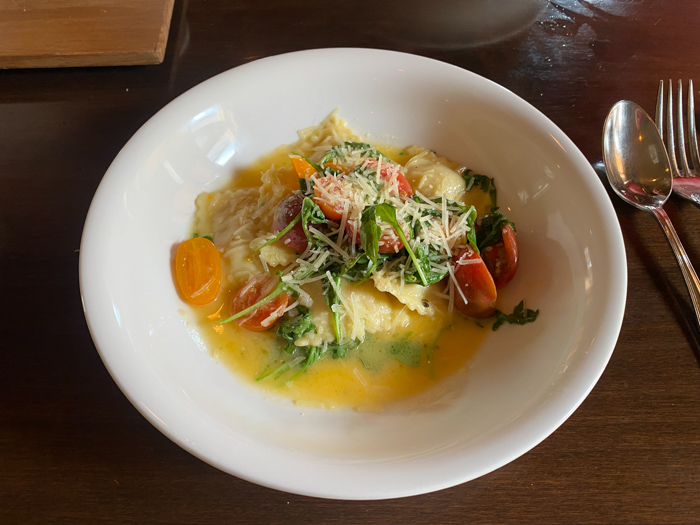 Located in downtown Ketchum just off main street, IL Naso offers a romantic and authentic Italian dinner experience. With a large wine menu, and delicious food options, the Chef at IL Naso will not disappoint. If you're planning to take your honeymoon in Sun Valley then be sure to check out IL Naso.
Gretchen's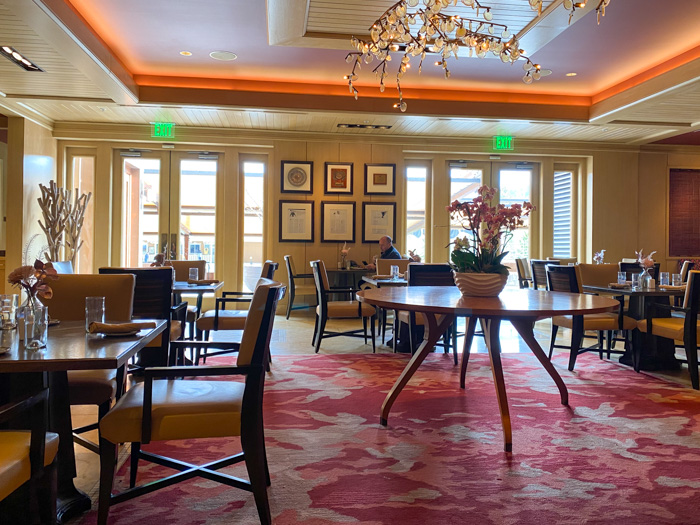 Enjoy a meal with great views at Gretchen's in the Sun Valley Lodge. Open for breakfast, lunch, and dinner you will have the chance to grab a bite to eat when visiting the Lodge and overlooking the Skating Rink.
Konditorei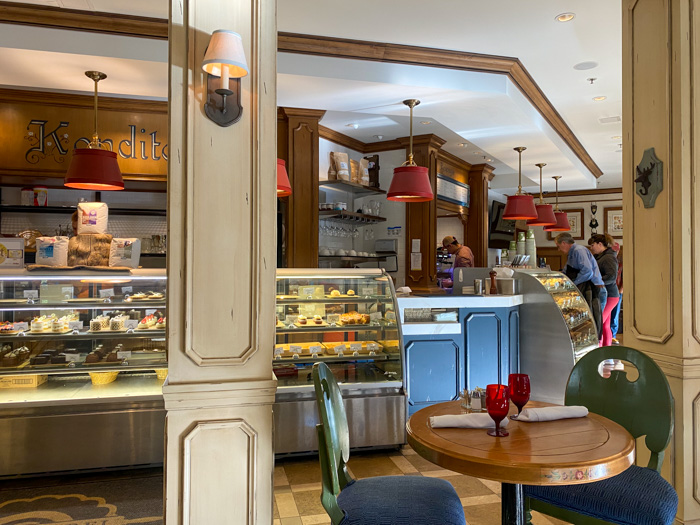 Breakfast in this Austrian-inspired eatery is a great choice if you're staying at the Sun Valley Resort. Konditorei offers freshly baked pastries and locally roasted organic coffee options if you're looking for a quick morning breakfast. Or, consider sitting down to order eggs Benedict over their homemade english muffins.
The Ram
As Sun Valley's original restaurant, The Ram is a popular choice by many. Be sure to make reservations as it'll become even more popular with the recent renovations of this rustic and elegant dining house.
The Village Station
Looking for great happy hour specials, burgers, and a warm place to enjoy the afternoon? Then Check out The Village Station right in the heart of the Sun Valley Village.
The Roundhouse
Enjoy a meal at America's first on-mountain restaurant. The Roundhouse is located at 7,700 feet at the top of the Roundhouse Express gondola on Bald Mountain. This popular choice is open during the winter months for some high quality dining for skiers.
The Covey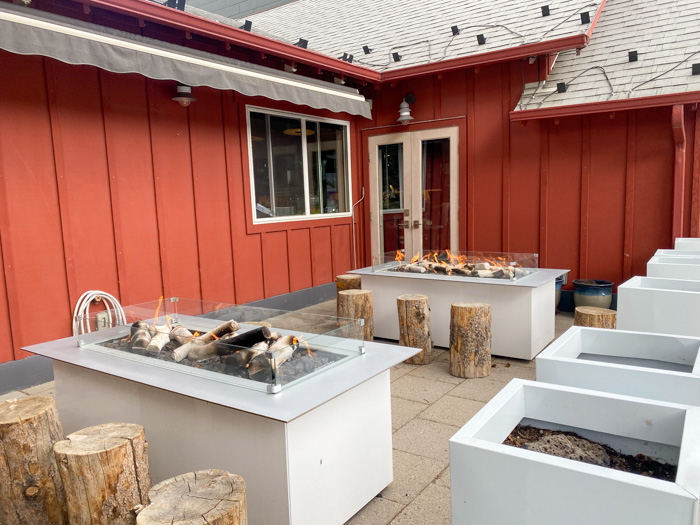 Experience the warm feel that Ketchum has to offer from a Sun Valley native and former dishwasher at CK's Real Food, chef-owner Jesse Sheue. He attended culinary school in San Francisco before returning to his hometown to open The Covey in 2018. With an open kitchen, large tables, and fireside seating outdoors, The Covey is worth a visit.
The Kneadery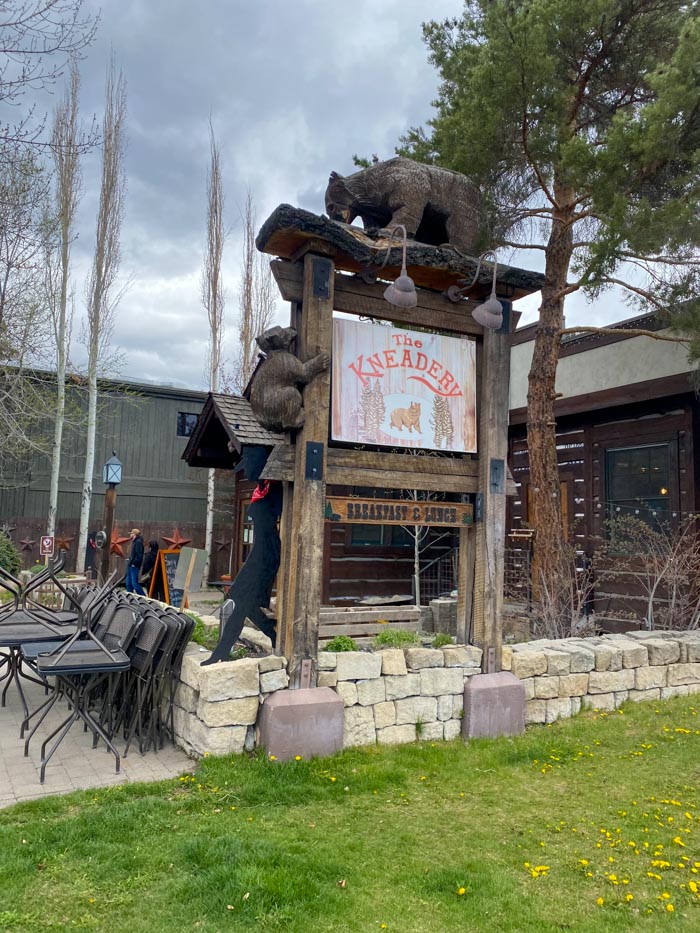 Enjoy some homestyle cooking at The Kneadery in Ketchum, Idaho. Serving locally baked organic breads, seasonal fruit, and locally sourced cage-free eggs, The Kneadery is a popular breakfast and lunch spot.
Other Fun Idaho Destinations
Explore Downtown Idaho Falls in East Idaho
Enjoy the best Breweries in Boise Idaho.