Have you heard about floating the Boise River during the hot summer months in Idaho? Located in southwestern Idaho, the Boise River is a great place to float during the summer months. With its mellow current and scenic views, floating Boise River is a popular activity for locals and tourists alike.
If you're planning a summer trip to Boise, then book one of the best Boise vacation rentals and plan to enjoy the abundance of sunshine Boise has to offer.
One of the best things to do in Boise during the summer is float the Boise River! It's a great way to spend a hot day, and it can be really inexpensive. All you need is a tube or raft, a cooler with some drinks and snacks, and a life jacket. If you don't have your own tube or raft, you can rent one.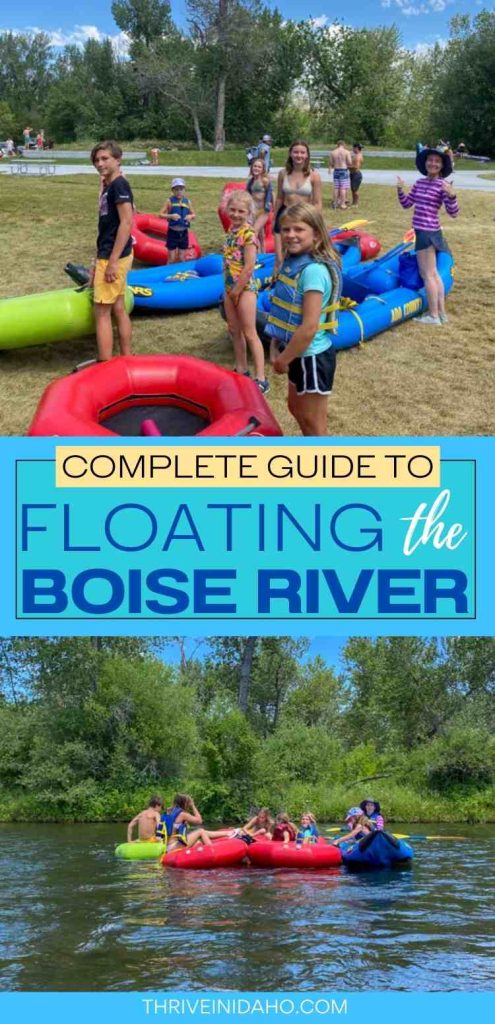 Here's a step-by-step guide to ensure that you have the best possible time floating the Boise River.
THIS ARTICLE MAY CONTAIN COMPENSATED LINKS. PLEASE READ OUR DISCLAIMER FOR MORE INFO.
Floating the Boise River FAQs
When can you float the Boise River?
The season for floating the Boise River starts in June sometime and goes through Labor Day in early September. The Ada County Parks & Waterways needs to give an 'all clear' on water flows.
How long does it take to float the Boise river?
It usually takes 2-3 hours to float the Boise River. You put in at Barber Park and take out at Ann Morrison Park in Boise, Idaho.
How deep is the Boise River?
It fluctuates throughout the year between 3 feet to 7 feet, depending on the water flow and the area of the river.
Can you drink on the Boise River?
Yes you can, but it's not recommended. Instead, consider visiting one of the top breweries Boise has once you get off the river.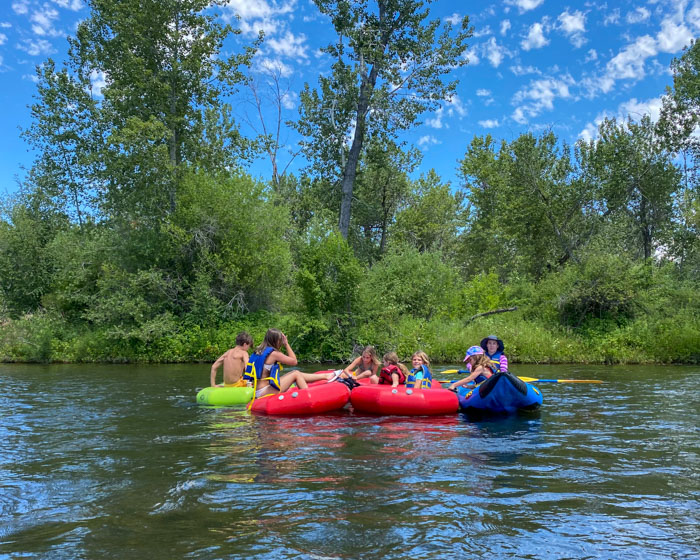 Floating The Boise River Tips
Every year over 125,000 people float the Boise River. It's such a fun experience, but you need to know a few safety tips before you head out.
Safety Tips For Floating The Boise River
According to Idaho State Law, all vessels, including rafts and kayaks, need to be equipped with a personal flotation device for each person in the craft. Children 14 or younger onboard any type of boat must also wear an approved life jacket when it's underway 19′ long or less.
Make sure you know how to swim, and that everyone in your party is prepared to get wet. I wouldn't recommend taking very young children or babies with you.
If you fall into the water while Boise River rafting, stay calm. The tip is to keep your feet pointed downstream and use your arms to bring you back to safety. Use your feet to push you away from rocks and other obstacles, and let your life jacket work for you.
Always float with a buddy, it's much safer to have someone watching out for you. Plus, it's so much more fun that way.
Moving To Boise, Idaho or the Treasure Valley?
Download this FREE 50-page relocation guide to Boise that will help answer many of your questions!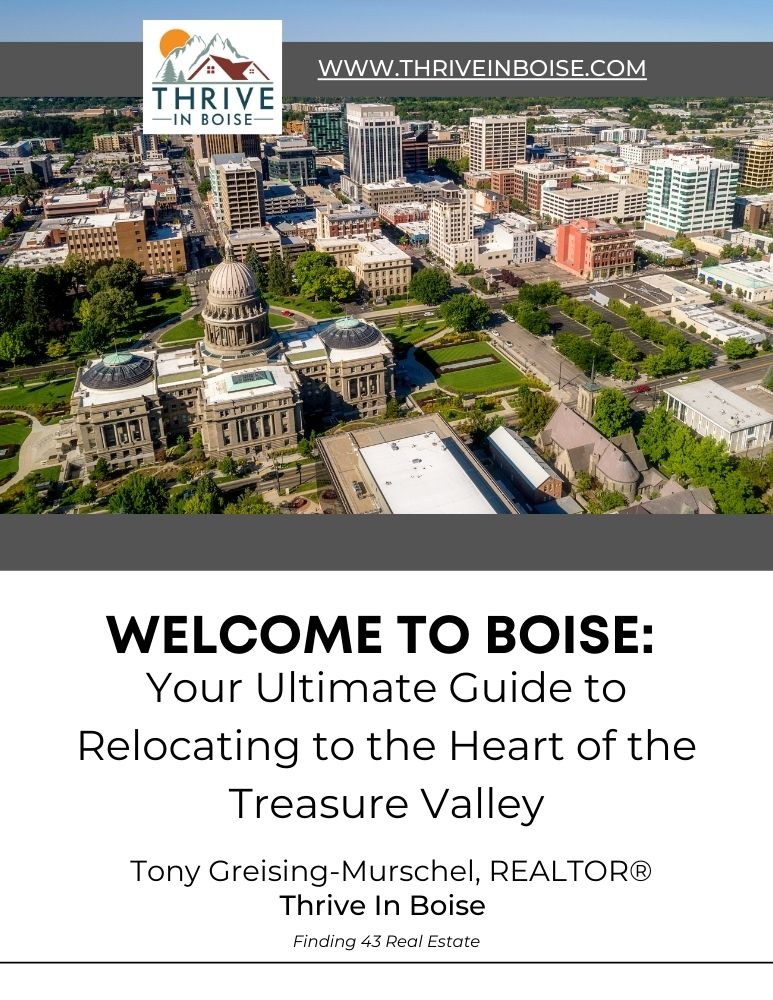 When To Float The Boise River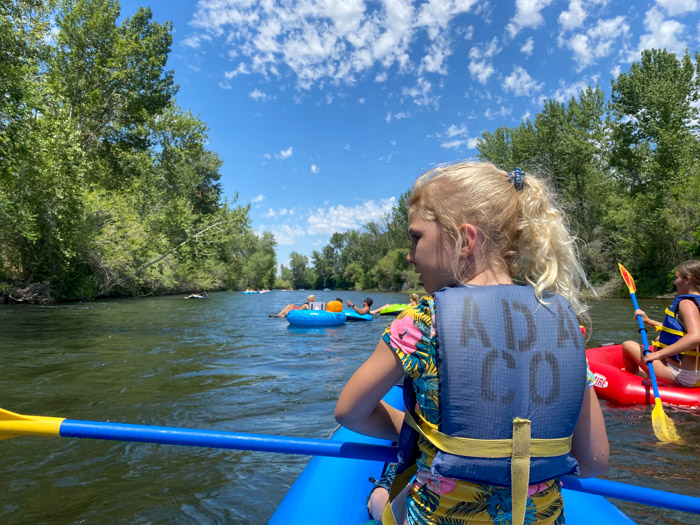 The Boise River tubing season often begins sometime in June and goes through Labor Day. It all depends on ADA county.
Once river flows decrease and stabilize in the spring, an effort is made by the Boise Fire Department to identify and mitigate obvious hazards to tubers and boaters. Then the Ada County Parks & Waterway will open the river to floaters. A great place to stay up to date with the float season is this Facebook Page.
What To Bring With When You Float
If you plan ahead, you can buy your own tube online to float the Boise river for the price of renting a tube just once or twice. That means if you live near Boise and you plan to float a few times this summer, it will be totally worth it to buy a tube just like this ahead of time.
This tube is a popular pick for Boise river floaters. I'd also recommend getting some paddles which you'll appreciate once you get on the river. There are many low hanging branches on the banks of the Boise River, and it's easy to get caught up in them if you don't have any paddles.
In addition to the tube, you'll need a small portable air pump. Barber Park used to offer an air fill station, but that's no longer the case. So many people who frequent the Boise River will have tubes that look like these and small portable inflators like these that they stow in a wet bag and take down the river with them.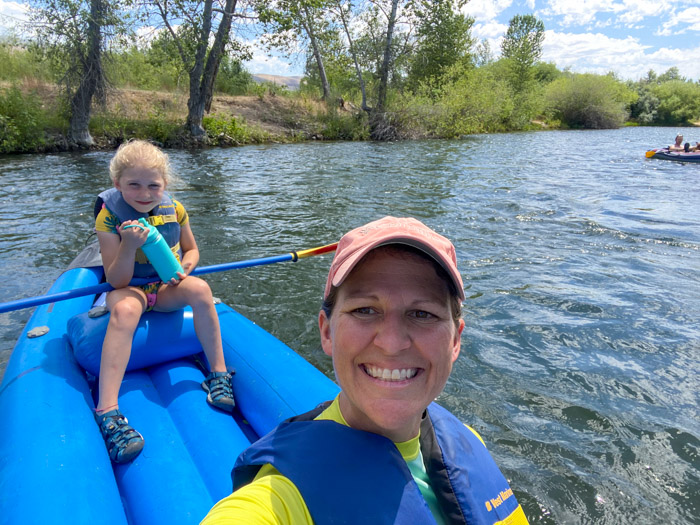 Be sure to wear water shoes to protect your feet and bring a hat, sunscreen, wear your swimsuit, and plan to bring some bottled water and snacks.
Find a great set of water shoes that have good traction to keep you from slipping on rocks.
Many people choose to bring alcoholic beverages on the river, it's just not always recommended. If you do decide to bring a few beers, be sure they're not in glass containers.
A dry bag is a must when you float any river. It will hold your cell phone, car keys, money, and anything else you need to keep with you. This dry bag is a great option.
Pack towels and dry clothes to stash in your car. That way you can change into them once you get out of the river. Or, bring a wicking towel with you and stash it in your dry bag.
List of Things To Bring On Your Float:
Drinks and snacks
$$, Credit Card, ID (needed to rent tubes)
Where Do You Go and How Does It Work?
Most people put in at Barber Park and take out at Ann Morrison Park in Boise, Idaho. There's a shuttle that runs between the two parks and offers rides to all floaters during the season. You'll need cash for the shuttle, so be sure to have some on you. In 2022 the fee was $3 per person and they let you bring your raft or tube with you.
You have the choice of parking at Barber Park in Southeast Boise for a $7 parking fee or at Ann Morrison Park for free. The trick is to find parking.
If you plan to float the river over the weekend, then it's best to arrive early in the day to find parking. Many people prefer to park at Ann Morrison Park to then take the shuttle to Barber Park. That way once you get out at Ann Morission you can go to your car for towels and dry clothes.
How To Rent Rafts or Tubes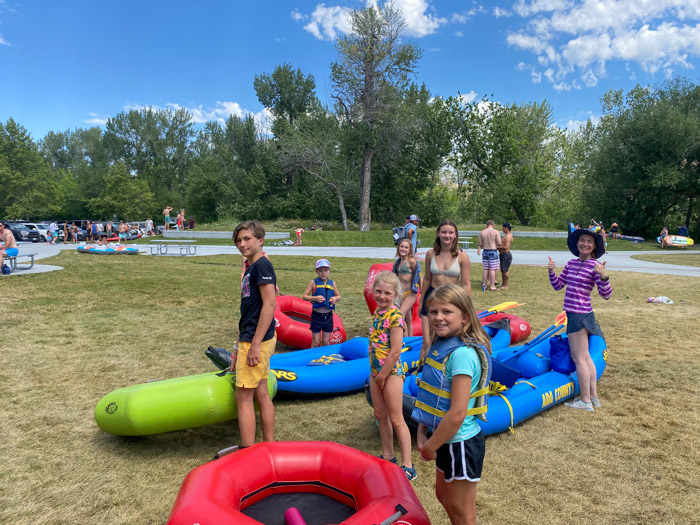 When you arrive at Barber Park, either by parking there or by taking the shuttle from Ann Morrison Park, you will find the rental station. You will need your credit card and a photo ID at the tube rental kiosk in order to rent a tube.
Prices can range from $27 for a single tube up to $85 for a 6-person raft. They also offer 4-person rafts at $75 and 2-person inflatable kayaks for $50. All rafts come with paddles and life jackets.
All rentals are on a first-come-first-serve basis. Learn more about rental equipment for floating the Boise River here.
Other Things To Know About Floating The Boise River
There are public bathrooms at both Barber Park and Ann Morrison Park, so be sure to use them before getting into the water. You'll also find that food trucks often frequent Ann Morrison Park. You may decide to indulge after a few hours on the river.
There are a few rapids on the Boise River. Nothing too intense at all, but enough that you'll need to pay attention and use your paddles or arms to steer you in the right direction to stay on course.
Look for the signs to exit the river on the left before the big bridge at Ann Morrision.
Floating the Boise River is a fun and easy way to spend a hot summer day in Idaho! Just be sure to schedule your trip in advance, pack everything you'll need, choose the right type of float for your group, and relax and enjoy yourself once you're on the river. Before you know it, you'll be wondering why you didn't try floating sooner!
Top Boise Idaho Things To Do
There are so many fun things to do in Boise in the winter as well as the summer. Grab some of the best Boise ice cream after your float. Or, you might even consider taking a Boise to Yellowstone road trip and check it off your bucket list. Enjoy discovering all of the unique things to do in Boise for couples after eating at one of the best places to eat in Boise.