There are so many things to do in North Idaho. As a hidden gem of the Pacific Northwest, Northern Idaho offers an abundance of natural beauty, outdoor adventures, and unique attractions.
Did you know that the majestic area of North Idaho is also referred to as the "Idaho Panhandle"? It's here where visitors can explore Coeur d'Alene, North Idaho's most impressive city, and just a 30-minute drive away from Spokane, Washington. If your plans involve flying in, this is home to your closest international airport.
If you're planning a Boise to CDA road trip then you won't have any problems driving to all of the fun activities listed below with your own vehicle.
Looking for outdoorsy things to do in Northern Idaho? You will not be disappointed with its stunning lakes, rugged mountains, and vast forests. You can enjoy some Idaho glamping or camping, or plan a road trip and stay at hotels along the way.
From hiking and water sports in the summer months to some epic Idaho skiing in the winter months, there are plenty of Northern Idaho things to do to keep you and your family entertained.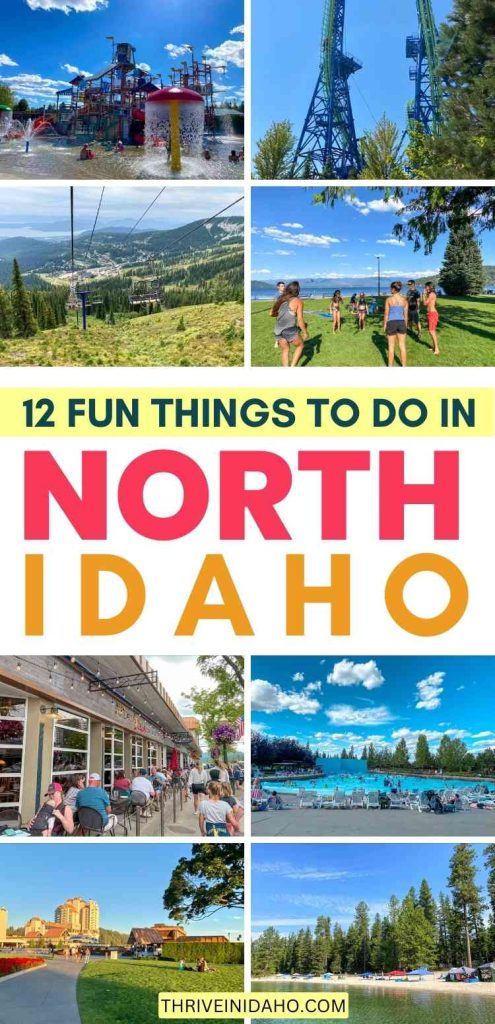 North Idaho has something to offer for everyone. In this article, we will highlight some of the top things to do on a Northern Idaho Vacation.
THIS ARTICLE MAY CONTAIN COMPENSATED LINKS. PLEASE READ OUR DISCLAIMER FOR MORE INFO. THIS POST WAS WRITTEN BY JILL GREISING-MURSCHEL, A LOCAL IDAHO MOM AND TRAVEL BLOGGER.
Visit Lake Coeur d'Alene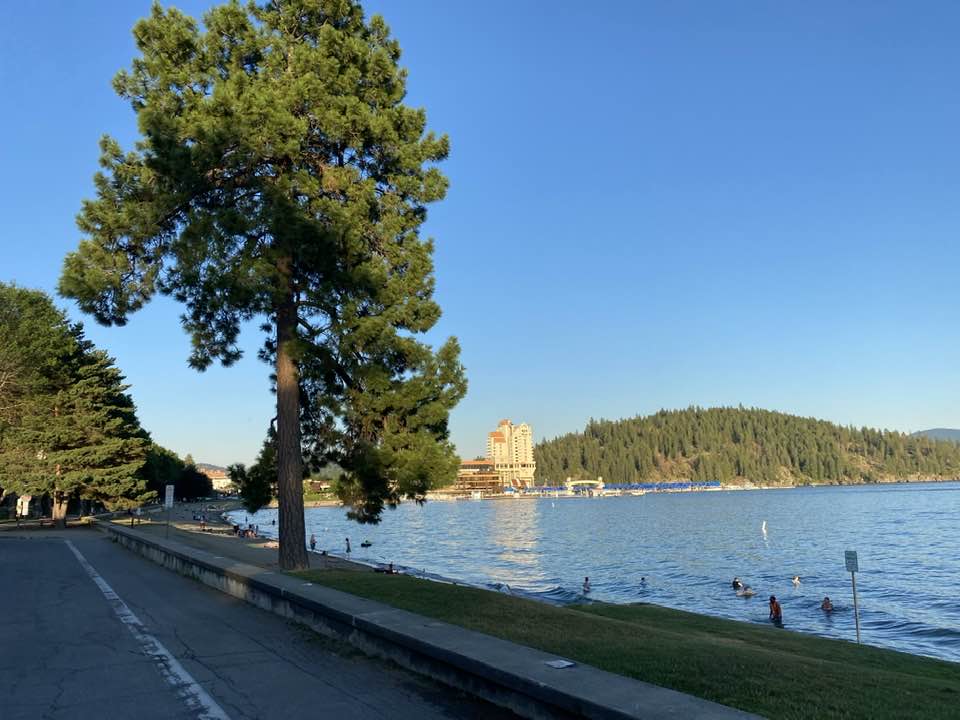 As the second-largest lake in Northern Idaho, Lake Coeur d'Alene has a beautiful mountain setting and plenty of wildlife while still boarding the large city of Coeur d'Alene. You can hike, swim, fish, or boat on the lake for a truly unique experience.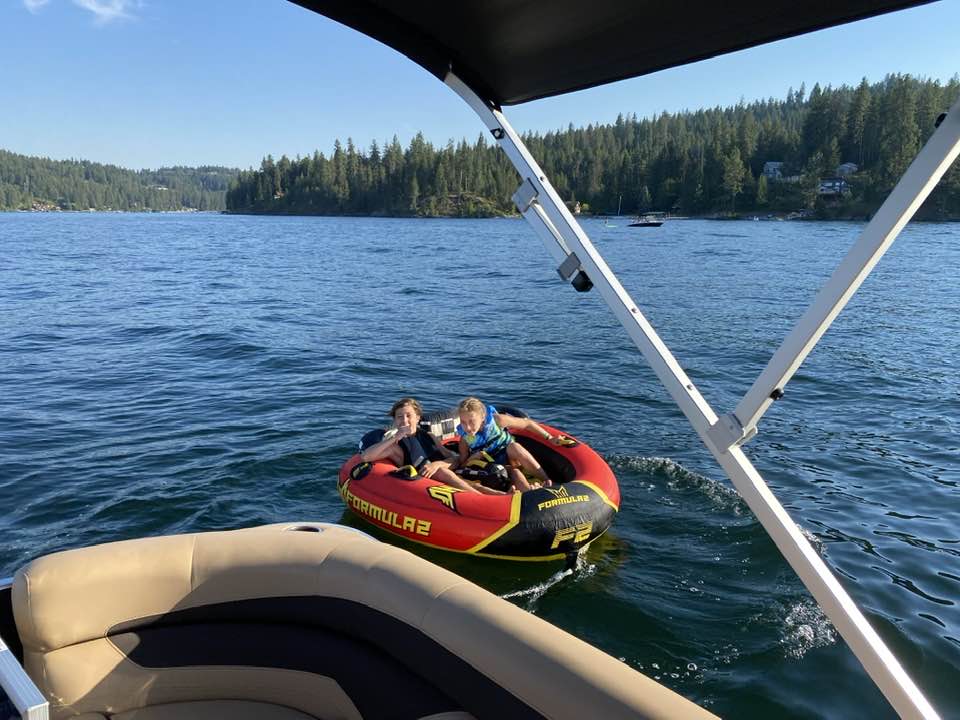 Consider renting a pontoon boat and going out on the lake on a hot summer day with your friend and family. Or, you can rent a paddleboard or kayak and stay close to shore.
Explore Silverwood Theme Park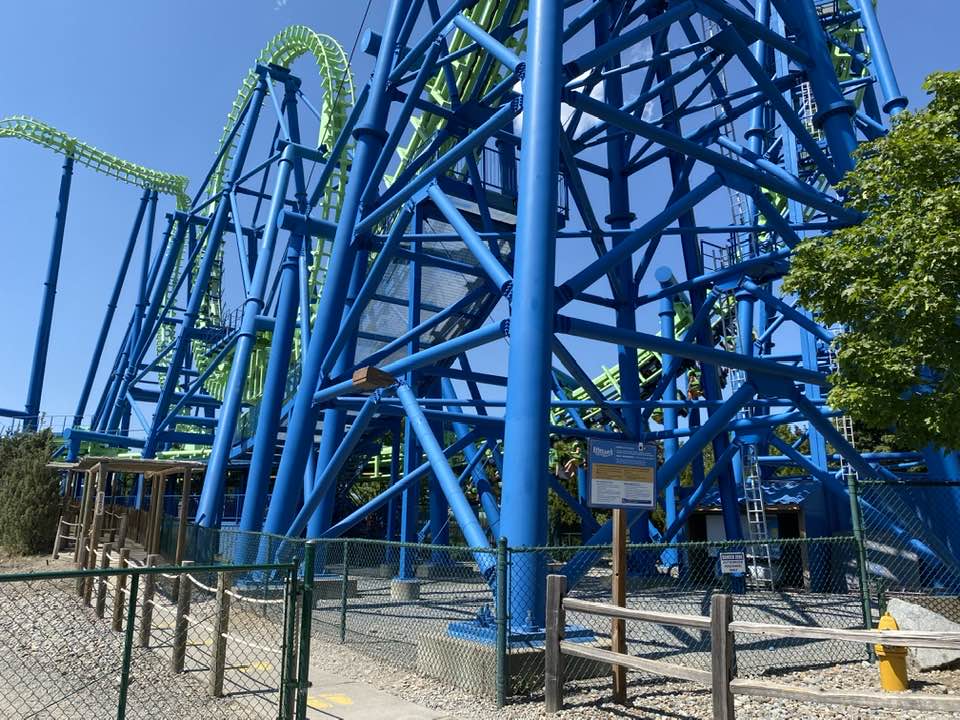 If you're looking for a fun family experience, look no further than Silverwood Theme Park! Located just 20 minutes North of Coeur d'Alene in Idaho, this Theme Park is a popular attraction in Idaho. Your admission ticket grants access to both the theme park and Boulder Beach Water Park – providing endless entertainment options at an unbeatable price!
Silverwood Theme Park is the largest water and theme park in the Northwest, located just a few minutes' drive from Coeur d'Alene. It has over 70 rides and attractions that will provide hours of fun for the whole family. There are also a variety of shows and entertainment for kids and adults alike, as well as plenty of shopping and dining options.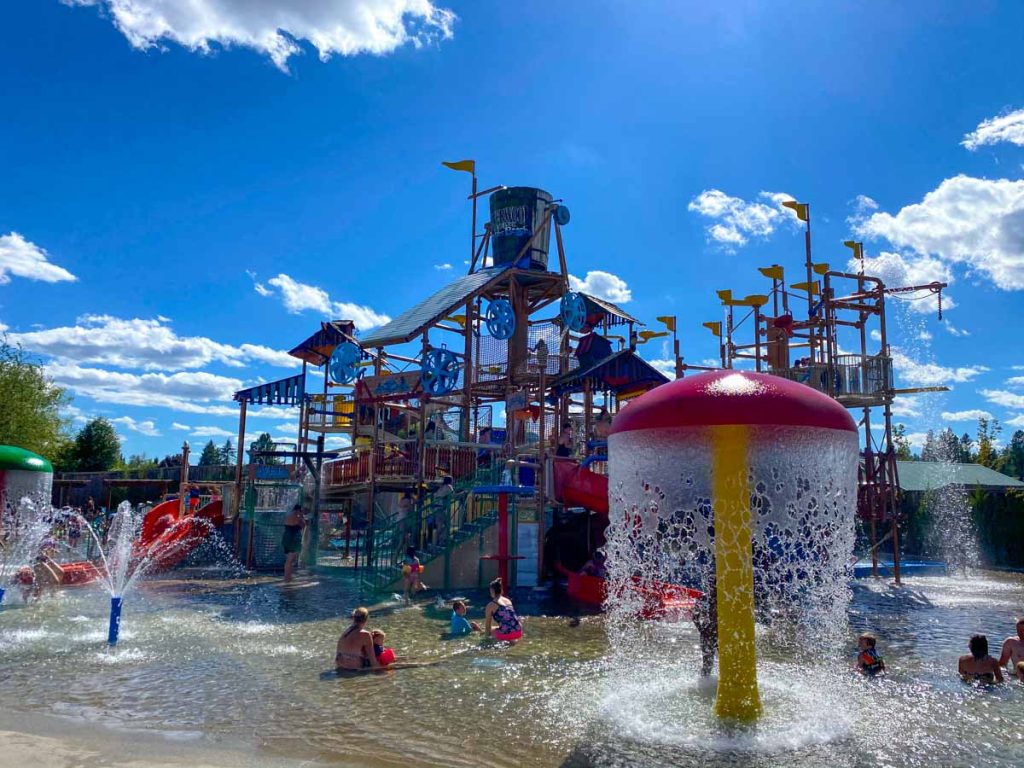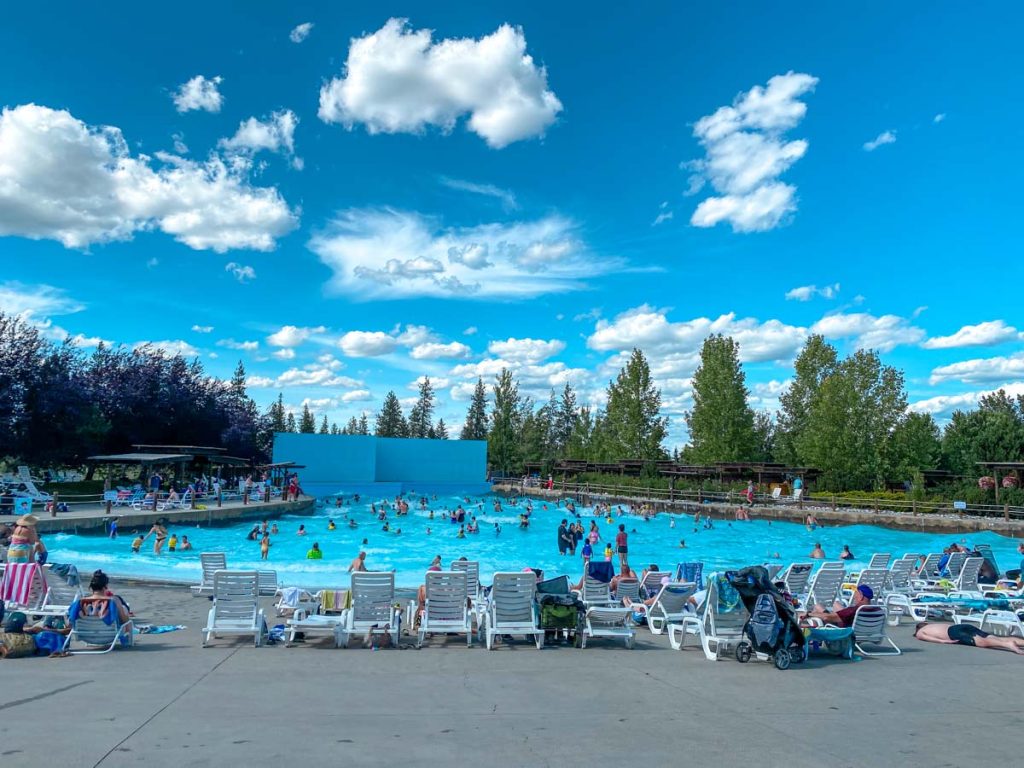 Some of the water activities and rides featured at Silverwood include a waterslide, wave pools, a splash area, and even a lazy river. You can also enjoy the various thrill rides and roller coasters, the steam train, and even a carousel. For something a little more relaxed, there are plenty of shows, games, and arcades to choose from too.
Our family has visited several times and the older kids love the roller coasters, while the youngsters enjoy the waterpark.
Ride or Run On The North Idaho Centennial Trail
The North Idaho Centennial Trail is a long-distance, multi-purpose trail that runs from the Washington border in Spokane to Higgins Point, 6 miles East of Coeur d'Alene. It's a great way to explore the natural beauty of North Idaho. The trail is 23 miles long and welcomes joggers, walkers, and bikers.
When visiting the Centennial Trail, keep in mind that the multi-use trail is for pedestrians and non-motorized vehicles, which means no motorized vehicles are allowed. You can view Spokane River and Coeur d'Alene Lake from the trail, and take in the breathtaking views of North Idaho's forests.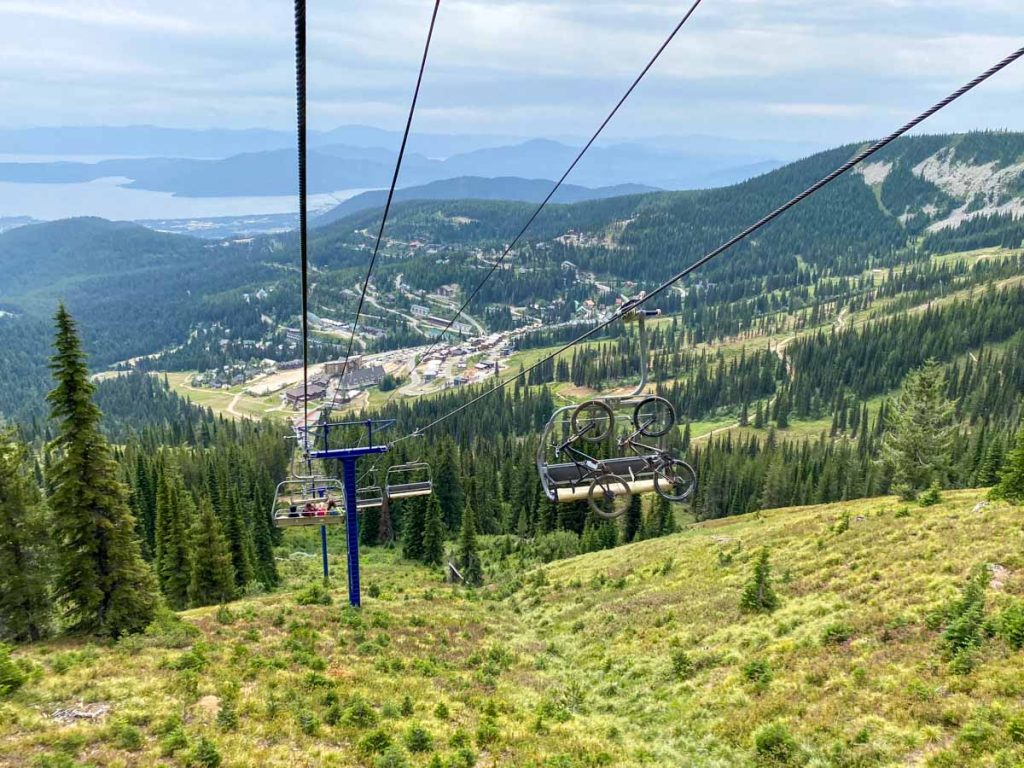 Go On A Picnic at Farragut State Park
Venture to Farragut State Park, nestled on the serene shores of Lake Pend Oreille at the base of the awe-inspiring Coeur d'Alene Mountains. They offer a range of activities that can make for a perfect day out, including picnicking and recreation areas.
You can explore the lake on a boat or jet ski, or spend the day fishing for bass, trout, and other fish species. You can even rent one of their comfortable cabins to get the full camping experience.
Farragut State Park has it all – a museum, an amphitheater, and plenty of trails perfect for hiking, biking, and horseback riding. Plus, the park is home to some of the most spectacular views in North Idaho. So make sure you have your camera ready!
Hike Tubbs Hill in CDA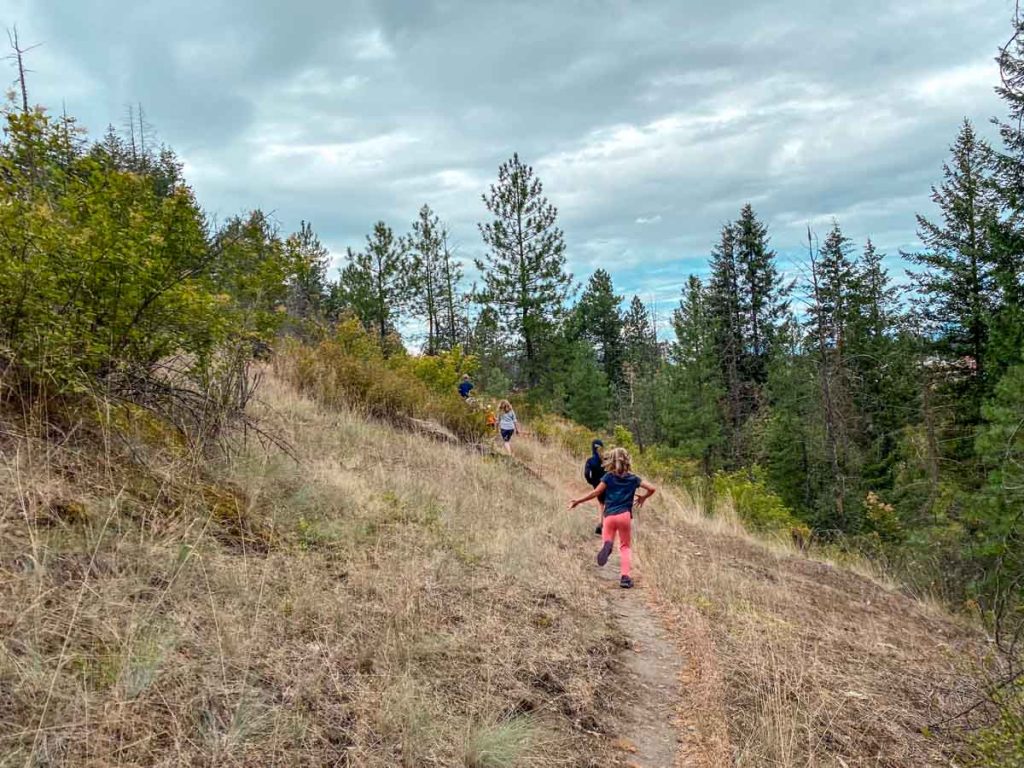 Located in downtown Coeur d'Alene, Tubbs Hill is a popular place to get into nature in the heart of the city. Located on the shore of Lake Coeur d'Alene, Tubbs Hill offers a 2 mile hike with a beautiful view of the lake on three sides.
If you have kids, give extra time to play at McEuen Park that borders Tubbs Hill. With a splash pad and a large modern play structure, it's a fun place for the family to visit.
Go Shopping in Downtown Coeur d'Alene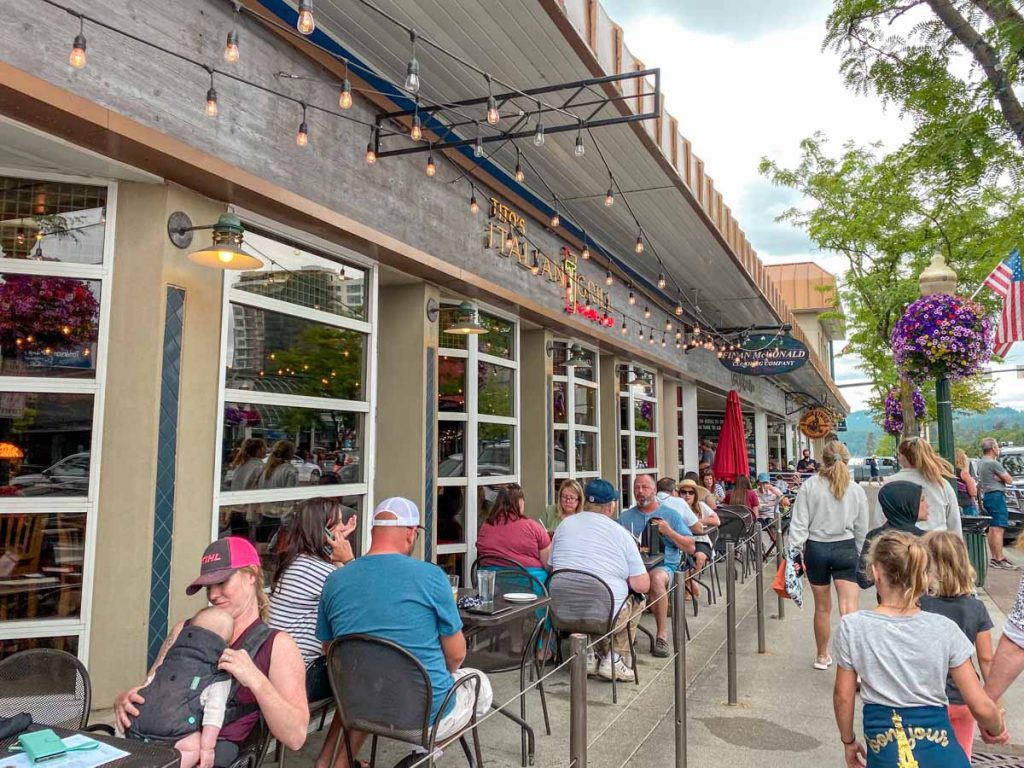 Downtown Coeur d'Alene is a charming area brimming with life. Bursting with local shops, regional bars, and a few art galleries, downtown CDA is a fun place to walk around. Honestly, it's the perfect place for a day of shopping, dining out and taking in the local feel.
Spend your day wandering through the boutiques and souvenir shops, or just take a leisurely stroll and enjoy the beautiful murals and public art. There are also plenty of delicious restaurants to choose from, so make sure to sample the local cuisine.
Golf at Coeur d'Alene Resort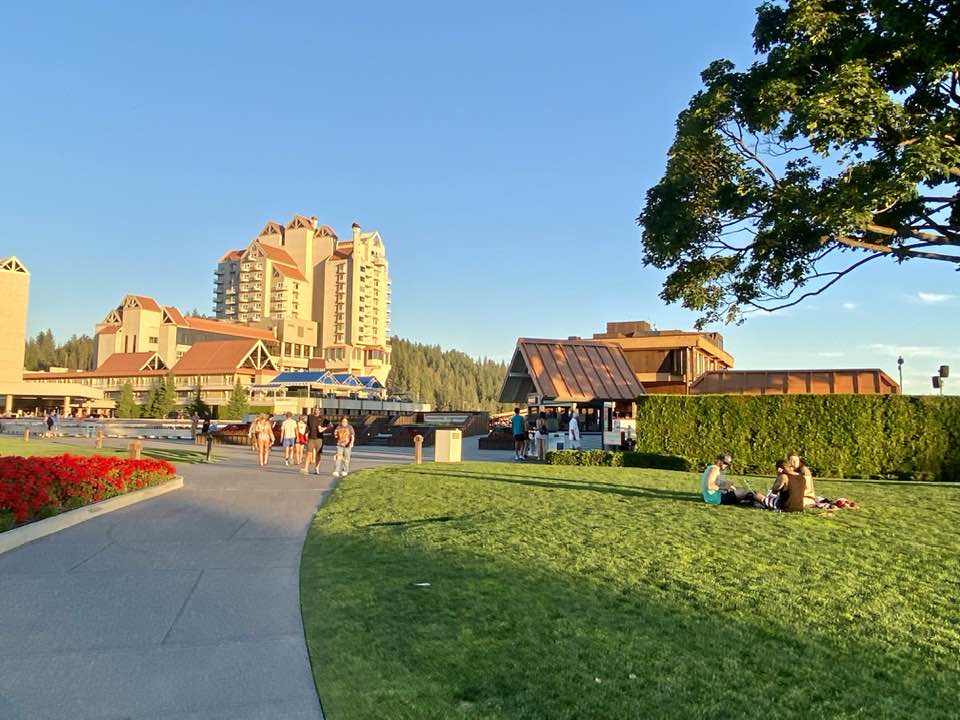 If you're a golf fan, then don't miss out on the Coeur d'Alene Resort Golf Course. This award-winning course is located along Lake Coeur d'Alene and offers stunning views of the area.
In recent years, Coeur d'Alene has become a popular destination for golfers of all skill levels. With six pristine courses, located in stunning settings near lakes and forests, you're sure to find a course that fits your needs.
Whether you're a beginner or an experienced golfer, Coeur d'Alene Resort Golf Course is sure to provide you with a great game and unforgettable views. So get your clubs ready and hit the links!
Hit the Road to Sandpoint City Beach Park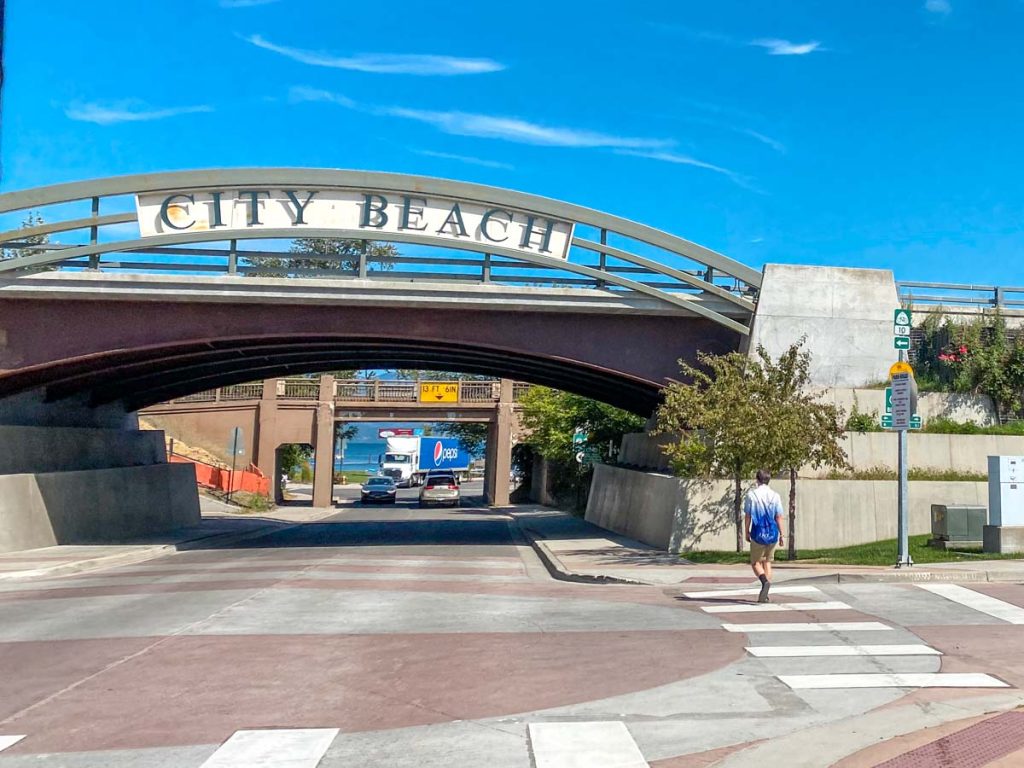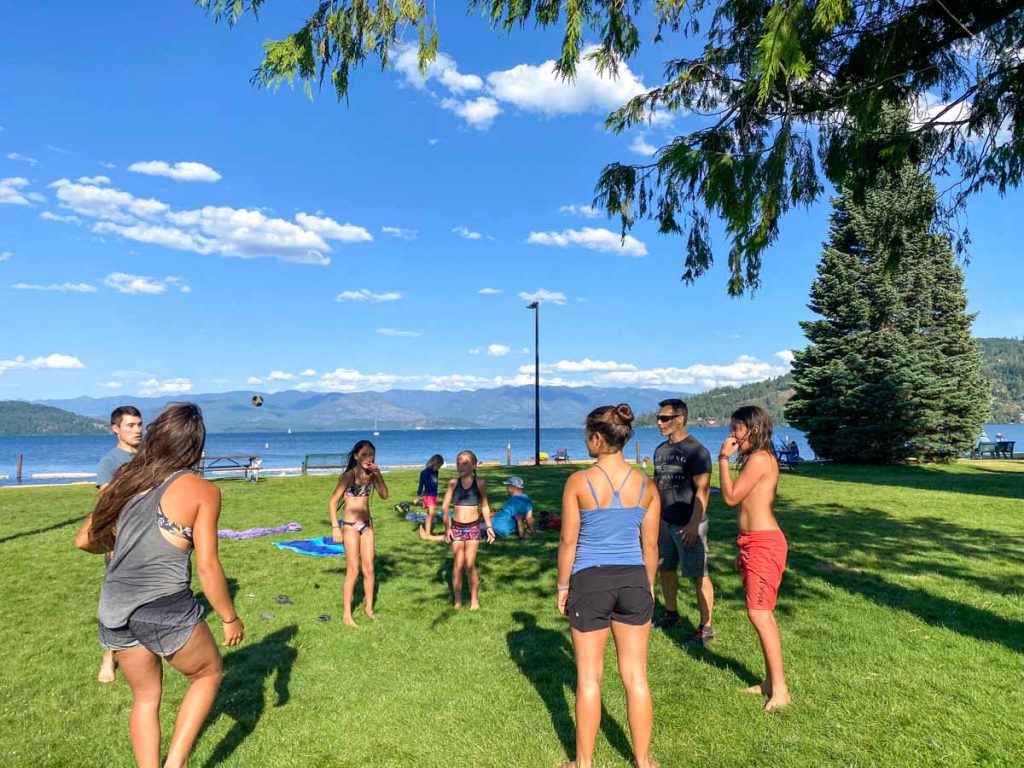 If you're taking a road trip through Idaho, then be sure to drive 1 hour North of CDA to visit Standpoint, Idaho. You won't regret it! The city is home to Sandpoint City Beach Park, located on beautiful Lake Pend Oreille – definitely worth a stop.
This lakeside beach has lifeguards and a fun sandy place for the kids to play. With free parking and being walking distance to downtown Sandpoint, ID, it's a great place to park it for an afternoon.
Walk Around Downtown Sandpoint Idaho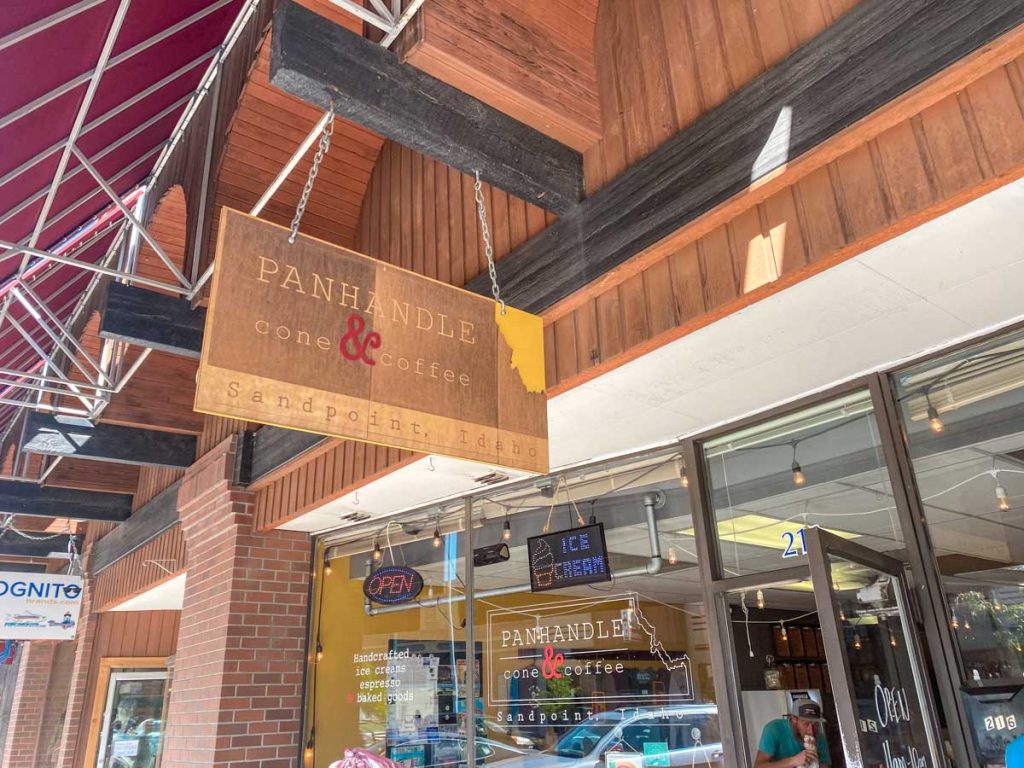 Spend a few minutes walking around downtown Sandpoint, Idaho. Grab ice cream and coffee and Panhandle Cone and Coffee, you will not be disappointed. It's our family's favorite North Idaho ice cream shop!
Ride On the Trail of Hiawatha
The Trail of the Hiawatha is a scenic 15-mile bike trail that takes riders on a journey through the stunning Bitterroot Mountains of North Idaho. The trail was once a railroad line, and now features tunnels and breathtaking mountain views.
One of the highlights of the trail is the 1.7-mile long St. Paul Pass Tunnel, which is also known as the Taft Tunnel. It's great for all ages and skill levels, and bike rentals and shuttle services are available for those who need them.
Camp and Swim At Priest Lake State Park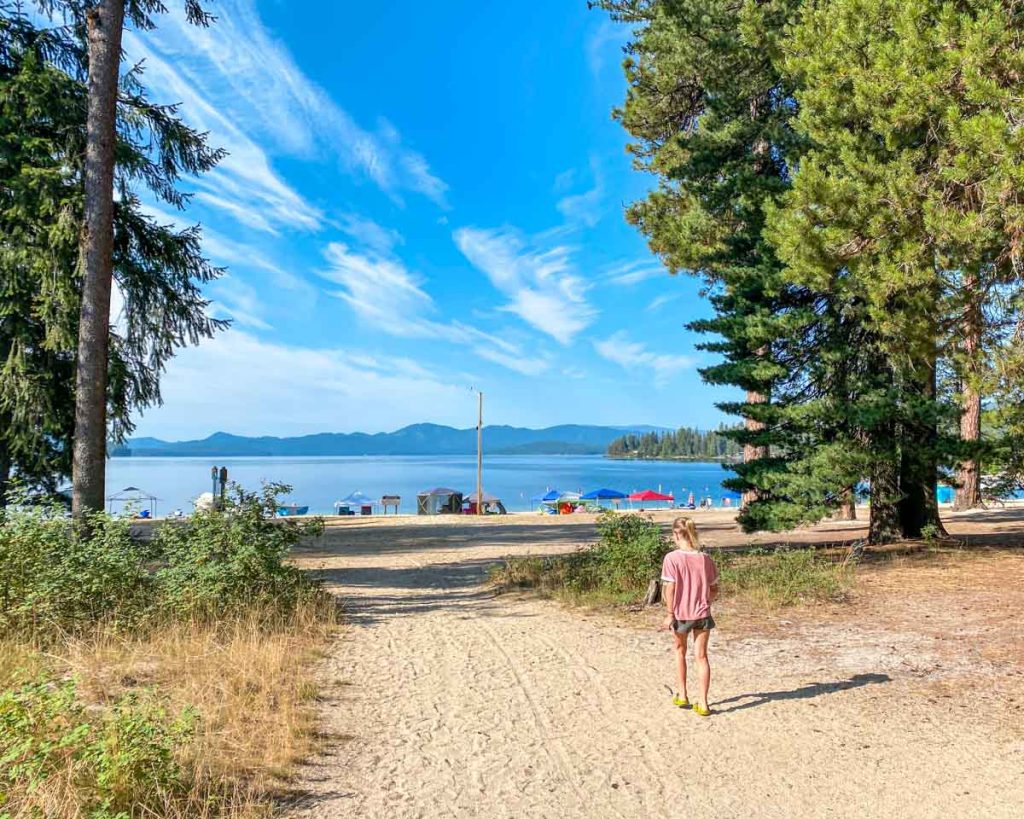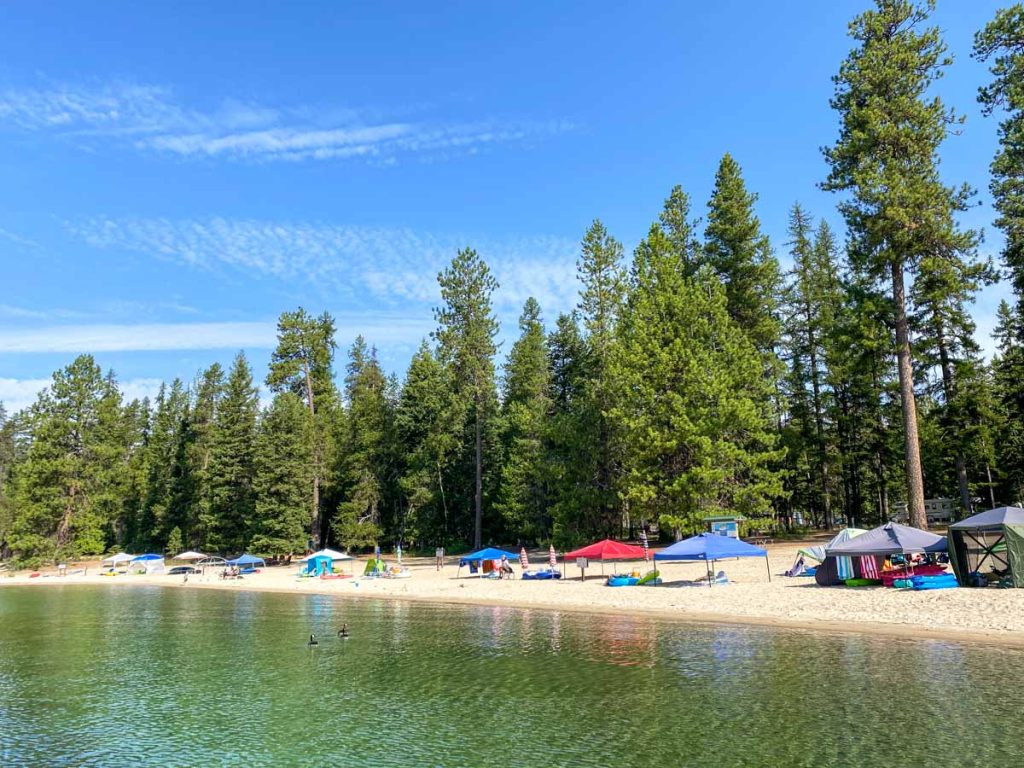 If you are in search of the ideal outdoor destination in Northern Idaho, Priest Lake should be at the top of your list. From crystal-clear waters to lush forests, it has all the ingredients for a perfect getaway.
Take your pick from an array of activities at Priest Lake State Park such as canoeing, kayaking, fishing, hiking, and swimming. Or spend your time just relaxing in the peaceful atmosphere of this pristine lake.
Connected to Upper Priest Lake by a narrow channel, you can explore both lakes and enjoy their unique beauty. You can try a variety of water activities – from swimming and rafting to stand-up paddle boarding – or just sit back and take in the stunning views. Whichever you choose, you won't be disappointed.
Ski in North Idaho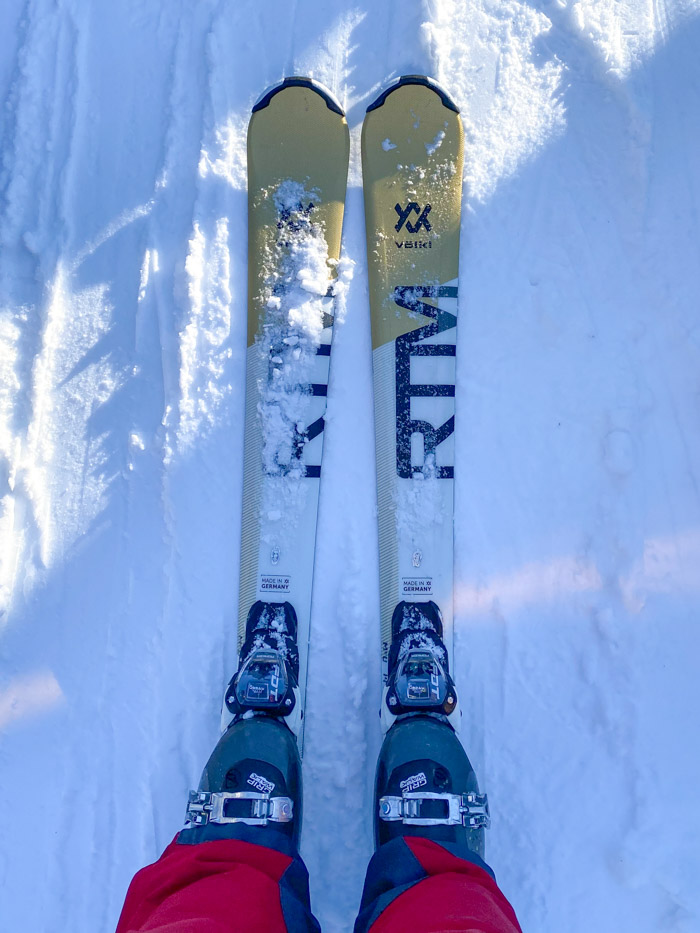 If you plan to visit Northern Idaho in the winter, then get out and ski at the popular Schweitzer Mountain or Silver Mountain. Idaho is known for some amazing skiing, including skiing near McCall or skiing near Boise if you plan to travel south.
Schweitzer is on the Ikon pass, making it a highly sought after ski destination providing 2900 acres of terrain. If you visit in the summer, you can enjoy downhill mountain biking, hiking, and even go pick some huckleberries.
At Silver Mountain they not only offer great skiing but also a popular indoor water park.
Other Places to Visit in Idaho
Our list doesn't stop there. If you're looking for more things to do while visiting Idaho, here are some other great places to check out.